UK's, Mira Ball's Vision for Kentucky's Future is About More than Numbers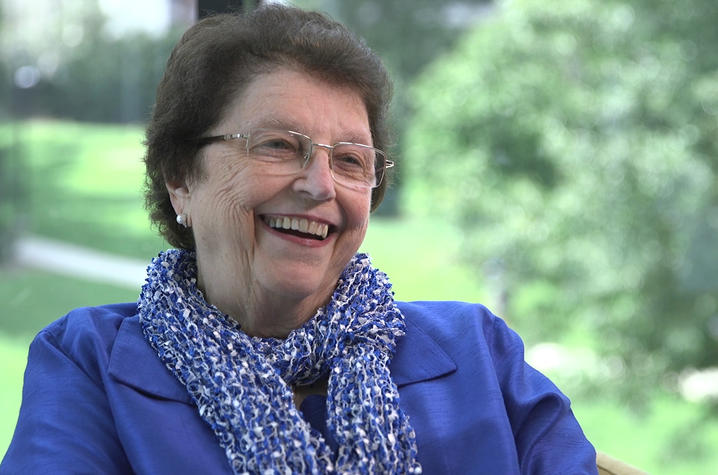 The following op-ed was written by President Eli Capilouto and appeared in several regional newspapers.
When we describe our progress in higher education, we often do so in numbers.
For example, at the University of Kentucky, our graduation rate and retention rate — the success of students returning from one year to the next — are now at record highs and are the highest among public universities in Kentucky.
But what's more important is what those numbers represent:
More Kentuckians prepared with the skills and training to join the workforce.
More Kentuckians equipped to support their families and give back to their communities.
More Kentuckians poised to show the world what Kentucky can do.
These gains are being propelled by our efforts to assist students and families with financial need—a pursuit strengthened last week by philanthropist Mira Ball.
Mira and Don Ball have spent a lifetime creating and sustaining one of the country's most successful homebuilding businesses. They also have spent a lifetime giving back in ways that strengthen lives and build communities.
Mira Ball's $10 million gift, which our Board of Trustees accepted recently, is the single largest scholarship gift in UK's history. It will build upon her family's incredible legacy by supporting the nationally-heralded UK Leveraging Economic Affordability for Developing Success (LEADS) initiative, with a preference for students from Nelson and Henderson counties (Don's and Mira's home counties).
The gift — part of the Don and Mira Ball Endowed Scholarship Program — will fund dozens of scholarships in these two counties and surrounding areas, focused specifically on addressing unmet financial need.
We know this gift will make a lasting impact. We've already seen what UK LEADS can do—what it can mean for our state.
We launched the UK LEADS program in 2016, after a review of internal UK data suggested that students with $5,000 or more in unmet need (defined as the amount remaining after the expected family contribution and all other aid) had a significantly higher risk of not returning to the institution, irrespective of their academic success.
For example, students with a college grade point average of 3.0 or higher who did not return had a much higher level of unmet financial need than students with similar academic performance who did return for their second year at UK.
Unmet need may be the most significant factor in whether a student earns a UK degree.
That's unacceptable.
As the state's flagship, land grant institution, we have an obligation to enhance access and affordability for our students. Unmet need is a challenge worth combatting.
That's why the UK LEADS program is a cornerstone of UK's comprehensive philanthropy campaign — "Kentucky Can: The 21st Century Campaign for UK."
Over the last two years, a pilot program for UK LEADS has impacted approximately 500 students, producing retention rates exceeding predictions by almost 20 percentage points.
That's a significantly higher number of students returning to the university to earn a degree that will positively impact their lives and amplify their career trajectories.
Again, the number provides a compelling measure of success.
But, as Mira Ball would attest, the impact truly manifests in the student, clad in a cap and gown, crossing the Commencement stage at Rupp Arena, as more than 1,200 did last Friday.
That is what success looks like to us. It is our vision for what Kentucky can do.
As always, we have more work ahead of us.  
We estimate that nearly $60 million of unmet financial need exists among UK students from Kentucky alone.
Improving access and affordability is critical to bolstering the Commonwealth's economy. States with college graduation rates above the national average have higher per capita incomes and generally better health statistics and outcomes.
We know that by better addressing the financial needs of many of our students, Kentucky can produce the educated citizenry that is needed to move our state forward.
For that reason, Mira Ball's generous gift is a bold investment in our students and in our state's future.
Our goal is simple. We want every student who enrolls at the University of Kentucky to earn a degree.
And we ask ourselves every day how we can better support that objective.
Through UK LEADS, we believe we are addressing one of the most important issues intentionally and directly.  That's our promise to our students and their families; it is our commitment to the state and broader society that we serve.
Because it's about more than numbers.
It's Mira Ball's vision for a brighter Kentucky. It's how we show the world what Kentucky can do.