Fulbright Visiting Scholar Enrichment Seminar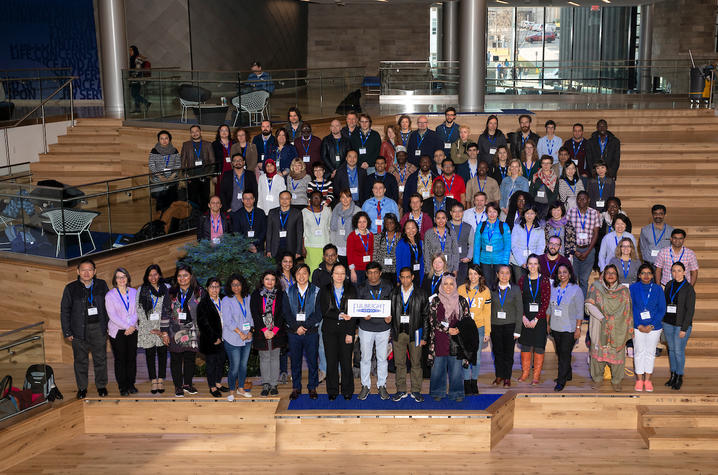 Last week, I had the opportunity to speak at one of four Fulbright Visiting Scholar Enrichment Seminars being held at leading research universities across the U.S. during this academic year.
Among the distinguished Fulbright Visiting Scholars in attendance, 44 countries were represented.
The theme of the seminar, "Combating Addiction," played into the grand challenge we face as a society today – one that is inherently transnational in nature.
Addiction crosses boundaries—geopolitical, culture, demographic, and economic—to affect us all in profound ways.
So, our research, engagement, and service to combat addiction must do the same.
Earlier this year, a team of researchers from disciplines across UK's campus received the largest grant ever awarded in the institution's history.
The four-year, more than $87 million study has an ambitious but profoundly important goal: reduce opioid overdose deaths by 40 percent in 16 counties that represent more than a third of Kentucky's population.
Kentucky and UK are one of only four study sites across the U.S. selected by the National Institute on Drug Abuse, part of the National Institutes of Health, for this groundbreaking effort.
The grant underscores our commitment to working across disciplines and with communities to address the crucial issues of our time.
The University is committed to supporting its students, faculty, and staff as they participate in an interconnected, global community of scholars, health care professionals, policymakers, and advocates in addressing the issue at a global level.
That's why we're proud to host and collaborate with the Fulbright program.
It's widely recognized as the premier cultural and academic exchange programs supported by the federal government of the U.S. As such, it's played a key role in the internationalization of the University of Kentucky—supporting both students and faculty, coming here to Lexington and traversing the world to study, learn, teach, and conduct cutting-edge research.
All of these things, together, honor Senator J. William Fulbright's original vision for the program to "bring a little more knowledge, a little more reason, and a little more compassion into world affairs and thereby increase the chance that nations will learn at last to live in peace and friendship."
Since 1999, more than 100 UK faculty and staff have been awarded Fulbright grants to teach, consult, and conduct research in 48 different countries around the world.
During the same period, more than 30 Visiting Fulbright Scholars, from more than 20 different countries, have chosen the University of Kentucky and Lexington as their U.S. host institution and home away from home.
Over the past ten years, 50 UK students have been awarded Fulbright grants in support of their continuing education, research, and professional development goals.
On behalf of the University of Kentucky, we are excited to continue this important work. We have a saying here that our community can see near the entrance to the Gatton Student Center: "There is us."
The challenges we face are great. But there is us. And by harnessing the brainpower in this room and across our campuses, we can answer the questions of our day.