Transformative Student Experiences Made Possible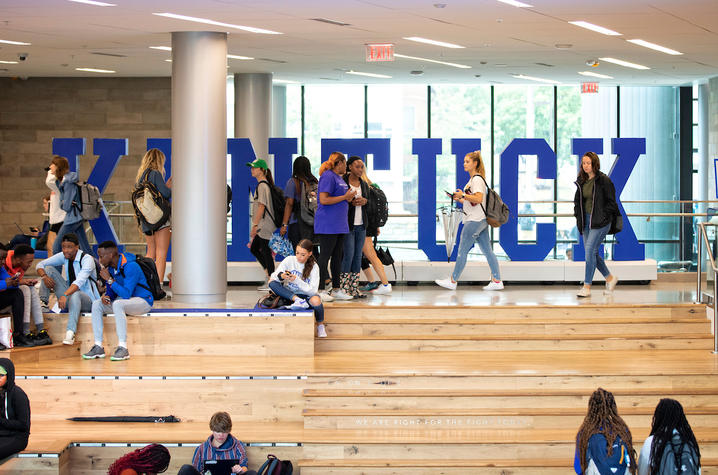 On Tuesday, I had the opportunity to speak to our Board of Trustees at the December meeting and present to them several enriching aspects of the student experience that align closely with our Strategic Plan initiatives.
At the University of Kentucky, student success is the center of everything we do. In fact, I would argue that, more than any other time in our history, we are taking a student-centered approach in all aspects of our institution.
But success is not simply crossing the stage at commencement; rather, it's defined by how students have grown in academics, financial stability, health and wellness, and belonging and engagement. These are what we call our factors of student success.
It's something I see reflected in our record retention and graduation rates, our record first-year class, the increasing diversity of our student body, and our national recognition for efforts in providing financial aid.
Under the leadership of Dr. Sonja Feist-Price, Vice President for Institutional Diversity, the Office for Institutional Diversity and Ms. Christine Harper, Associate Provost for Enrollment Management, the Office of Enrollment held a collaborative diversity summit, designed for both current and prospective students.
With more than 100 college students and nearly 200 prospective students registered, the summit established a high standard of excellence involving scholarship, leadership, professional development, and service to prepare students to lead in a global society and inspire social change.
Events like these are crucial to our goals of recruiting a more diverse student body.
But what happens once we successfully recruit students to the University?
The academic experience at UK is one that pushes students to their limits—empowering them to achieve their wildest ambitions.
And, although we've come far in growing the UK community, we have much more work to do to make good on our promise to them. Our history of resilience and determination does not end here.
This can be done through intentional, data-driven support efforts made possible through the extraordinary work occurring in our Division of Student and Academic Life, led by Dr. Kirsten Turner.
The foundation of UK's factors of student success is comprised of specific initiatives, such as academic coaching, the Leveraging Economic Affordability for Developing Success (LEADS) Program, and residential connections, that exist to fulfill our purpose as Kentucky's flagship, land-grant institution.
Because of them, this year we can celebrate an 85 percent record retention rate, as well as the highest retention rate for our African American student population since 2011.
These numbers are proof that the brightest days are ahead of us, as we provide a transformational educational experience for each of our students.
Throughout our students' education, we offer components we refer to as high-impact experiences—things like education abroad, undergraduate research, and service learning, among many others.
One of the most distinguished of these experiences is one we offer through the Gaines Center for the Humanities—a laboratory for imaginative and innovative education that integrates creativity with rich academic learning – housed in the division of Student and Academic Life.
Representing seven colleges, Fellows of the Gaines Center for the Humanities participate in seminars, an engagement project, and a thesis to contribute to the intellectual life of the campus and the Commonwealth. Among its notable fellows are Haviland Argo, architect for 21C Museum Hotels; David King, New York Times best-selling author, and Ouita Michel, chef and entrepreneur.
Each of these factors encompasses our commitment to student success and aligns closely with our Strategic Plan objectives.
At the October Board of Trustees meeting, a collaborative group of faculty, staff, and students engaged with each other to brainstorm where we're headed as an institution and specific steps we can take to discover what's wildly possible.
Together, our goal is to meet our students where they are; get them where Kentucky needs them to be—through the following tactics:
Tailor high-impact, goal-oriented experiences
Evaluate and cultivate tools for success
Make academics challenging; navigation easy
Redefine achievement; consistently reward it
Leverage the value of diversity
Harness the power of technology
Engage within and beyond the campus
Prepare for the first job and the next
Our work doesn't end there. The next steps we take as a University are imperative for our Strategic Plan.
As we move forward, we will finalize a faculty-driven process of generating themes and priorities; revisit our mission, vision, and institutional values; conduct initial research into challenges and opportunities; and present ideas to campus, receive input and draft a plan during the spring 2020 semester.
All of this work could not be done without the overwhelming support of the UK community, whether on campus or off, in Lexington, the region, the nation, and the world.
Together, we will show the world what Kentucky can do.