UK LEADS: Pushing the Boundaries of What is Possible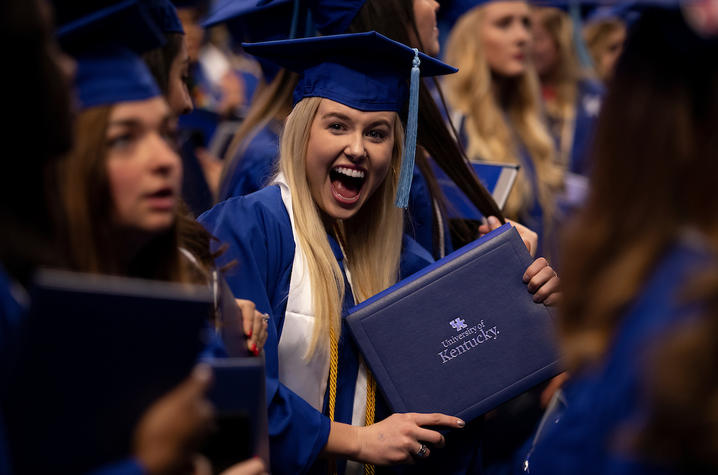 More than 150 years ago, two Kentuckians shared an audacious dream.
President Lincoln, born in Kentucky, signed the Morrill Land Grant Act, making it possible for states to offer public higher education to a broader group of people on what was an unprecedented scale.
John Bowman and other Kentuckians seized upon this opportunity to found what we know today as the University of Kentucky.
Bowman challenged the Commonwealth to dream of what is possible.
Today at the University of Kentucky, we are pioneering new ways to fulfill our mission to our students, faculty, staff, alumni, friends, and the people of the Commonwealth we serve. Anchored by this land-grant mission, and propelled by fierce resolve and enduring compassion, we continue to ask ourselves what is possible.
And we are answering that question in compelling ways—ways that are changing a state and its people for the better.
Consider a program that is garnering national attention for reducing students' unmet financial need, empowering more Kentuckians to cross the commencement stage and go on to lead lives of meaning and purpose.
The UK LEADS program (Leveraging Economic Affordability for Developing Success) has expanded the boundaries of what is possible.
Our research demonstrates that students leave the institution for various reasons, of which academic success is only one. In fact, last year, almost one third of students who left UK had GPAs of 3.0 or higher.
That's unacceptable to us.
Over the last three years, in an attempt to isolate and better understand the effects of financial factors on student success, we looked at various financial variables, including, but not limited to:
Adjusted gross income
Expected family contribution
Gross need (the gap between the cost of attendance and a family's estimated contribution)
Unmet need (the gap between cost of attendance ad a family's estimated contribution and aid package)
Student account balance
Financial holds
Based on this analysis, we determined that unmet financial need is often the most significant factor in a student's decisions to leave the institution. 
In fact, the persistence rates of students with $5,000 or more in unmet financial need, is significantly lower than students with less unmet need. 
Equipped with these data, we began targeting aid to students for whom unmet financial need was the largest barrier to success. We provided a combination of one-time grants and four-year scholarships, based on our data analysis and predictive modeling.
Our data suggests the strategies are working. You can see that in the following facts:
The fall 2016 cohort had a record high second fall retention at 83.3%
The fall 2017 cohort set another record high second fall retention at 84.4%
The fall 2018 cohort currently has a record high second fall retention at 85.4% (as of June 7)
The fall 2018 freshman unmet need declined by $3 million from the previous year
The average fall 2018 freshman unmet need decreased to $4,390, compared to $5,195 in fall 2017
Approximately 10% of the fall 2018 cohort is partially funded by a LEADS initiative
In the next few weeks, as we release an institutional budget for the coming year, we will have more data that suggests all of these positive and powerful trends are continuing.
Of course, there is much more work to be done. Our research suggests that almost $60 million of unmet financial need exists throughout the state. And our doors are – and will always be -- open widest those from Kentucky.
That's our role as the state's land-grant, flagship institution. We were founded to do more and be more for our state. In doing so, we impact a broader world as well.
Our founders acted upon a profound idea that a university had the ability to change people's lives through unmatched higher education, innovative research and discovery, and outreach that uplifts and heals communities and the people it serves.
UK LEADS is uplifting and changing lives for the better.
It is reflecting our promise—our responsibility—as the University FOR Kentucky, as the institution tasking with asking what is possible for the state and the broader world we serve.