Building a Community of Belonging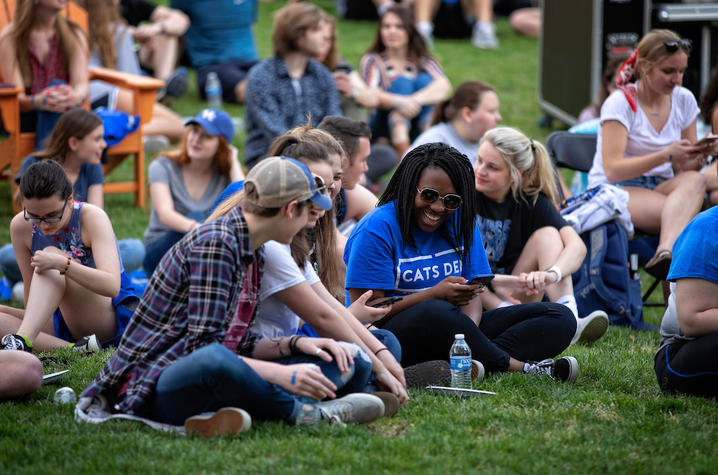 This year, our community is commemorating the 70th anniversary of integration at UK. Against that profound, historical backdrop, we are reminded that it is our collective responsibility to ensure every member of our community—regardless of who they are, where they are from, what they believe, or who they love—feels a sense of belonging.
Every individual on our campus adds value. Everyone's voice on our campus must matter.
As we strengthen that commitment throughout this year, I'm grateful for the outstanding students and staff who comprise the Office for Institutional Diversity. They support a vast array of offices, initiatives, and programming designed to build a more diverse, inclusive, and welcoming environment for all.
Belonging serves as one of the four pillars of student success at UK; these focused efforts bind together the tapestry that is community – one intricately woven with threads of students, faculty, staff, and community members. 
The centers and units that comprise the Office for Institutional Diversity exist to support that work, to help ensure that tapestry remains strong and vibrant.
The Center for Academic Resources and Enrichment (CARES) provides a comprehensive academic support system, as well as enrichment services to aid in increasing the retention and graduation rates of underrepresented minority students, directly aligning with the University's Strategic Plan. Counselors offer free tutoring, workshops, and other activities designed to meet students' specific needs at all levels.
The Center for Graduate and Professional Diversity Initiatives focuses on recruiting diverse graduate and professional students within UK's six health colleges as well as retaining diverse graduate and professional students in our 19 colleges, contributing to an environment where all students can fully engage and succeed.
A one-stop-shop and among the most important offices in our campus community, the Martin Luther King (MLK) Center prepares students to become global citizens, regardless of their identities. It regularly interfaces with and contributes to national social justice dialogues through different initiatives and programming.
The University is also proud to have a central hub for students to access information, groups, and services related to diverse sexual orientations and gender identities – the Office of LGBTQ* Resources. As advocates for lesbian, gay, bisexual, transgender, and queer individuals from many walks of life, the office functions to highlight the wonderfully diverse experiences of LGBTQ* Wildcats while working to decrease marginalization in all forms.
Thanks to the work of each of these units and our overall division, on November 7, UK will hold the Diversity Leadership Summit hosted by the MLK Center in collaboration with Enrollment Management. This one-day conference for Kentucky college students and prospective multicultural high school juniors and seniors is designed to support, encourage, and inspire students to achieve what's wildly possible.
I am grateful to work on a campus that deeply values and recognizes the significance of diversifying our student body, celebrating our unique backgrounds, and accepting and supporting all individuals as they embrace their authentic selves. Now more than ever, we remain resilient in our efforts to weave an even tighter, more colorful tapestry – today and every day.