A Day to Commemorate Dr. Martin Luther King, Jr.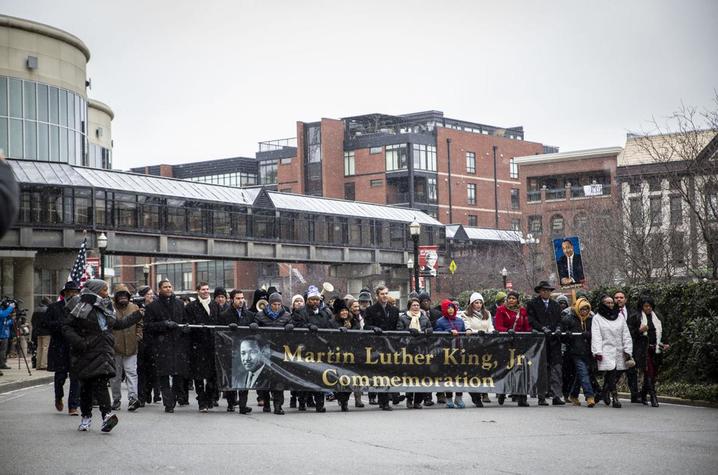 The world lost civil rights icon Martin Luther King Jr. more than five decades ago; however, his legacy lives.
Those who were schoolchildren when King marched the streets of America and delivered his "I Have a Dream" speech in 1963 are retired now.
Yet this gentle man, who forced many to look hard at their beliefs and prejudices, made such an impact on the world and America's future that even the grandchildren of the generation that actually walked with Rev. King recognize his face. Today's children know what King stood for then and still represents today.
A child of the Deep South, born as the Great Depression swept the world into poverty and deprivation, King grew to become the world's most energetic spokesperson and recognizable leader of the fledgling Civil Rights Movement.
From the Montgomery bus boycott in 1955, to his March on Washington in 1963, until his assassination in 1968, King's major weapons against racism and poverty, ignorance, and violence were his eloquent words of unity, his capacity to organize, and his earnest prayers for peace, encapsulated in his world-renowned "I Have a Dream" speech.
In my time here at the University of Kentucky, I've seen many things that have made me proud — but nothing quite like the annual Martin Luther King, Jr. Freedom March.
It's quickly become one of my favorite events in the community for many reasons; but of the most striking of them is the visual reminder that only together can we move forward.
I'd like to thank UK's Office of Institutional Equity, specifically Associate Vice President Terry Allen, as well as the Lexington-Fayette Urban County Government, for their leadership in commemorating such an important holiday.
For more than forty years, Lexington has proudly organized the program and march so that we may honor the life and legacy of Dr. King.
I'm proud to work at an institution that places community and belonging above all else.
Dr. King dared to dream the impossible. And because of his dream, we are planting the seeds for a more equitable and prosperous future for generations to come.
His call to serve and persistence to drive change reminds me of Lyman T. Johnson – the first African-American enrolled at UK who fought so that other diverse identities could had the opportunity to attend this great University. Seventy years ago, Johnson opened doors that were closed to too many, for too long.
And now – because of his leadership and the leadership of figures like Dr. King – we must ensure that our doors remain wide open…that we continue to champion for underserved and marginalized populations within our campus and beyond.
It's what Dr. King would have wanted. Not only as an institution, but as individuals bound together with a common humanity that connects us all.