Kentucky Council on Postsecondary Education Hosts First Annual Higher EDquity Symposium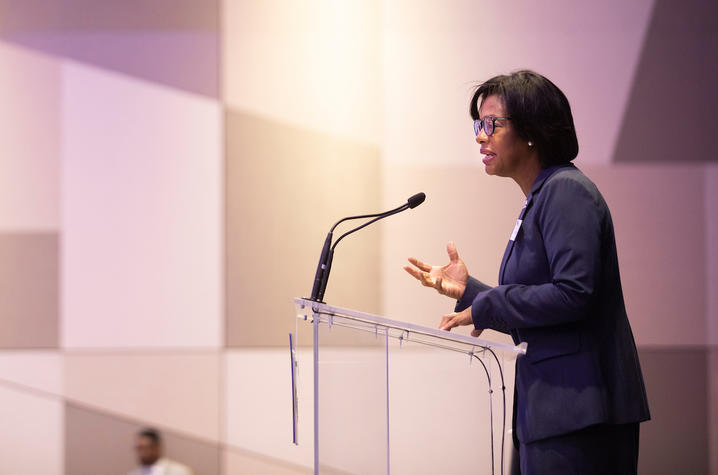 This morning, I spoke at the first annual Higher EDquity Symposium, held by the Kentucky Council on Postsecondary Education. Below are my opening remarks.
Good morning, and welcome to the University of Kentucky. 
Today, we'll have the opportunity to hear from leading experts on a range of topics including cultural engagement, the impact of language, our roles as campus leaders in nurturing inclusivity at our institutions, and much more. 
These questions are Kentucky questions. They impact us all.
Throughout these conversations, we will keep in mind the name of today's symposium and the overarching theme: "Meeting at the Intersection of Education and Equity."
After all, we know that it's at the intersection of efforts and ideas... in collaborative spaces... where our best work unfolds. So, we are here to learn from each other and to make all of our campuses better environments for living, learning, and belonging.  
We greatly appreciate the efforts of the Council on Postsecondary Education, and their focus on inclusion. We look forward to hearing from Dr. Aaron Thompson later this morning. 
And these issues are particularly salient for us this year, as it's a special time at the University of Kentucky.
As a community, we are commemorating 70 years of integration on our campus. Lyman T. Johnson, the first African-American student enrolled at UK, began a journey that we are still following today. 
So, as we learn from each other at this conference, we will also honor his memory, as well as the pioneers who have built upon his legacy. 
It's conversations like the ones we'll have today that will ultimately infuse light into the journeys of our students, and empower them to do the same.  
As we hear from these speakers, we will also inspire each other to do the rewarding work that can and must be done, ensuring the equity and success of every member of our communities. 
Of course, we know that this work is only possible through bold and compelling vision from our leadership. 
At UK, we have benefitted from a President who has been a champion for issues of belonging and inclusion. 
Under his leadership, we've reached a record enrollment of underrepresented minority students, both undergraduate and graduate, and a record six-year graduation rate for underrepresented minority students.
His commitment to increasing our resources to hiring minority faculty, in collaboration with the Office of the Provost and the Vice President for Research, has shaped the way we think of equity in every sense of the word.
But it is not enough to build a more diverse community – we must support it, foster it, beit. Under his direction, our community is and continues to become a more equitable one for all.
Please join me in welcoming President Eli Capilouto.