Spotlight: Kathy Sheppard-Jones, Member of DEI Leadership Team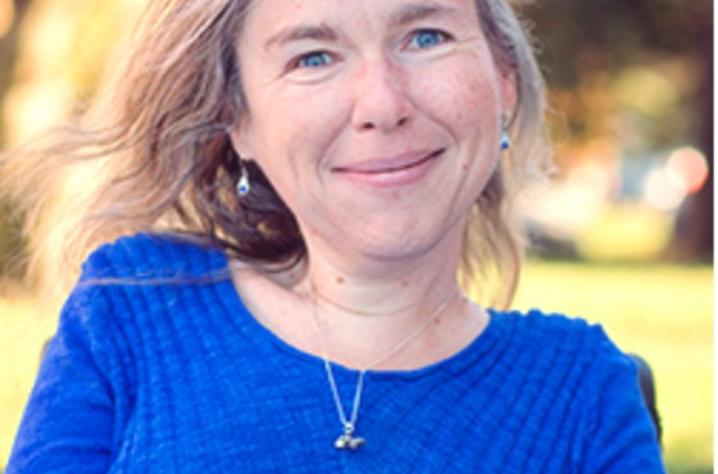 Dr. Kathy Sheppard-Jones is the Executive Director of the Human Development Institute at the University of Kentucky, which is Kentucky's University Center on Disability. She is a valued member of the DEI Leadership Team and leads 280 interdisciplinary staff in promoting the inclusion, independence and contributions of people with disabilities and their families throughout the lifespan.
Tell us about yourself.
I moved from Vermont to Kentucky because of horses. I got my undergraduate degree at the University of Vermont in animal science, so I came to the Bluegrass to be immersed in the horse culture. I am also a power wheelchair user, so when I came here, I was connected with assistive technology through the Kentucky Office of Vocational Rehabilitation. I was able to start driving my own vehicle, which was life changing for me. That kind of got me on a different career path.
I eventually went on to get my masters in rehabilitation counseling and eventually my PhD – both from UK. Eventually I got a temporary position with the Human Development Institute (HDI) right after I graduated, and that's where I've stayed ever since. It's been an amazing fit for me, and I just love being part of the university community.
I'd like to give a shout out for the Employee Education Program because that was like the first thing that I did when I started at UK. I thought it was such an incredible benefit to have. I think I was just always so excited about all of the things that UK had to offer and share, and I wanted to learn and always take in more.
What does your day-to-day work look like at UK?
Before becoming the executive director at HDI, I was the training director for a number of years. In that role I did a lot of work with students. Now I have about eight different grant projects that I work across, but I feel that my main job is to make sure that our staff and our projects have what they need to carry out their goals and get their work done. Most of the efforts that we do require a lot of creative thinking, and I think we were pretty fortunate that we used a lot of technology before this last year, so we were able to make shifts pretty seamlessly.
Can you tell me a little bit more about the Human Development Institute?
The fact that we aren't really under any college means that we really partner with everyone. So, we're a little bit unusual in that. We fall under research but we also offer academic courses as well. We have a certificate in universal design, which we do in partnership with the College of Design, but we get students from across colleges who participate. The cool thing there is they make it apply in ways that they can bring it back to their own discipline and their own work.
We have a graduate certificate in developmental disabilities as well, and we've got 280 staff at HDI also looking across projects. We're like the tip of the glacier — you can only see a little bit, but we're well-known in Kentucky and nationally.
We collaborate a lot, but that work really focuses on how we can apply what we're doing to the larger community in meaningful ways. Since disability is such an array of experiences for people, we do work that we feel builds inclusive communities for Kentucky, and that's really an honor.
Tell us about your background with diversity, equity and inclusion.
I think the work we do at HDI is inherent to DEI work. HDI focuses on disability and equity. They're looking at issues of inclusion independence and contributions for people with disabilities across the lifespan. We've got roughly 60 different grants and contract-funded projects all around them. Disability spans across all of our demographic intersections, and people with disabilities have historically been disadvantaged across many aspects that we would consider to be part of having a good quality of life. Intersectionality plays such a big role in this because of the amplified effects of marginalization. When I was invited to participate on the leadership team, I jumped at that chance because I feel like so often, we think about disability more as an outcome as opposed to a part of who we are.
It's pretty fascinating in a way because there's not a lot of good data around higher education. There is [data] if you look at students who declare having a disability. But the communication around disability in higher education sometimes is more antagonistic, so if someone declares having a disability we may think, "Oh well, they must need something." And that's not the way that it is, and I think we're just slowly seeing how things are changing in terms of recognizing and understanding.
We did some research looking at just diversity statements in higher education, and it's surprising how many don't include disability in their diversity statement. But even those who do, you can see in their action steps that disabilities fall off. So, we've got a ways to go. But it's quite remarkable to see where we are at this point in time.
What are you passionate about in general?
I am very passionate about universal design. It started off in the realm of architecture and how we think about physical spaces, but it is so much more and it's just a way of thinking that's really practical. It makes places and spaces accessible, but it also is a way to think about learning, policies and resources and how we develop all of those things. And so, even from a systems level, if we consider broadly what it is we're trying to accomplish at the start, and make sure that we are being inclusive of all voices, we're recognizing that everyone interacts with the world in very different ways. And we all bring different shapes, sizes, experiences, needs and preferences.
In that sense, I think universal design attends to diversity from the beginning and gives us a strong platform to add to the work being done. It's a way to be thinking about diversity from the very outset whenever we're planning something so it's not necessarily just retrofitting. It's about being very intentional from the beginning and recognizing that our audiences are broad, and we may need to make sure that we're doing everything we can to reach the widest array of people possible.