Strategic Diversity Leader to Speak at UK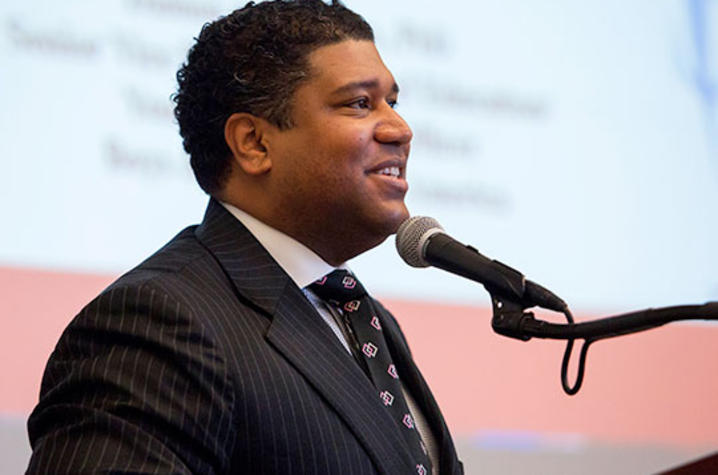 May 24, 2018
The UK Office for Institutional Diversity is pleased to invite you to a keynote presentation by Dr. Damon Williams of the National Inclusive Excellence Leadership Academy on June 11. He is the author of the best-selling books, "Strategic Diversity Leadership" and "The Chief Diversity Officer: Strategy, Structure and Change Management."
Dr. Williams is a committed visionary, an inspirational leader and a recognized national expert in strategic diversity leadership, youth development, corporate responsibility, educational achievement, social impact and organizational change. Dr.  Williams resigned his post as vice president and chief diversity officer of the University of Wisconsin-Madison to launch the National Inclusive Excellence Tour in 2017. His stated objective at the time was to engage entire communities – whether it be universities or corporations – in conversations about diversity, equity, inclusion and change.
The award-winning scholar, leader and educator is passionate about making organizations inclusive and excellent for all by empowering a new generation of diverse leaders for America.
Dr. Williams has expertise in assisting leaders with:
Building a strong, robust diversity change agenda
Empowering diversity leadership and navigating the difficult waters of academic bureaucracies
Constructing a diversity leadership scorecard
Addressing the inherent and recurrent challenges that confront ongoing diversity efforts
As an educator, consultant and speaker to more than 300 institutions worldwide, Dr. Williams is widely considered one of the nation's most dynamic social sector leaders, with experience in higher education, nonprofit and K-12 innovation. 
Dr. Williams guides higher education institutions, government, Fortune 500 companies and nonprofit organizations on how to prove themselves in the future by: (1) empowering the millennial and centennial generations, (2) establishing evidence-based diversity and inclusion strategies, (3) engaging youth digitally, (4) building sustainable corporate responsibility and social impact initiatives, and (5) closing the educational and social achievement gap for vulnerable communities.
Dr. Williams will speak at 9:30 to 11 a.m. Monday, June 11, at UK's Hilary J. Boone Center. As seating is limited, please confirm your attendance via email to vpid@uky.edu.
We hope to see you there.