All-Way Pedestrian Crosswalk Debuts at Prall Street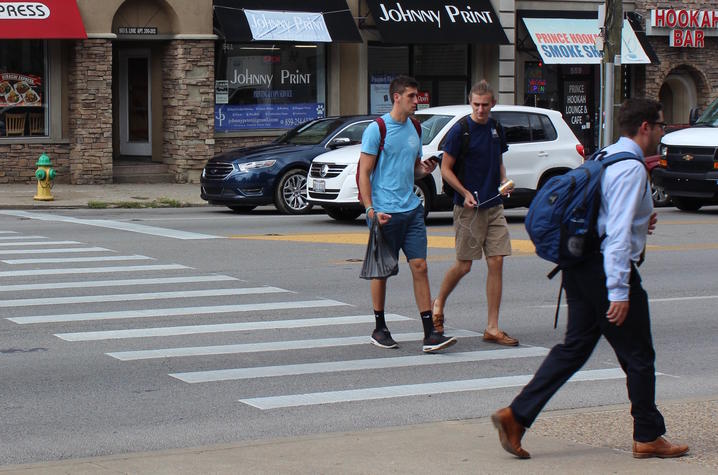 LEXINGTON, Ky. (Sept. 21, 2017) — Lexington-Fayette Urban County Government, in partnership with the University of Kentucky's Pedestrian Advisory Committee and Kentucky Transportation Cabinet District 7, recently completed the implementation of Lexington's first all-way pedestrian crosswalk — also known as a  pedestrian scramble — at the intersection of Prall Street and South Limestone.
The pedestrian scramble temporarily stops all vehicular traffic, allowing pedestrians to cross an intersection in every direction at the same time. The recently established committee saw installing the scramble as an opportunity to improve pedestrian traffic at the particularly busy intersection.
"A pedestrian scramble was a logical fit for Prall Street, due to the high volume of pedestrians in this area," said Lance Broeking, director of UK Transportation Services and chair of the Pedestrian Advisory Committee. "This is one of many infrastructure improvements designed to enhance the campus pedestrian experience."
As part of the implementation, crosswalks have been re-striped and "No Turn on Red" signs have been put in place. When approaching the pedestrian scramble, remember to cross only when the signal displays the walk symbol.
For more information about the Pedestrian Advisory Committee, visit www.uky.edu/transportation/pedestrian.