UK, UPK Authors Among Featured at KY Book Fair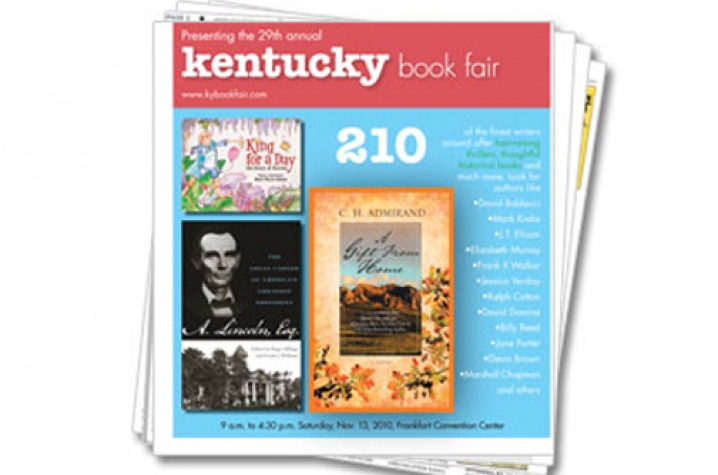 LEXINGTON, Ky. (Nov. 10, 2010) − Many of the books at the 29th Annual Kentucky Book Fair will be affiliated with the University of Kentucky or the University Press of Kentucky (UPK). This year's fair, co-sponsored by UPK, will be from 9 a.m. to 4:30 p.m. Saturday, Nov. 13, at the Frankfort Convention Center, in Frankfort, Ky. The fair will be free and open to the public.
 
The Kentucky Book Fair was founded in 1981 with the intention of honoring the profession of writing with a one-day celebration, to provide a place for authors to meet their readers, and to sell books to raise money for schools and public libraries throughout Kentucky. It is the largest and oldest book fair in the state. The fair especially recognizes Kentucky authors and editors.
A number of UK Alumni, staff and faculty will take part in the Kentucky Book Fair. The UK author's and their corresponding books are: Jon Carloftis, "Beautiful Gardens of Kentucky"; Steven R. Cope, "The Appalaches or Talking Down a Hole"; Normandi Ellis, "The Modern Day Alchemist"; Patti B. Geil, "What Do I Eat Now?"; Charlie Hughes, "Body and Blood"; Marcia Thornton Jones, "Rat Fink"; Abigail Keam, "Death By A HoneyBee"; Mark Krebs, "Beyond a Dream"; Bobbie Ann Mason, "Nancy Culpepper"; Gwen Mayo, "Circle of Dishonor"; Tom McKenney, "Jack Hinson's One-Man War"; Ron Rhody, "Soccer, A Spectator's Guide"; Sherry Robinson, "My Secrets Cry Aloud"; Frank X Walker, "Isaac Murphy: I Dedicate This Ride"; Stuart Warner, "Jock: A Coach's Story"; and Gary P. West, "Eating Your Way Across KY: 101 Must Places to Eat." Additionally, Lalie Dick, widow of beloved former UK faculty member David Dick, will be there to represent his last book "Outhouse Blues," and the Kentucky Kernel will be on hand with their book "Blue is Back."
UK authors with UPK connections participating in the Kentucky Book Fair include Greg Abernathy with his co-authors Marc Evans and Deborah White of "Kentucky's Natural Heritage: An Illustrated Guide to Biodiversity"; Ron Pen, associate professor of musicology, director of the John Jacob Niles Center for American Music and the Appalachian Studies Program, and author of "I Wonder as I Wander: The Life of John Jacob Niles"; and doctoral history graduate Maryjean Wall, author of "How Kentucky Became a Southern: A Tale of Outlaws, Horse Thieves, Gamblers, and Breeders."
Other authors and editors with recent publications from UPK participating in the fair and their corresponding books are: James Archambeault, "Kentucky Horse Country: Images of the Bluegrass"; Roger Billings, "Abraham Lincoln, Esq.: The Legal Career of America's Greatest President"; Lonnie E. and Roberta Simpson Brown, "Spookiest Stories Ever: Four Seasons of Kentucky Ghosts"; T. Crunk, "New Covenant Bound"; William Montell, "Tales of Kentucky Ghosts"; Estill Curtis Pennington, "Lessons in Likeness: Portrait of Painters in Kentucky and the Ohio River Valley, 1802-1920"; Joy Perrine and Susan Reigler, "The Kentucky Bourbon Cocktail Book"; James A. Ramage, "Gray Ghost: The Life of Col. John Singleton Mosby"; and Rusty Williams, "My Old Confederate Home: A Respectable Place for Civil War Veterans."

Offices for the administrative, editorial, production and marketing departments of UPK are found at the University of Kentucky, which provides financial support toward the operating expenses of the publishing operation.
For more information on the 29th Annual Kentucky Book Fair, visit the fair online at http://kybookfair.org/.