BBGG Taps Into Lexington's Water Resources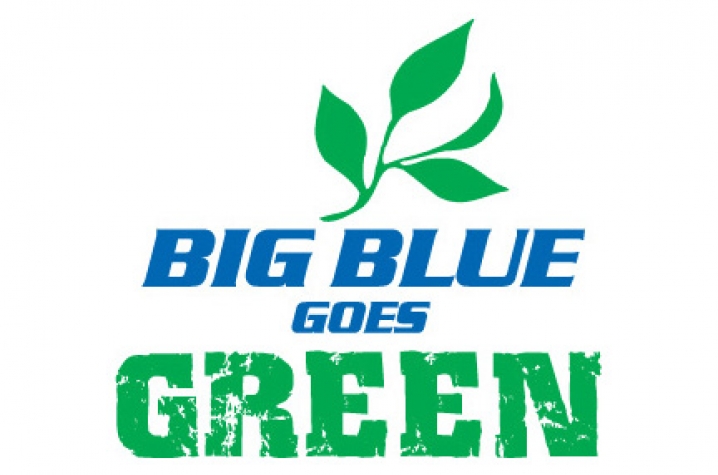 LEXINGTON, Ky. (Sept. 24, 2009) – Displays representing a sample of the University of Kentucky's sustainability activities and initiatives, a tour of the university's energy management system, a visit to McConnell Springs Water Improvement Project, and a PBS documentary, "Liquid Assets," will be highlighted in today's Big Blue Goes Green: A Sustainability Showcase.
The sustainability displays include a series of Geographic Information Systems (GIS) "green maps" that offer an overview of UK's sustainable efforts both on main campus and across Fayette County. These "green maps" have been developed in support of the Green Map System's (GMS) global initiative to map green living, natural and cultural resources. Other displays include Physical Plant Division's (PPD) recycling and green cleaning initiatives, the PPD Delta Room (see more below), films, as well as other displays and presentations. Sponsored by UK Facilities Management, the Sustainability Display is set from 9 a.m. to 4 p.m. in the Student Center Grand Ballroom.
For those interested in behind-the-scenes campus tours, BBGG offers the central energy management system for main campus, otherwise known as the Delta Room. A monitoring and dispatch service for main campus, the Delta Room functions under specific priorities – life safety, human/creature comfort, and energy conservation. Working within these priorities, the Delta Room utilizes a combination of three computer-based energy management and facility management systems and one fire alarm reporting system. Participants will learn about the various items that are controlled and monitored by these systems, including air handling units, chilled water pumps, and fire alarm systems. Slated from 10-11 a.m. today, the tour begins in the Student Center Grand Ballroom and is sponsored by UK Facilities Management, Physical Plant Division.
Students, faculty and staff can tour the $500,000 construction project under way at historic McConnell Springs today. The city of Lexington, utilizing a U.S. EPA grant, is addressing storm-water pollution at the springs. Non-point source pollution, from trash and debris caught in roadway storm drains to runoff from industrial, business and residential areas, is caught in the water that flows underground into McConnell Springs, depositing debris and chemicals into the park. The focus of the McConnell Springs project is to reduce the pollution and control storm-water as it enters the site, while preserving the natural environment of the springs. The project will have the added benefit of providing a demonstration of sustainable storm-water treatment practices. Presented by the City of Lexington, the tour bus will pick up participants at William T. Young Library at 12:30 p.m. today and return at 2:30 p.m. Parking is available for those who prefer to drive to McConnell Springs, located near McConnell Springs Road and Manchester Street.
"Liquid Assets: The Story of our Water Infrastructure," a PBS documentary that takes viewers to the hidden infrastructure of water, wastewater and storm-water systems in America. The documentary details the economic, political and engineering challenges facing cities today to address infrastructure needs. Presented by the City of Lexington, the film will be shown from 3-4:30 p.m. today in the UK Student Center, Center Theater.