Big Blue Nation to Celebrate, Preserve Wildcat Legacy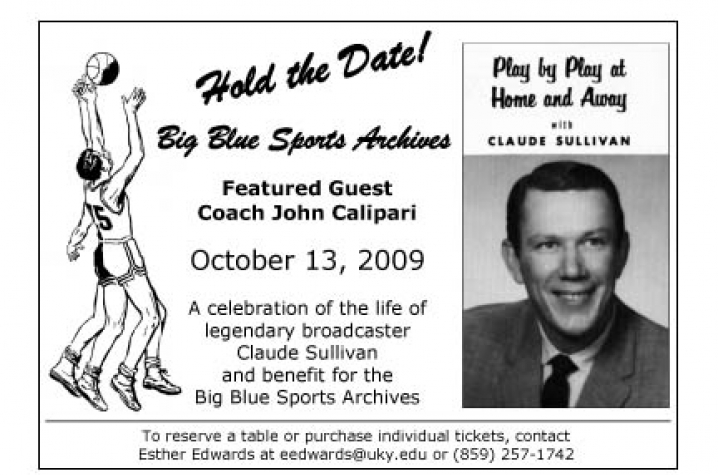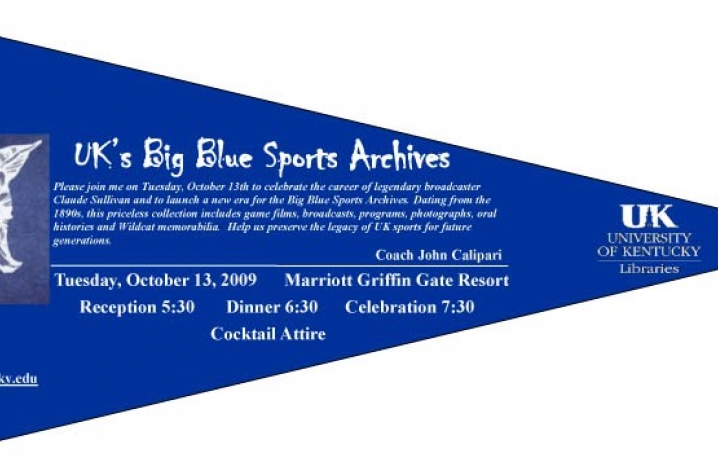 LEXINGTON, Ky. (Sept. 25, 2009) - The University of Kentucky Libraries, with help from UK Athletics and the Big Blue Nation, are using advanced technologies and archival techniques to preserve and make available to the public the Wildcats' storied history. In honor of this considerable undertaking, UK Basketball Coach John Calipari and the family of the late legendary broadcaster Claude Sullivan invite the public to celebrate the creation of the Big Blue Sports Archives Endowment, Tuesday evening, Oct. 13, at the Griffin Gate Marriott Resort.
UK Archives has preserved one of the finest college sports archives in the U.S. and is home to more than 4,000 videotapes, 1,500 audiotapes, 1,500 films, 10,000 photographs, 30 scrapbooks, and 150 boxes of clippings, programs, and media guides related to UK Athletics. While the collection has been heavily used by researchers, most of the materials have not been readily available to the general public. With support of an endowment for the Big Blue Sports Archives, UK Libraries will make this archive of all-things UK sports available to Wildcats fans and the public worldwide through the Internet.
Coach Calipari is lending his support to the endowment for an athletics archive and understands the importance of its mission.
"While I have been part of the Big Blue Nation for a relatively short time, I understand your deep appreciation for, and pride in, Kentucky's athletic tradition," said Coach Calipari. "I am proud to be a part of that tradition and want to build on its success. But even as we look to the future, we must assure that our wonderful heritage is preserved."
UK Archives has the important role of ensuring that the sights, sounds, facts and goals surrounding UK sports are more than a memory. To date they have preserved much of the history of athletics at UK dating back to the 1890s. Archives began this process by collecting photographs, news clippings, game programs and other printed materials. In the 1970s, Archives began to assume the added responsibility of preserving basketball and football game films and tapes, as well as radio and television broadcasts.
The UK Big Blue Sports Archives Endowment will provide much needed resources for collecting, preserving, digitizing and providing access to Big Blue Nation fans and sports history researchers worldwide.
Thanks to a generous gift from the Claude and Alyce Sullivan family, the legendary announcer's broadcasts have been cleaned, restored and digitized at UK. Not only was Sullivan one of the best broadcasters in Kentucky history, but these records document a critical era in sports history and serve as an invaluable component of the Big Blue Sports Archives.
The establishment of the Big Blue Sports Archives Endowment allows UK to join the ranks of several other universities maintaining substantial sports archives, including Penn State University, University of North Carolina at Chapel Hill, University of Michigan and University of Alabama. The endowment ensures that the Big Blue Sports Archives has necessary personnel and current technology for the archives to become a true center of excellence for research in sports history and a source of pride for the Big Blue Nation. 
Celebrated athletes, coaches and sportscasters are lending their support to help preserve the Wildcats rich legacy and many will be on hand at the Big Blue Sports Archives celebration. Joining Coach Calipari in supporting the Big Blue Sports Archives are several former athletes, sports broadcasters and writers, and current and former UK Athletics officials including: Sam Bowie, Richie Farmer, Ralph Hacker, Dick Gabriel, Cliff Hagan, Coach Joe B. Hall, Jim Host, Tom Leach, Kyle Macy, C.M. Newton, Martin Newton, Billy Reed, Russell Rice, Herky Rupp, Adrian Smith, and Kenny Walker. Additionally WKYT and WLAP, the flagship stations of the current Big Blue Sports Network, are providing their support to the Big Blue Sports Archives.
The Big Blue Sports Archives celebration will begin with a reception at 5:30 p.m. Tuesday, Oct. 13. Dinner will follow at 6:30 p.m. with the program beginning at 7:30 p.m. All events will take place at the Griffin Gate Marriott Resort.
Seating is limited so organizers suggest acting soon to reserve a table or purchase individual tickets for the Big Blue Sports Archives Celebration. To purchase tickets or find out how to donate to the endowment, contact Esther Edwards by phone at (859) 257-1742 or e-mail to eedwards@uky.edu.