Bike Week Pedals Onto Campus April 13-17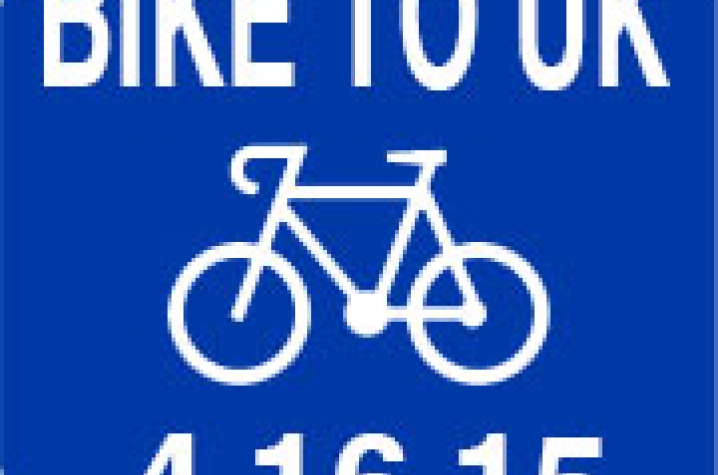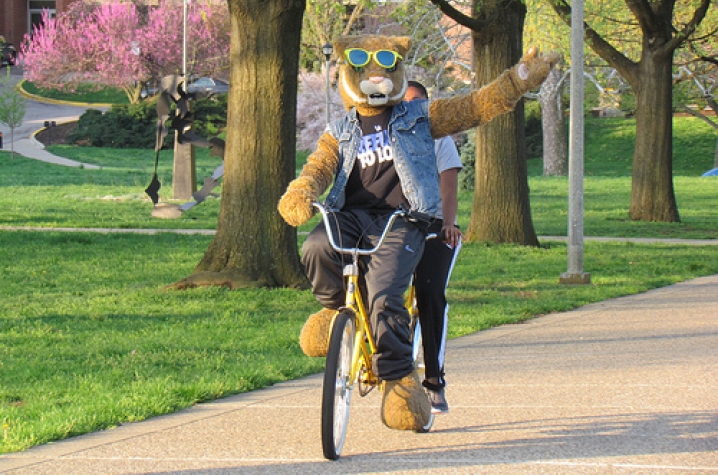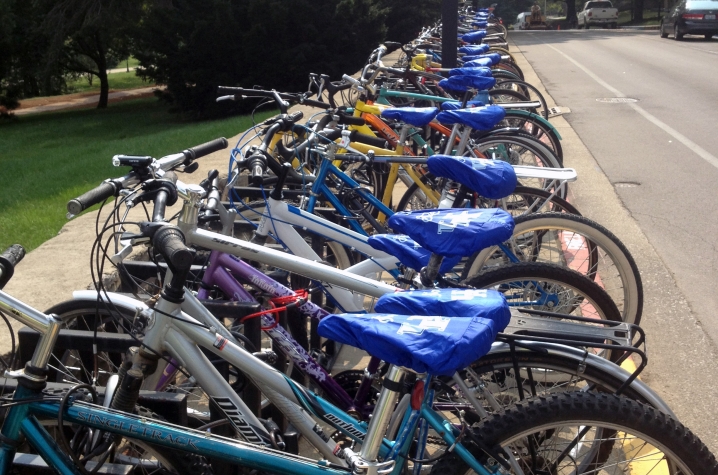 LEXINGTON, Ky. (April 13, 2015) — This week, the University of Kentucky — a Bicycle Friendly University — will celebrate biking as a form of transportation and educate the campus community about navigating campus by bike. As part of the annual Earth Days in the Bluegrass event, UK Parking and Transportation Services and the Bicycle Advisory Committee are presenting the third annual Bike Week, to be held April 13-17. All events are free. However, if you plan on attending Tour de Downtown Art, please RSVP on the event's Facebook page.
Bike Week is designed to familiarize the UK community with the variety of resources available to those who choose to bike on campus and to offer opportunities for students and employees to become engaged in the Lexington bike culture.
Bike Week will get rolling Monday, April 13, with DIY Fix-It Station demonstrations. There will be three DIY Fix-It demonstration stations across campus. Locations include College of Nursing, Patterson Drive and W.T. Young Library. All stations will be open for demonstrations from 11:30 a.m.-12:30 p.m.
UK Parking and Transportation Services will host a "Why I Ride" video competition. Students and employees are encouraged to take a short 5-15 second video explaining why they ride their bikes to campus. Videos must be shot horizontally on a cell phone and include a bike and/or helmet in the shot. All video submissions can be sent to whyiride@uky.edu. The winner of the video competition will receive an iPad mini.
Events are planned throughout the week to highlight bicycling at UK. The schedule of events is as follows:
·         Monday, April 13, 11:30 a.m.-12:30 p.m. — Get Your DIY On! Fix-It Station Demonstrations
DIY Stations at the College of Nursing, on Patterson Drive and W.T. Young Library
While you may know that the University of Kentucky has six do-it-yourself bicycle repair stations on campus, do you know how to use them? Wildcat Wheels Bicycle Library staff will join members of the UK Bicycle Advisory Committee in breaking down how to use these resources should you even be in need of a quick fix!
·         Tuesday, April 14, 6 - 7:30 p.m. — Tour de Downtown Art -  Postponed until            April 21                                                                                                              
Downtown Lexington; departs from Alumni Plaza                                                        
Get a unique perspective on some of downtown Lexington's murals on this group ride. The ride will be led by instructors certified by the League of American Bicyclists and the tour will be guided by Georgia Henkel, an accomplished artist very familiar with the works on the tour. The tour is expected to cover 2-3 miles at a very leisurely pace. Please sign up to attended this free tour via the 
Facebook event page
.
·         Wednesday, April 15, 8 p.m. — Bike-In Movie: The Bicycle Thieves
Student Center Addition Patio
You don't have to ride your bike to this outdoor movie, but we will have special prizes for those students who do! Students who arrive by bike will receive a free set of LED bike lights, while supplies last. Come watch this critically-acclaimed 1948 Italian film (with English subtitles) about a man who needs a job, a bicycle to do it, and his subsequent search for his stolen bicycle.
·         Thursday, April 16, All Day — 3rd Annual Bike to Campus Day
Show your support for the 3rd Annual Bike to Campus Day by using our Bike to Campus avatar as your profile pic on Twitter, Facebook and other social media outlets! Help spread the word about your choice to use bicycling as your primary mode of transportation.
·         Thursday, April 16, 7:30-9:30 a.m. — Bike-In Breakfast
Bike racks at Patterson Drive, Funkhouser Drive and College of Nursing
Students are encouraged to kick off Bike to Campus Day right by stopping by on their commutes for bicycle-powered smoothies (Patterson Drive location only), coffee and donuts. While you're there, get information on campus and Lexington bike resources and free swag. Bikes not required - all members of the campus community are welcome to come learn more about wheeling around campus.
·         Friday, April 17, All Day — Car-Free Day
Take the car-free pledge and liberate yourself from the combustion engine for a day of fresh air and exercise so you can spend your gas money on something fun! Pledge on the UK Sustainability Facebook page for a chance to win a bike-related prize. Lots of car-free resources are available on the alternative transportation page.
For more information, visit www.uky.edu/pts/bac/bike_week. To learn more about bicycling on campus, visit http://www.uky.edu/pts/alternative-transportation_bicycle-information. 
MEDIA CONTACT: Blair Hoover, blair.hoover@uky.edu, 859-323-2395