Campus Conversations: College of Education Preparing Educators and Health Professionals, Improving Education and Health Across Kentucky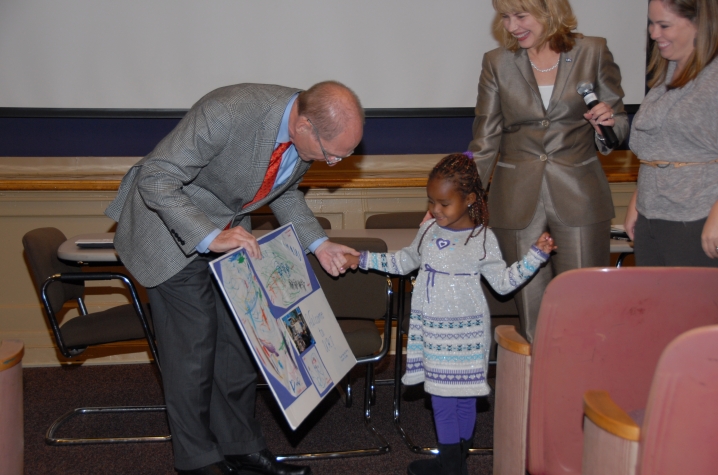 LEXINGTON, Ky. (Oct. 26, 2011) – The University of Kentucky's College of Education is leading the way in educating the teachers and leaders who will continue to transform the state's educational system. But as important, UK President Eli Capilouto says, the college is on the ground in communities across the Commonwealth improving health and education in the classroom and communities. 
"The College of Education is leading the way in transforming the way we prepare students for education and health careers," Capilouto said. "The college's Kentucky P20 Innovation Lab is the lead agent in a multi-state partnership to develop innovative educational practices for our nation's youth."
Some of those efforts toward transformation of education include:
The college's Rehabilitation Counseling program is currently ranked 17th in the nation.
Kentucky is among six states selected to lead the nation in developing transformative educational practices as part of the Council of Chief State School Officers' Partnership for Next Generation Learning. States selected include Kentucky, Maine, New York, Ohio, West Virginia, and Wisconsin. The effort is housed and led by the University of Kentucky College of Education's P-20 Innovation Lab in partnership with Kentucky Department of Education (KDE) and Council on Postsecondary Education (CPE).
The College's Exercise Science program has more than 700 undergraduate majors who pursue careers in areas such as physical therapy, medicine, pharmacy, medical equipment sales, dentistry and personal training.  In addition to the exercise science program, the college prepares students to teach health and physical education P-12.  Students can also pursue a Ph.D. in exercise science in the College's Department of Kinesiology and Health Promotion.
Students and faculty are engaging globally in partnerships across the world.  These international collaborations have a direct positive impact on how well the College of Education's faculty and graduates are able to connect with the world to produce economic, cultural and technological benefits.
The college's Early Childhood Lab, established in 1928, is a university-based center licensed for 54 children, ages 6 weeks to 6 years, providing high quality early childhood teacher and director preparation programs as well as professional development for state and national early childhood centers.
The college's Collaborative Center for Literacy Development (CCLD) is a collaboration among the eight state universities and the National Center for Family Literacy.  CCLD is currently in 104 of Kentucky's 120 counties promoting high-quality literacy educator professional development and research to meet Kentucky's literacy needs.
The college is a leader in collaborating, working with six other colleges on campus in the delivery of educator preparation programs.
The College of Education's P-20 Lab faculty fellows are currently engaged in intense collaboration with 20 Kentucky school districts and conducting innovation projects that reach approximately 75 percent of the Commonwealth.
"Faculty are looking for new ways to expand their capacity to conduct research and innovate education for Kentucky," Capilouto said. "The College of Education provides opportunities to faculty through our P20 Innovation Lab for interdisciplinary, problem-based research.  It is a concrete and profoundly important example of how research work can be translated into important developments and results in communities across the Commonwealth."
MEDIA CONTACT:  Jay Blanton, (859) 257-6605; jay.blanton@uky.edu