Love Your Body Week Celebrates the Body in All Forms, Promotes Positive Self-Image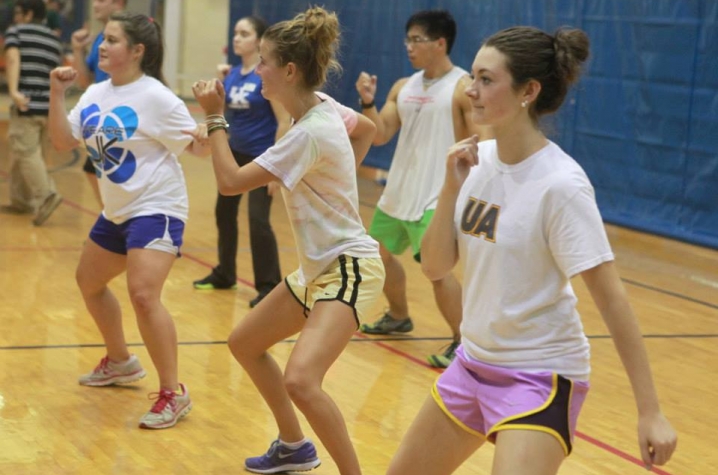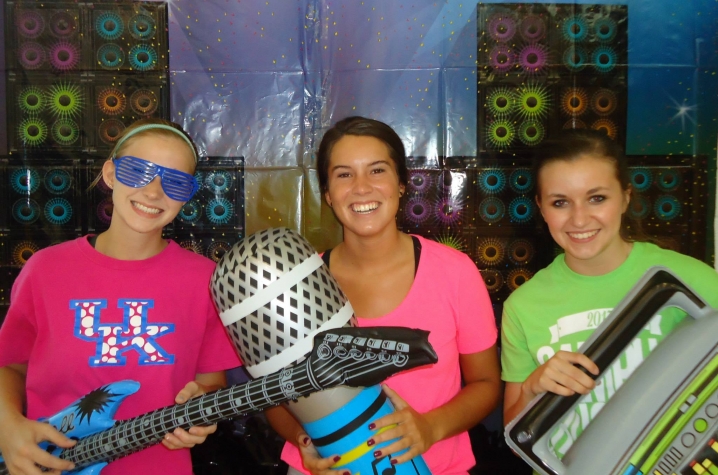 LEXINGTON, Ky. (Feb. 24, 2014) - University of Kentucky students will write poems, create stress-coping crafts and exercise without mirrors this week as part of a campus-wide event promoting self-appreciation as part of a healthy lifestyle.
Love Your Body Week, Feb. 24-28, organized by UK Campus Recreation, the UK Violence Intervention and Prevention Center, University Health Service and the University of Kentucky Counseling Center, offers a week-long lineup of workshops, workouts and other therapeutic activities to encourage positive self-images in students. Free events held across campus include mirror and tranquility jar crafting stations, a body image spoken word workshop, a mindful eating workshop, a photo booth and notes station, a body image resource table, themed workouts, and more. For a full schedule of events, click here.
Julia Buchanan of UK Campus Recreation said this is the first year that the several campus groups have collaborated on a unified self-appreciation event. As a fitness and wellness programmer, Buchanan sees many students resorting to unhealthy extremes to achieve what the media has labeled the "perfect body."  She said this week is about helping students embrace their bodies and adopt healthy behaviors.
"'We often hear negative self-talk in the fitness center and on campus among students," Buchanan said. "This is the time of year for spring break and a lot of students are concerned about body image. We want to promote positive, healthy behaviors."
Catherine Martin, the prevention educator for the UK VIP Center, will lead mindfulness exercises during Love Your Body Week. She said Love Your Body Week events are opportunities for students to consider what body image means and how it affects their self-esteem. Love Your Body Week events end on Friday, but Martin hopes students will understand that self-appreciation is part of a healthy lifestyle year-round.
"We are constantly bombarded with messages about what it means to be perfect, and unfortunately a lot of that is related to our bodies," Martin said. "With the way that the body is portrayed, especially in the media, it's easy to internalize those and not fully respect yourself."
Health education coordinator Emily Waits with University Health Service counsels students on disordered eating and body image issues. She reminds students that beauty comes in many sizes, shapes and forms, and is not measured by a number on a scale. University Health Service and University Counseling and Testing Service provide an eating disorder team and other resources to help students with body image and self-love issues. For more information on body image resources and counseling, visit www.uky.edu/StudentAffairs/Counseling.  
Students are encouraged to voice positive thoughts about their body using the hashtag #LoveYourBodyUK on Twitter, Instagram and Facebook. Each day of the week students will be asked to respond to a specific theme on social media.  Themes for each day of the week are:
No Makeup Monday - Go without makeup to show your natural beauty.
Treat Yourself Tuesday - Indulge yourself in something that will make you happy.
Pay it Forward Wednesday - Give someone a confidence-boosting compliment.
Throwback Thursday - Reflect on a past experience that positively influenced who you are today.
Fun Fit Friday - Thank your body for what it's able to do.
Activities throughout Love Your Body Week include:
All Week
Tranquility Jars, 8:30 a.m. - 5 p.m. in the VIP Center - Students can make-and-take a tranquility jars that will help manage stress and negative thoughts. 
Monday
Passion, Peace and Pilates, 9:30 a.m. at the Johnson Center - Instructors will turn the class away from mirrors so students can direct their focus inward.
Tuesday
Love Your Body Table and Giveaways, 11 a.m. - 2 p.m. at the Student Center Starbucks
America the Beautiful Move Night, 7:30 p.m. at the Library Room B-108C - Students are invited to a free viewing of the documentary that addresses America's obsession with beauty and image.
Wednesday
Express Yourself, 11 a.m. - 2 p.m. at the Student Center Starbucks - This mirror-creating exercise promotes positive self-images in students and supplies are provided.
The Body is not an Apology, 2:30 - 4:30 p.m. at the VIP Center - In this session, participants will be introduced to the Body is Not an Apology movement through the art of spoken word poetry. Spoken word can be a powerful tool of releasing emotion, communicating life experiences and views, or reflection. Participants are encouraged to join in the conversation, share their own tips or poems or just listen to the power of their peers. 
Thursday
Mindful Eating Workshop, 12:30 p.m. in the Cat's Den - This workshop provides free pizza and includes an exercise in meditating on food's role in the body.
Love Your Body Photo Booth, 5 - 7 p.m. at the Johnson Center
Inner Strength Cycling, 7 p.m. at the Johnson Center
Mindfulness and Meditation, 8 p.m. at the Johnson Center
Friday
Inspiration Intervals, 4 p.m. at the Johnson Center
MEDIA CONTACT: Elizabeth Adams, elizabethadams@uky.edu