Capilouto: To Fulfill Kentucky's Promise, Renewal of Campus Must Occur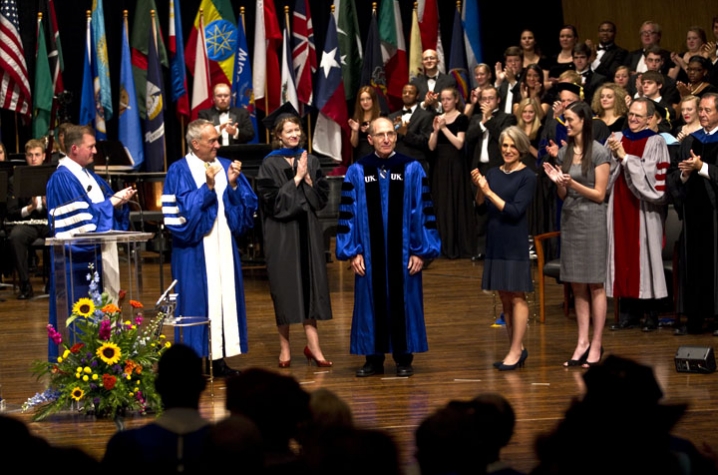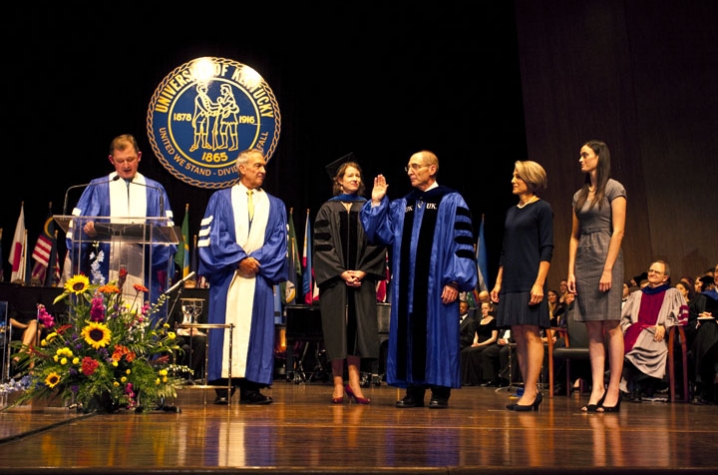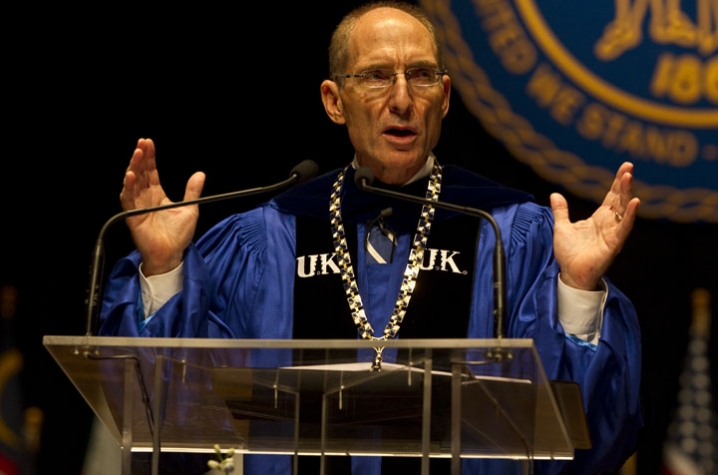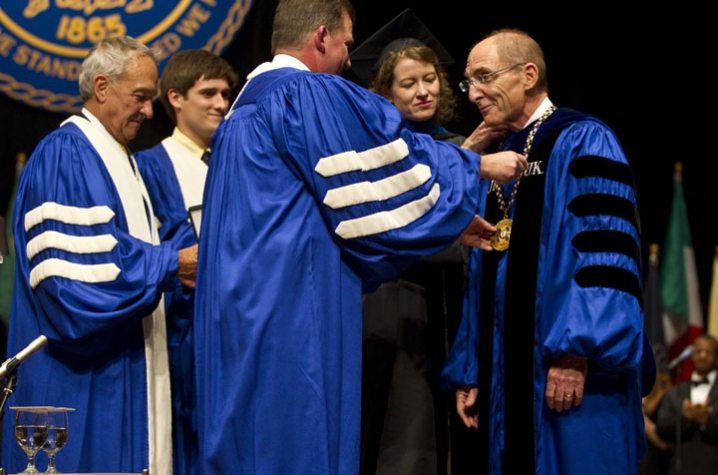 LEXINGTON, Ky. (Oct. 18, 2011) – As he was formally installed as the University of Kentucky's 12th president, Eli Capilouto said that for the University of Kentucky to fulfill its promise, it must begin now "with a fierce sense of urgency" to "rebuild this campus."
"UK is a promise we have made to each other that says that young Kentuckians from all walks of life, backgrounds and experiences are welcome here and that they leave as our best and brightest because we foster their potential and brilliance," Capilouto said during a late afternoon ceremony at the Singletary Center for the Arts.
But Capilouto said that ensuring long-term the health of that promise will require confronting issues such as the need to expand and enhance undergraduate education and scholarships while also turning attention to a core of campus with buildings averaging nearly 50 years old and a lack of modern student housing.
"We have more than $1 billion in construction needs, but in the midst of great economic challenge, there are opportunities," Capilouto told the campus community, several university and college presidents and other officials. "Construction costs have never been more affordable and interest rates never lower or more competitive."
Specifically, Capilouto during his investiture remarks said that he would focus on:
Renovating and reconstructing the academic core of our campus, which has some 12 buildings that have been recommended for tearing down and another 29 recommended for major renovations, according to a recent state study.
Making more buildings accessible to people with disabilities.
Repairing and expanding UK student housing, which now consists of about 5,500 beds, only 500 of which are considered modern. Capilouto said new residence halls must provide high-tech living and learning opportunities for students, "where they can learn as part of a community and be prepared for a more diverse world."
 Building new classroom space in the core of campus, equipped with "technology that opens up unlimited potential for our students and faculty to teach and learn as partners … (and that allows for expanding) "our innovative educational and honors programs, including clinical and research space."
Growing funds to expand scholarships for awards such as the Singletary Scholars, the highest academic scholarship offered by the university, and others that ensure the state's "best and brightest" don't leave Kentucky, while also providing more opportunities for young Kentuckians, from a variety of backgrounds, to attend UK.
Financing revitalized facilities for the arts and self-financed athletics facilities that "both draw in new students and cement ties to our alumni and supporters across the Commonwealth."
"There is no easy time. There is only our time," Capilouto said. "And this is the University of Kentucky's time because we must honor our promise. It is time to build with our eyes fixed firmly on honoring the promise to which we … are all committed.
"UK is, indeed, a remarkable place. It is remarkable for the excellence of its legacy, the clarity of its values and the sustenance we find in its potential. Let us proclaim today, in the cadence of a common voice, that we are resolute in seeing that the University of Kentucky's promise will endure."
The full text of Dr. Capilouto's speech is available for download as a PDF.  
The video is available for viewing on UK's YouTube channel, www.youtube.com/universityofky.
MEDIA CONTACT:  Jay Blanton, (859) 257-6605 or 699-0041; jay.blanton@uky.edu