Coach Calipari at Small Business Bounce Back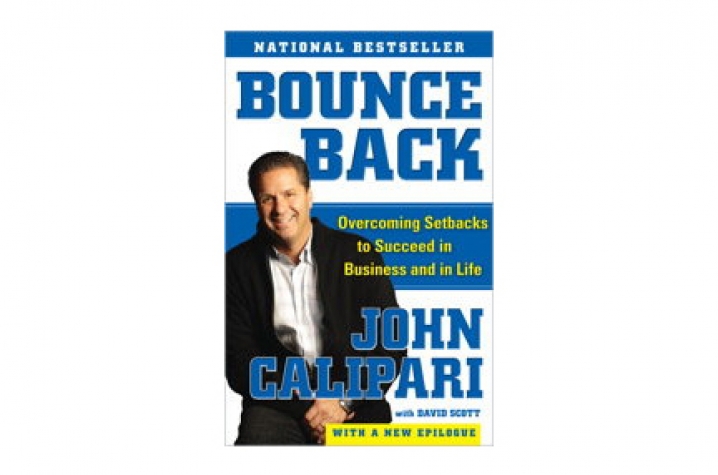 LEXINGTON, Ky. (Aug. 5, 2010) -- UK Men's Basketball Coach John Calipari will join KyBizInfo.com and the Bluegrass Small Business Development Center for a statewide event designed for small business owners and Kentucky's nonprofit small business resource providers. "Small Business Bounce Back" will be held Thursday, Sept. 2, at the Embassy Suites in Lexington, Ky.
The goals for this statewide meeting are to link small business resource partners to small business owners and to provide valuable information and motivation to assist small business recovery in Kentucky.
Coach Calipari's presentation will feature his book, "Bounce Back/Overcoming Setbacks to Succeed in Business and in Life." Each attendee will receive a copy of the book, which Coach Calipari will sign at the event.
Small Business Bounce Back attendees will also hear about the steps taken by several Kentucky small business owners as they have worked to "bounce back" from near disaster. Additionally, tools and resources will be presented that can help Kentucky's small business owners and would-be entrepreneurs achieve success in their ventures. 
"Small businesses play a vital role in Kentucky's economy," says Kevin Norvell, program director of KyBizInfo.com. "Small business owners are not alone in dealing with today's challenges. KyBizInfo.com was created to connect entrepreneurs to the nonprofit and public sector resources throughout Kentucky that can help their small businesses succeed."
In November 2009, the Kentucky Small Business Development Center (KSBDC), in partnership with nonprofit resource providers throughout Kentucky, launched an online tool that matches entrepreneurs with the right nonprofit resource provider for their needs – KyBizInfo.com. Currently more than 350 nonprofit resource providers are part of this network.
The KSBDC is a nonprofit, statewide network of 15 centers offering consulting and training services to small businesses. KSBDC is co-sponsored by the U.S. Small Business Administration and is administered by the University of Kentucky in partnership with regional universities, community and private colleges, and the private sector. The Bluegrass SBDC is located in Lexington.
The cost for the event is $35 per person, which includes a copy of Coach Calipari's book and lunch. See KyBizInfo.com for more details and to register.
For more information, call Jenny Case at 859-257-0104, e-mail info@kybizinfo.com or visit KyBizInfo.com.