College of Design Presents a Year's Work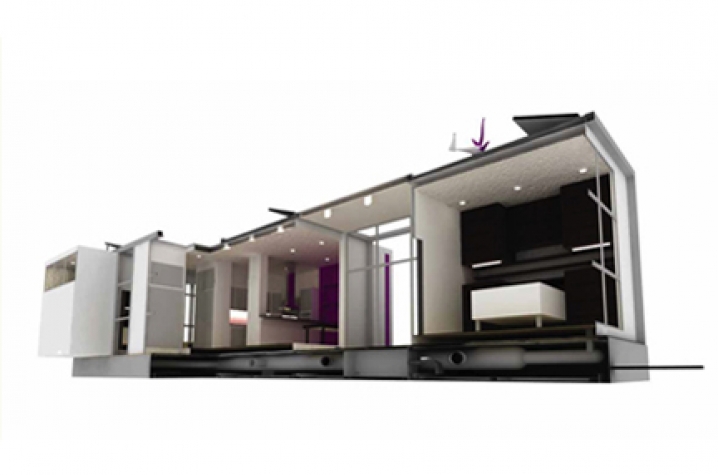 LEXINGTON, Ky. (May 6, 2010) − The University of Kentucky College of Design and LOT (Land of Tomorrow) Gallery present the Year End Graduation Show, an exhibition of student work from the College of Design. The show looks at contemporary design issues at a variety of scales and presents works from the four Master of Architecture Studios and selected graduate and undergraduate seminars in the Schools of Architecture and Interior Design. The exhibition, which is free and open to the public, begins at 7 p.m. Friday, at LOT, located at 527 East 3rd St.
The Year End Graduation Show showcases projects from the four architecture graduate studios that seek to redefine the role and efficacy of design in contemporary cultures, politics and economies. Studio research areas include the continued development of the "River Cities Project," a multi-year design initiative focusing on the revitalization of industrial cities located on the Ohio River; experimentation with responsive devices and their productive capacity as design tools to generate novel formal, structural and programmatic relationships; the adaptation of the regional houseboat industry to fabricate energy-efficient, low-cost housing; and policy as a form of design to optimize urban, suburban and rural planning . The students present their findings using animation, drawings, videos and models.
The Year End Graduation Show also features works from design seminars dealing with material research, digital fabrication, surface effects and innovative structures.
The student exhibition kicks off two days of events presented in celebration of UK College of Design students. On Saturday, celebrated architect and former UK architecture faculty member Daniel Libeskind will speak to the college's architecture, historic preservation and interior design graduates at the UK College of Design Recognition Ceremony. Libeskind will also be recognized at UK's 143rd Annual Commencement Ceremony.