College of Medicine Hits Top 20 for 'Social Mission'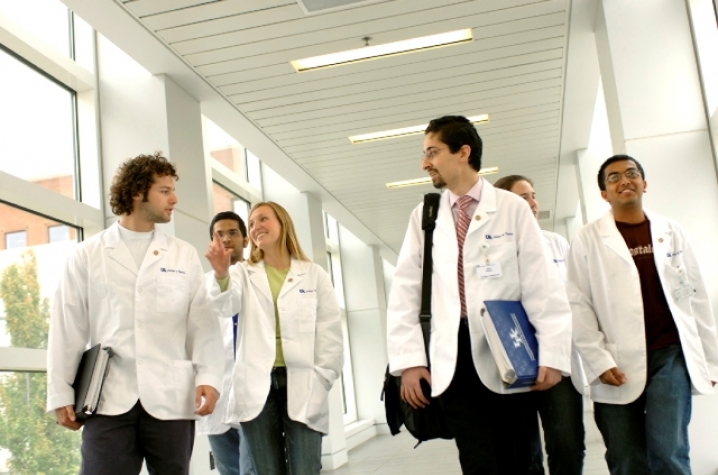 LEXINGTON, Ky. (June 30, 2010) — The University of Kentucky College of Medicine was ranked among the top 20 medical schools in the United States based upon its "social mission score" representing the percentage of graduates who practice primary care, work in underserved areas or are underrepresented minorities.
UK was ranked 14th in the national study, published in the June issue of the Annals of Internal Medicine by researchers at George Washington University, which included an analysis of 60,043 physicians in active practice who had graduated from medical school from 1999 to 2001. 
The study determined that public medical schools generally graduate higher proportions of primary care physicians and seem to graduate a greater proportion who practice in underserved areas. Overall, the higher social mission scores of community-based medical schools suggest a commitment to educate physicians who will pursue careers compatible with community needs.
"The UK College of Medicine was established to serve the entire Commonwealth of Kentucky – from its urban areas to its rural regions, from Fulton County to Pike County. Our position on the social mission ranking list is in no way a surprise to me," said Dr. Emery A. Wilson, interim dean of the College of Medicine and director of UK's Office of Health Research and Development. "Our students represent varying cultures and populations who work hard to meet the health care needs of all individuals, especially in regard to primary care. We teach our students to take care of the well-being of others, and this ranking is a reflection of how well we do that."
The study, funded by the Josiah Macy Jr. Foundation, concluded that "a diverse, equitably distributed physician workforce with a strong primary care base is essential to achieve quality health care that is accessible and affordable, regardless of the nature of any future health care reform."
" We keep our state responsibility in mind as we produce professionals to meet Kentucky's needs," said UK President Lee T. Todd, Jr. "Although we are a research university, we are not just focusing on research dollars but on our higher purpose of serving the citizens of the Commonwealth."