College of Social Work to Offer CE Boot Camp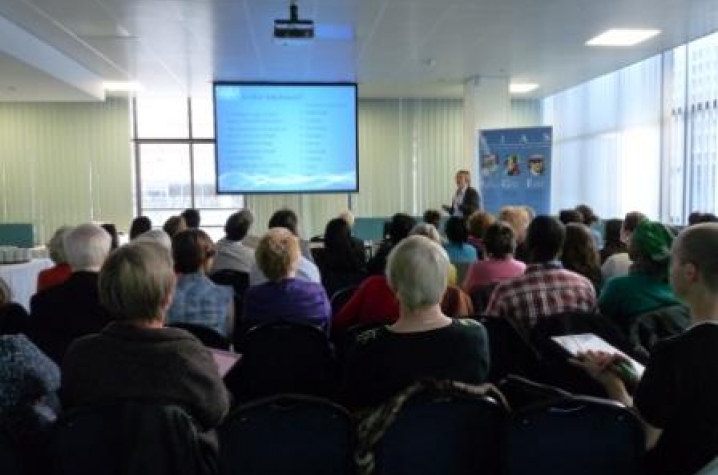 LEXINGTON, Ky. (July 18, 2016) – The University of Kentucky College of Social Work's Office of Professional Development and Continuing Education will host the 2016 Continuing Education Boot Camp 8 a.m. - 5 p.m. on July 21 and 8:30 - 4:50 p.m. on July 22, 2016 at the UK Singletary Center for the Arts.
"The College of Social Work is committed to the mission of promoting community and individual well-being through research, teaching, and community engagement. We are pleased to offer this community event to serve social workers and other behavioral health professionals across the Commonwealth. The impact of continuing education and professional development is instrumental in ensuring behavioral health professionals can meet the needs of those they serve and the College of Social Work is proud to be a committed partner in that effort," said Interim Dean, Ann Vail.
CE Boot Camp attendees will acquire cutting-edge, evidence-based learning opportunities designed for behavioral health professionals. The array of trainings offered will enhance their knowledge and skills while at the same time meeting state licensing and regulation requirements for professional practice. Participants will have the opportunity to choose the types of workshops they will attend at this conference to meet their specific CE needs.
All workshops offered at the CE Boot Camp are approved for continuing education by the Association of Social Work Boards, the Kentucky Board of Social Work, the Kentucky Board of Examiners of Psychology, Indiana Behavioral Health and Human Services Licensing Board, Kentucky Board of Certified Alcohol and Drug Counselors, and the Ohio Counselor, Social Worker and Marriage and Family Therapist Board.
"The UK College of Social Work CE Boot Camp offers social workers the ability to receive all of their required continuing education trainings (HIV, DV, PAHT, Ethics & Suicide Assessment, Treatment and Management) as well as additional optional continuing education. The CE Boot Camp experience is a truly unique opportunity for social workers to receive the bulk of their CEs needed for licensure renewal in one settling, at one time, and at an incredibly affordable rate," said Christina Gevedon, of the College of Social Work.
The CE Boot Camp is applicable to all behavioral professionals and approved by the above mentioned boards to meet continuing education state licensing and regulation requirements for professional practice. Discounts are available for groups as well as recent 2015/2016 graduates and can be applied to any registration option. For more information on group discounts, or to register a group, call Christina Gevedon at 859-257-2035.
Please visit http://ceu.uky.edu/Bootcamp2016, or contact Christina Gevedon for more information.