'Don't Call Me Homeless' Premieres at UK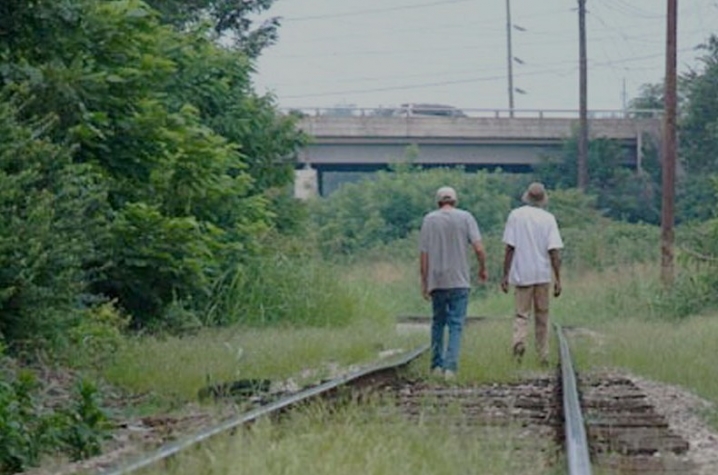 LEXINGTON, Ky. (Oct. 11, 2010)- What separates the homed from the homeless?
"What struck me right away was how little distance there was between me and between a homeless person," said University of Kentucky English doctoral student Jeff Gross. "Many had careers prior to their homelessness, and just one thing set off an unlucky chain of events. There's no great divide between us."
Gross became involved in the Lexington Catholic Action Center's Streets to Home program in January, and during the program's biweekly dinners, he made friends fast.
"As I was getting to know people, sometimes they would share stories of how they came to be this way," Gross said. "So, we decided to try to record some of their thoughts and stories to see if we could come up with a production."
Eric Seale, the artistic director of the Actors Guild of Lexington worked with Gross, who had never written a play; the informal project developed into the recently sold-out "Please Don't Call Me Homeless...I Don't Call You Homed."
The locally-premised show will make its debut on UK's campus for one night only. UK's Center for Community Outreach, College of Social Work, Office for Community Engagement, Division of Writing, Rhetoric, and Digital Media and Department of Theatre will present "Please Don't Call Me Homeless" at 7 p.m. Wednesday, Oct. 13, in UK's Memorial Hall.  
UK part-time faculty member and director for undergraduate productions Margo Buchanan is directing the campus performance and has added her artistic interpretation to the play. The campus version also features two different performers -- one with a new story to tell.
The play, which received standing ovations at its Aug. 20-21 premiere at the Downtown Arts Center, is based on the actual experiences of Lexington's homeless population. "A lot of people really didn't want to talk to me about it at first," Gross said. "But as time went on, they gained confidence, much like their step-by-step program with Streets to Home."
Senior social work student Kelly Duffy also volunteered with the Catholic Action Center this spring, attending dinners and movie nights, in addition to work during the day. "I quickly got close to people, and they began to share their struggles, dark stories and experiences," said Duffy. "We all have something that hurts; I think that their hurt is just more obvious."
Duffy plays the role of a social worker in "Don't Call Me Homeless," which matches up with what happens in real life. "At the Catholic Action Center, we support those that are recently 'homed,' or given an apartment to live in," she explained. "The play is a reflection of their times on these streets mixed with the Circle of Care Meetings that we organize."
"Please Don't Call Me Homeless" is based on the actual experiences of its actors, depicting the life of Lexington's homeless and raising awareness of their plight. "It feels good to give people a voice that didn't have one," said Gross. "And it was amazing when they got onstage; their confidence levels just skyrocketed."
"Everyone knew his or her lines before me and held each other accountable," added Duffy. "With this show, they are saying, 'I exist. I deserve to be here. And I'll tell you why.'"
Laura Hatfield, Director of Community Engagement, helped to bring the play to campus.
"'Please Don't Call Me Homeless' is truly one of the most powerful events I have ever witnessed. Who better to hear what they go through on a daily basis than from their lips, actions and tears?" Hatfield said. "Their raw honesty and ability to rise beyond adversity was incredibly humbling. While many of us pride ourselves on our accomplishments, possessions and status and believe these things are what give us true meaning in life, these men and women reveal that their pride and meaning comes from caring for one another, protecting one another and combating their demons within." 
Hatfield hopes that many students see the play, but also hopes that others take the next step. "We want to offer students the opportunity to engage in our community and beyond after witnessing such an event," she explained. "We will give UK students the opportunity to ask the cast questions as well as hear from Ginny Ramsey, director of the Catholic Action Center and David Christiansen, executive director of the Central Kentucky Housing and Homeless Initiative, on ways to create positive and lasting change in our community and beyond." 
"This is more than just volunteering for me," added Duffy. "I hope that people realize that the connection to these people is stronger than they think."
Admission to the show is free, but donations will be accepted for the Street Voice Council, a local group devoted to helping Lexington's homeless.
For more information, please contact Hatfield at 859-257-5234 or laura.hatfield@uky.edu.