EES Breaks Ground With Pioneer Gift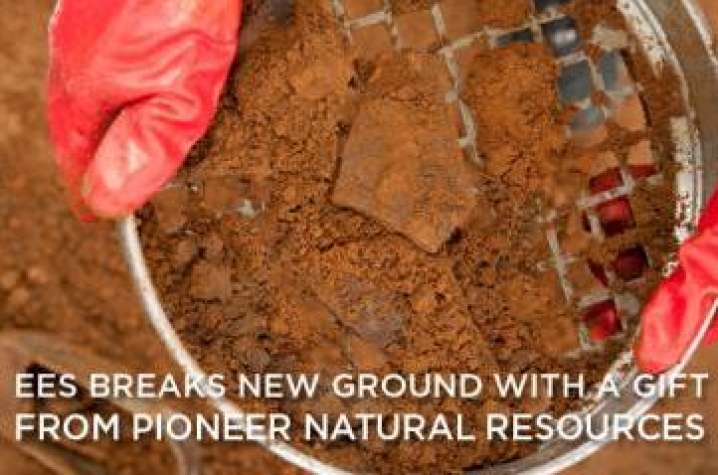 LEXINGTON, Ky. (Oct. 20, 2011) − University of Kentucky's Department of Earth & Environmental Sciences (EES), in partnership with UK alumnus Tom Spalding ('80, '82), accepted a $600,000 gift from Pioneer Natural Resources Company today.
Spalding is vice president of Pioneer, a large independent oil and gas exploration company based in Dallas, with operations in Texas, Colorado, Alaska and South Africa.
"Pioneer really went to bat for us," said David Moecher, associate professor and director of undergraduate studies of EES in the College of Arts & Sciences. "Tom [Spalding] and Pioneer want to make sure that we have faculty in these fundamental fields to maintain a pipeline of future earth scientists."
The gift, which is intended to be spread over the next three years, will fund the Pioneer Natural Resources Research Professorship in Stratigraphy, as well as a three-year recruiting fellowship, which will be given to EES freshman Ellen Kaiser this year.
"[Pioneer] wanted to fund a research professorship related to oil and gas: occurrences, exploration, discovery and development. That's called stratigraphy," Moecher explained.
Moecher, who helped facilitate the gift from Pioneer, said that EES hopes to fill the new professor position as early as January. The money will not only support the new faculty member's research program, but will also fund graduate and undergraduate student research.
"The College [of Arts & Sciences] has been very supportive of EES. We have two new faculty starting this fall, two more starting next year, and then came this Pioneer professorship. This is the icing on the cake," Moecher said.
The seeds for this gift were planted six years ago when Spalding, a Kentucky native, approached Moecher about facilitating a relationship between UK and Pioneer.
"Tom [Spalding] has always felt a really strong connection to the department," Moecher said. "He told us, 'I want to come back and start recruiting geology students from UK to work with Pioneer.'" Since then, three UK graduate students have gone to work for the company.
"With my connection to UK and successful recruiting efforts over the last five years, we were able to secure a significant financial gift to UK's Department of Earth and Environmental Sciences," Spalding said.
Moecher says this sense of connection and desire to give back is indicative of the culture in UK's EES Department. "The culture in earth science is one of having really strong alumni support, and that's kind of unusual in a lot of disciplines," he said. "Students [at UK] get to know each other really well, and you share everything – the highs and the lows – with everybody. You bond with people. You go through it all together."
It was that close connection that stuck with Spalding and motivated him to help EES grow.
"I appreciate the education I received at UK and have been blessed to be part of a growing industry and company," Spalding said. "This was a chance to give back and make sure that UK's EES Department continues to thrive."
Moecher believes that alumni relations become increasingly important as money becomes tighter at universities. Because of this, he also believes in preparing students for life outside of college, both as professionals and as alumni.
"I think our most important resource is our students, so my role in all of this is to facilitate opportunities with regard to their careers," Moecher said. "I think we should treat students like future alumni: professionally, as peers. And all it takes is one of them to do something like Tom is doing, and it can make a really big difference in the department."
Following the Pioneer gift presentation in Lexmark Room 209 of the Main Building, the College of Arts & Sciences will host a Pioneer Natural Resources and EES alumni reception from 3-4 p.m.
The EES Rast-Holbrook Homecoming Weekend Seminar, given by Pioneer scientist Kevin Woller, will take place from 4-5 p.m.