Follow Solar Decathlon, S•KY BLUE House Online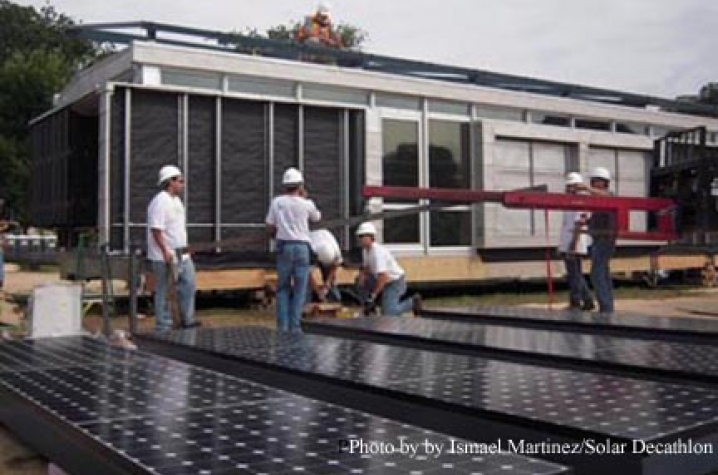 LEXINGTON, Ky. (Oct. 6, 2009) - Every two years, the U.S. Department of Energy hosts the Solar Decathlon and transforms the National Mall in Washington, D.C., into the global center of cutting-edge solar innovation. This year is no different as 20 university teams from across North America and Europe, including a team from the University of Kentucky, compete to design and build the most energy-efficient and stylish solar-powered homes. For those who can't make it to D.C., individuals interested in following UK's S•KY BLUE House and the solar energy innovations showcased at the 2009 U.S. Department of Energy Solar Decathlon can now keep connected via numerous social media applications.
The Solar Decathlon has multiple ways to follow their festivities, which begin Thursday, Oct. 8. Individuals are encouraged to check out the competition via the event's Web site, as well as YouTube, Facebook, Twitter and Flickr accounts. To learn more about the 2009 Solar Decathlon, visit the competition online at www.solardecathlon.org. To check out videos of the houses and activities on the National Mall, visit the Solar Decathlon YouTube Channel at www.youtube.com/user/DOESolarDecathlon. To check out pictures from the 2009 Solar Decathlon, friend the competition on Flickr at www.flickr.com/photos/solar_decathlonMembers of Facebook can also become a fan of the competition at . www.facebook.com/pages/Solar-Decathlon/46403176280. Members of micro-blogging site Twitter can choose to follow the decathlon at http://twitter.com/solar_decathlon.
Individuals can also check out multiple time-lapse cameras of the solar village on the Solar Decathlon Web site at www.solardecathlon.org/timelapse.cfm. To see UK's S•KY BLUE House, look at the house on the right side of the images from camera two at http://oxblue.com/pro/open/solardecathlon/cam2/.
Additionally, individuals can follow UK's team on its own Web site, Facebook page, Flickr account and YouTube channel. To learn more about UK's team and the S•KY BLUE House or to check out an image library, blog and videos from the team, visit them online at www.uky.edu/solarhouse. To keep up with the S•KY BLUE House on Facebook, become a fan of the team at www.facebook.com/pages/sky-blue-University-of-Kentucky-solar-house/77438450129. To see photographs of the house on Flickr, friend the UK team at www.flickr.com/photos/ukskyblue/. To look at videos of the house and the team's experience at the 2009 Solar Decathlon, visit their YouTube channel skybluevideo at www.youtube.com/user/skybluevideo.