Gatton to Host MBA Open House on Jan. 26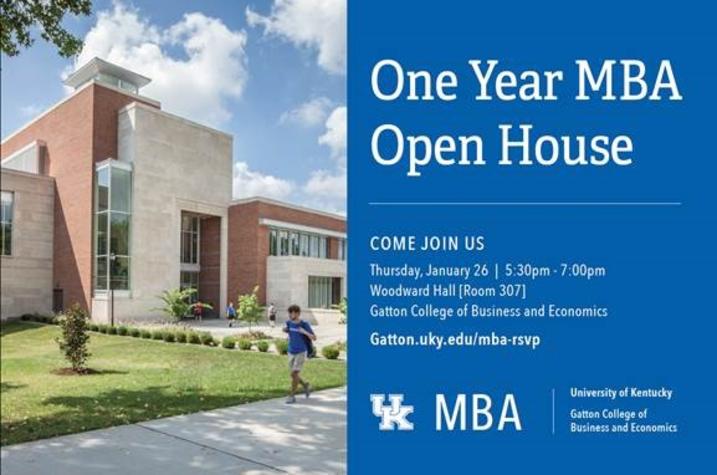 LEXINGTON, Ky. (Jan. 20, 2017) — The University of Kentucky's Gatton College of Business and Economics will be hosting a One Year MBA Open House event beginning 5:30 p.m. Thursday, Jan. 26, in the newly renovated Gatton College of Business and Economics building on campus. The event will be open to all students and majors interested in learning more about the full-time, accelerated One Year MBA program, along with each of the dual degree MBA options.
The One Year MBA is a full-time experience and at 51 credit hours, this program is shorter and more immersive than those found at other colleges and universities. The One Year MBA is positioned for both business and nonbusiness majors with students in the program having academic backgrounds in diverse academic areas such as engineering, communications, STEM, psychology, agriculture and political science, as well as business. The program's highly interactive, experiential courses cover core business functions which are highlighted in the unique built-in internship called Project Connect.
Harvie Wilkinson, director of the Gatton MBA program, says that "if you want to make yourself more marketable in today's competitive job market, or if you want to expand your skill set so that you can be successful in your career, then acquiring an MBA may be an attractive option for you."
Come out to interact and network with current MBA students in the program, alumni, faculty and staff.
The One Year MBA Open House event will have limited spacing, so register early at www.gatton.uky.edu/MBA-RSVP.