Get involved with the Office of LGBTQ* Resources this June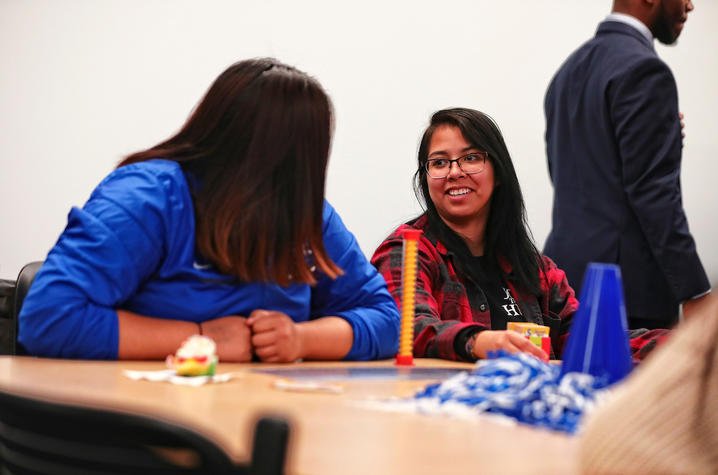 LEXINGTON, Ky. (June 6, 2023) ­— The University of Kentucky is a community that values inclusiveness and belonging for everyone.
As part of its commitment to those values, throughout the month of June, the University of Kentucky Office of LGBTQ* Resources, a unit housed in the Office for Student Success, will observe Pride Month. 
The annual celebration takes place every June to honor the 1969 Stonewall Uprising in Manhattan, a tipping point for the LGBTQ equality movement in the United States. 
The roots of the gay rights movement go back to the early 1900s when a handful of individuals in North America and Europe created gay and lesbian organizations. 
Over the years, gay pride events have spread from large cities to smaller towns and villages worldwide.
While the Office of LGBTQ* Resources observes pride month in June and celebrates in April, work is done year-round to support the LGBTQ community. The office's mission focuses on the three core pillars — education, advocacy and community building. With this mission in mind, the office is actively engaged in supporting student organizations, offering professional development opportunities for campus groups, and advocating for lesbian, gay, bisexual, transgender and queer individuals from all walks of life.
Here are five ways you can get involved with the office this month and beyond: 
The Office of LGBTQ* Resources is located in the Dinkle-Mas Suite in the Gatton Student Center. The campus community can drop by the Dinkle-Mas Suite from 8 a.m. to 5 p.m. Monday through Friday. If you are a student and would like to stay up to date on information regarding the office and stay in the know on events hosted by the Office of LGBTQ* Resources, register to join the Discord server, a free voice, video and text chat app open to undergraduate, graduate and professional students at UK. 
At the University of Kentucky, students are at the center of all that we do. From the moment you become a Wildcat through graduation and beyond, the Office for Student Success is committed to supporting you. Comprised of five areas and 25 units, together, they have one vision — to help students live a life of meaning. Student Success works through an equitable, holistic and inclusive lens to design and deliver unparalleled services and support a diverse community of learners in achieving their wildest ambitions. In the Office for Student Success this is what we do — this is who we are. You can explore resources available to you here. If you have additional questions, you can reach a Student Success team member by calling the helpline 859-218-YouK (9685).