Graduation Only Latest Victory for Iraq War Veteran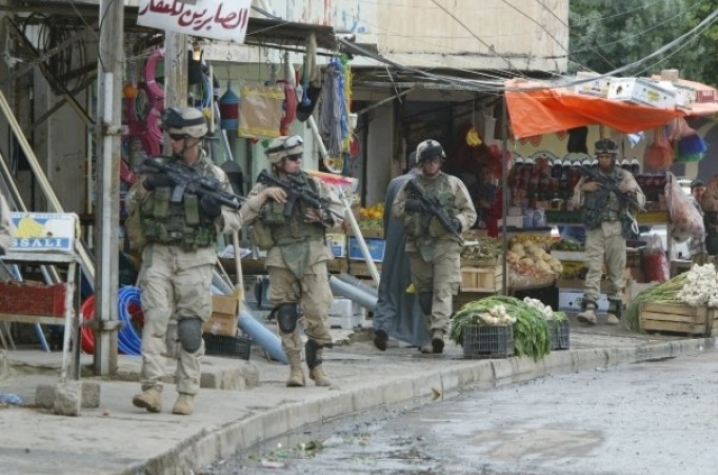 To view a transcript of the video above, please click here.
[IMAGE1]
LEXINGTON, Ky. (May 6, 2011) − It has been eight years since Jonathan Herst jumped out of a C-17 aircraft on a moonless night over Irbil, Iraq as part of the U.S. Army's 173rd Airborne Brigade. Mountaintops exploded around him as Air Force F-16s dropped bombs to prevent the enemy from coming after Herst and his fellow soldiers. But as his parachute opened, Herst's pistol belt snapped, flinging his ammunition, compass and map into the darkness. He landed with only a weapon, 20 rounds of ammunition and rations with which to survive.
Herst did survive. But two years later, during his second tour of duty, he lost his leg to a roadside bomb in Mosul. He endured 17 surgeries, years of pain and rehabilitation, and continues to struggle with post-traumatic stress disorder (PTSD). So when Herst walks across the University of Kentucky's Commencement stage May 8 to accept his master's degree in social work, it may seem like an easy accomplishment compared to the challenges he has faced. But the degree is an important part of Herst's plans to support other wounded veterans.
[IMAGE2]
Paying it forward
Herst's injury in 2005 changed his life – including his career path. He graduated with a bachelor's degree in sports management from Baldwin Wallace College in Ohio before enlisting in the Army in 2001. A baseball and football player in college, he dreamed of becoming a professional athlete. But his injury and the long rehabilitation process that followed led him to another path.
"The rehabilitation process was long, to say the least, and it's still continuing to this day," Herst said. "I spent almost a year at Walter Reed Army Medical Center in Washington, D.C."
Herst and other wounded veterans at Walter Reed had many high-profile visitors. George W. Bush came to Herst's room. But someone else had a greater impact on Herst during his time there.
"The one person who would come on a daily basis was the social worker," he said. "He's the one who really inspired me – what he said to me and did for me, to try to make my transition process easier. And he was doing this for every veteran that was there. It just really inspired me to become a social worker and get into that field. I knew I wanted to give back."
The master's degree Herst will receive is the first step in achieving this goal. After that, he'll work toward certification as a licensed clinical social worker, and toward becoming a therapist for military veterans and families. But Herst is already helping veterans in his full-time job at the Department of Veterans Affairs. He moved to Kentucky to work at the VA in Lexington, and so his wife Veronica could be close to her family.
Herst assists veterans who have concerns with the facility or providers at the VA. He works not only with veterans returning from Operation Enduring Freedom, Operation Iraqi Freedom and Operation New Dawn, but also veterans from other eras such as World War II, the Korean War, the Vietnam War and all other conflicts.
"My goal is to continue to work with the veterans in this capacity," he said, "and then eventually work into the position of a therapist."
[IMAGE3]
Not a typical student
Herst's undergraduate experience was dominated by his love of sports. When he looks back on those years, he says he sometime regrets not focusing on his studies.
"I think the first time around, I let my life revolve around the sports, and the parties, and joining the fraternities," Herst remembered. "Doing the things that the normal 17-, 18-, 19-year-old kid does."
But after the life-changing experiences of two tours of duty in Iraq, and the physical and mental strain of his injuries, his second time in college has been different. He said his first challenge was trying to decide if he wanted to be a student at all.
"After being a veteran, after being in the military for five years, I didn't know how I would be accepted into the classroom again," he said. "I was older. I didn't know if I would be the old man in the classroom, trying to relate to 18- and 19-year-old freshmen. I knew it was a master's program, but I didn't know what to expect."
Herst said PTSD played a large role in his anxieties about returning to school. He wondered if he would be able to sit in a confined classroom with other people. And he wondered if he would be accepted by his professors and peers.
"Would the professors understand where I'm coming from?" Herst remembered asking himself. "Would the students understand or respect what I've done in the past? Or would they question, unknowingly, what I've done and maybe even judge me as a person just by the stigma that veterans have from war?"
Herst's experiences as a student veteran have been mixed. Though he says he has met quite a few supportive students and professors, he also has faced difficulties on campus.
"I've found quite a bit of opposition when it came to just supporting the military," Herst said. "I've had professors and other students that were openly against the military and openly against veterans. And it was difficult for me to deal with that, without opening my mouth and really starting a conflict. I didn't want to associate my name with a trouble-maker or someone that goes against the power curve."
[IMAGE4]
A safe haven
Herst said the UK Veterans Resource Center helped him connect to other student veterans on campus, and to learn how to deal with those kinds of issues.
"The Veterans Resource Center showed me that there are opportunities to interact with other veterans – kind of a safe haven," Herst said. "Somewhere you can go and you can understand that everybody in there relates to what you've gone through, and maybe can offer assistance, as far as similar circumstances – how they handled the situation – as well as offering a place of solace. Somewhere you can just come and relax."
Tony Dotson, the center's coordinator, said Herst and other veterans support each other not only through the center but also the UK Military Veterans of America student group.
 
"I know Jon was very active in the student veteran organization, and I think maybe that was something that helped ground him," Dotson said. "He is one of the most grounded people you'll ever meet."
Dotson also pointed out that student veterans, thanks to their time in the military, already have many of the skills needed to succeed in college.
"They have skills that the military has taught them – working in teams, time management skills, prioritization," he said. "There are a lot of things that you get in the military that can be applied on campus."
Herst said the ability to deal with stress is one of those skills. "After the military, school, taking a test, studying, writing a paper – that's not stress," he said. "After you've been deployed even once, you know what stress is and you can really separate the two."
 
As Herst prepares to accept his degree, he says he hopes that the campus community will show awareness and sensitivity not only for student veterans but for all types of students.
"I personally would like people to understand that there are various populations of students on campus, and to be sensitive to their needs regardless of whether they are veterans or not," Herst said. "But this subgroup of Iraq and Afghanistan veterans coming in are dealing with issues that other students and professors may never understand. The veteran population is dealing with problems that are unseen."
Herst will wear a red, white and blue cord on graduation day. New to last year's graduating class, only student veterans wear it.
"I will definitely be wearing that with pride," he said. "And I probably will be thinking that I hope I earn the respect of my family and friends as I walk across that stage, and inspire other veterans to follow in my footsteps."