How to Build a Chickenosaurus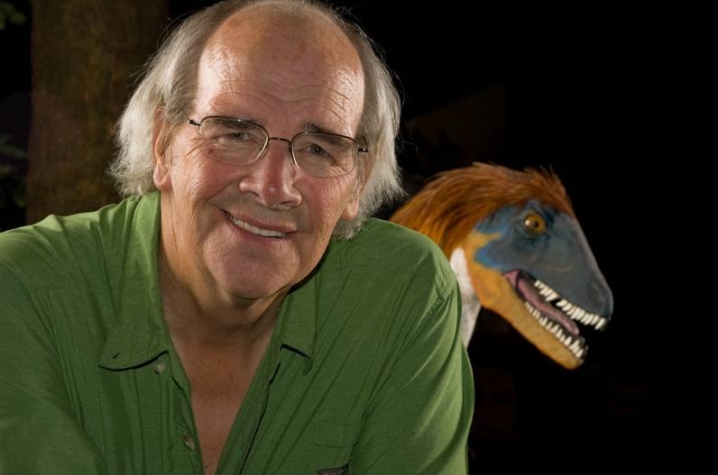 LEXINGTON, Ky. (Feb. 8, 2011)– World-renowned dinosaur expert Jack Horner was born with a love of reptilian relics.
The Montana native had his first paleontological interaction across the border in Canada. "My mother used to take me to a park in Calgary with large concrete dinosaur statues," he said. "The first time I went to that park…I'd say it started about then."
University of Kentucky geology professor and Honors Program Director, Frank R. Ettensohn, similarly remembers his first experience with dinosaurs, and how they changed his life. "Dinosaurs got me into geology," Ettensohn said. "I remember my first Golden Book with dinosaur characters, and then it was the magazine photos of T rex. I was obsessed."
The possibility of building or growing a real dinosaur is far from impossible, and Horner will gladly tell you all about it in a free lecture titled, "How to Build a Dinosaur: Extinction Doesn't Have to Be Forever," at 7:30 p.m. on Thursday, Feb. 10, at the Singletary Center for the Arts on UK's campus.
The prominent dinosaur specialist, curator and professor at the Museum of the Rockies at Montana State University at Bozeman, will base his talk on his book of the same name.
"Everybody at some point in their history has liked dinosaurs," said Ettensohn, who is also the President of the Kentucky Chapter of the American Institute of Professional Geologists. "This is a talk about ancient life and how we can take the prospects of ancient life and bring them forward to the modern day and perhaps build a modern dinosaur."
According to Ettensohn, Horner will be talking about dinosaurs that still live with us --the birds -- and how we might use them to create modern dinosaurs.
Horner's book, co-written by New York Times deputy science editor James Gorman, suggests that by altering regulatory genes in bird embryos, we may well be able to genetically engineer modern dinosaurs.
"Effectively, he will be talking about how to 'reverse' evolution in birds," explained Ettensohn. "Basically we're trying to turn on genes that have been turned off."
Horner didn't want to give too much away, but did say that he'd be discussing evolution, science, and discovery and "how it all works."
"It's simple genetic engineering," Horner said. But don't let that scare you off. This is genetic engineering for dinosaur lovers and science buffs of all ages.
According to Horner, most 4th graders can understand a graduate-level lecture on dinosaurs.
"Kids really like dinosaurs, and the really neat thing is, kids can understand what I talk about," Horner explained. "They know more about dinosaurs than adults do. Sometimes, if I get too many adults in the lecture hall, I have to dumb it down."
Horner, a MacArthur Fellowship recipient, has made some of the most important recent dinosaur discoveries, including evidence of parental care by dinosaurs, 75-million-year-old eggs containing dinosaur embryos from a previously unknown type of dinosaur, as well as the largest T. rex  to date, and Horner has developed many new theories about how these large animals lived.
Horner has also written several books about his discoveries and theories, was the inspiration for the lead character in the Jurassic Park movies, and was the technical advisor to Steven Spielberg for the series of movies.
Horner's lecture was arranged by the Kentucky Section of the American Institute of Professional Geologists, sponsored by the UK College of Arts and Sciences, the Departments of Earth and Environmental Sciences and Biology, Kentucky Geological Survey, University of Kentucky Honors Program, the Kentucky Academy of Science, Walter Gross III and the Pepsi Bottling Company, the Kentucky Society of Professional Geologists, the Kentucky Paleontological Society, Morehead University, Department of Earth and Space Sciences and Eastern Kentucky University, Department of Geography and Geology.
For more information, please contact Ettensohn at 859-257-1401 or f.ettensohn@uky.edu.
MEDIA CONTACT: Erin Holaday Ziegler, (859) 257-1754, ext. 252; erin.holaday@uky.edu