Humans of Health Corps: Communications Coordinator Rebecca Hurst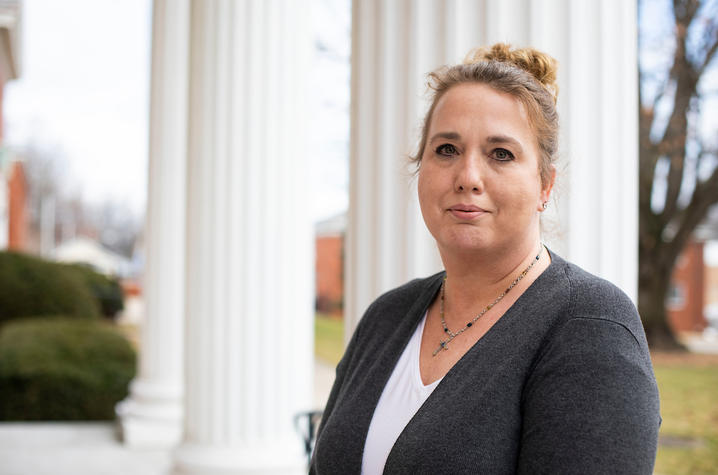 LEXINGTON, Ky. (March. 18, 2021) — In response to the COVID-19 pandemic, the University of Kentucky assembled UK Health Corps — a dedicated team of staff to support students. But what do they do, exactly? And who are they? 
While many students and faculty/staff members may interact with Health Corps members on a regular basis, you may not know exactly what it is that they do each day, and the names of the people behind the phone calls and emails. 
UK Health Corps works behind the scenes, serving as the support hub for accessing services, information and referrals related to COVID-19 for students, faculty, and staff. 
We sat down with communications coordinator Rebecca Hurst to learn about who she is, what she does for UK Health Corps, and what she wants students to know. 
UKNow: Could you describe your role in UK Health Corps? 
Hurst: I am a Communications Coordinator ("Comms"). We are the frontline workers within Health Corps. All incoming calls, emails and self-reports come to us. We have to determine which calls we can handle and which ones need to be sent to either a contact tracer or a wellness connector. We try to address as many issues as we can within our office.   
UKNow: What is a typical day like in your role?  
Hurst: There is no typical day in Comms. We come in and log into all of our software programs and check any notes from the previous day to make sure we are up to date on information before we tackle our duties. Each day brings new information for us to help the students, faculty, staff and even the community navigate. We take each call and email seriously and try to be as helpful as we possibly can. We take, on average, about 60-70 calls per team member each day in the Comms department.   
We answer several hundred emails a week and go through many more self-reports. We also have several assigned members that are part of our screen team that call students, staff and faculty that have indicated on their daily screenings that they are either feeling symptomatic or have been exposed to COVID-19. We guide them through the process of getting tested and staying quarantined until they get their results back.In addition to all of that we also help students with testing issues, flu shot issues and any other questions they may have.   
It is a nonstop ride in this office and we love it! 
UKNow: What do you want the community to understand about your role and Health Corps?  
Hurst: I would like the community to understand that we are doing this because we care about the health and safety of everyone. This office is filled with compassionate souls that only want to help. We are willing to do whatever we need to do, within reason, to help you out. We operate with kindness and empathy.   
UKNow: What's the first thing you're going to do when the pandemic is over?  
Hurst: The first thing I am going to do when the pandemic is over is hug as many people as possible. I miss hugs. Especially long, destressing hugs.  
UKNow: What would you like students to know about what you do?  
Hurst: I would like students to know that we are not against them. We are an advocate for them. If we see there is an issue with something going on we bring it to the attention of leadership. We understand the anxiety of all that is going on while they are trying to complete their college courses. We are on their side.   
UKNow:  What do you think is the biggest misconception people have about Health Corps?  
Hurst: That we are the ones that make them test or get vaccinated. That is a university decision. We are here to help you through the processes in place.  
UKNow: If you could sum up into one sentence what Health Corps is, and what it does for campus, what would you say?  
Hurst: Health Corps advocates, relates, and coordinates your health and safety needs.    
The UK Health Corps is made up of more than 50 dedicated staff members working to keep UK's campus healthy and safe by managing everything from contact tracing and academic coordination to transportation and communications. For more information on the schedule of activities or about UK Health Corps, please call 859-218-SAFE (7233) or email healthcorps@uky.edu.