Intellectual Achievement Medallion Goes to Historian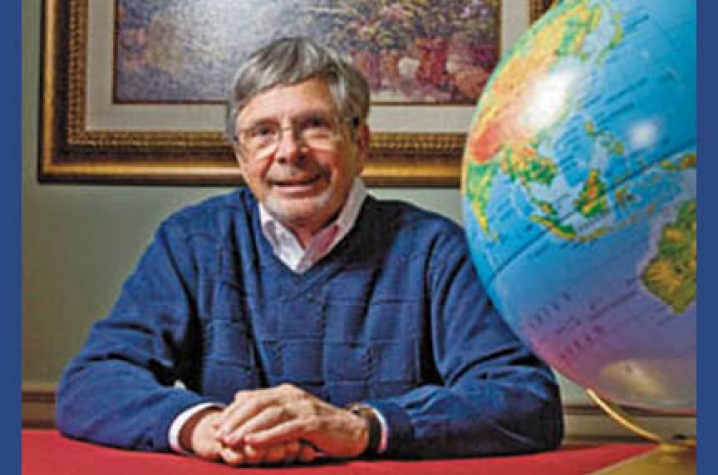 LEXINGTON, Ky. (May 4, 2010) − Vietnam War historian George C. Herring, Alumni Professor Emeritus of History at the University of Kentucky, is the 2010 recipient of the Medallion for Intellectual Achievement. The award will be presented at the UK Libraries Annual Dinner on May 11 at the Hilary J. Boone Center on UK's campus.
The UK Libraries Medallion for Intellectual Achievement recognizes high intellectual achievement while encouraging education and promoting creativity throughout the Commonwealth. The award may be given to a person or group of persons. Candidates must be native Kentuckians or have studied, worked, or lived in Kentucky for at least three years and demonstrated intellectual excellence in a scientific, artistic, literary, social, or humanitarian venue or have produced some original work or contribution of lasting value. 
A native of Virginia, Herring earned his bachelor's degree from Roanoke College. After service in the U.S. Navy he earned master's and doctoral degrees in history from the University of Virginia. He joined the UK faculty in 1969 after four years at Ohio University in Athens, Ohio.
A popular teacher, Herring taught classes at all levels, from introductory survey courses in U.S. history to graduate seminars. He directed the work of 35 doctoral students and more than 50 graduate students pursuing master's degrees. Herring is a recipient of the UK Alumni Association Great Teacher Award and the Sturgill Award for Excellence in Graduate Education. He served three terms as chair of the UK Department of History and was acting director of the Patterson School of Diplomacy and International Commerce in the spring of 2005.
A specialist in the history of U.S. foreign relations, Herring's writing has focused on the Vietnam War and includes most importantly, "America's Longest War: The United States and Vietnam, 1950-1975," now in its fourth edition.
Herring's most recent publication, "From Colony to Superpower: U.S. Foreign Relations since 1776," was published in October 2008 in the Oxford University Press' History of the United States series. It has been favorably reviewed in the New York Times, Christian Science Monitor, and the Chronicle of Higher Education. It was a finalist for the National Book Critics Circle Award in nonfiction. The book also received the 2008 Robert Ferrell Award given by the Society for Historians of American Foreign Relations (SHAFR) for the best book in the field. Herring was recently elected to The Society of American Historians, an honorary organization created to encourage literary distinction in the writing of history.
Herring served as president of SHAFR in 1989-1990, and was editor of its journal Diplomatic History between 1982 and 1986. He has received fellowships from the National Endowment for the Humanities, Fulbright and Guggenheim. In October 2005, he was a resident at the Rockefeller Study Center in Bellagio, Italy. Additionally, Herring has been a visiting professor at the University of Otago in New Zealand, the U.S. Military Academy at West Point, and the University of Richmond.
Now retired from teaching, Herring continues to write and give talks, and enjoys travel with his wife, Dottie, tennis, and time spent with his six grandchildren.
Herring joins such past recipients of the Medallion for Intellectual Achievement as Wendell Berry, James Still, Bobbie Ann Mason and William Markesbery.
UK Libraries Annual Dinner is presented by the UK Library Associates. The group was organized in 1954 to support the work of the libraries and includes more than 1,200 community friends, alumni, faculty and students who make annual contributions.
As the major research library in the Commonwealth, UK Libraries provides comprehensive access to information essential to teaching, research and service at UK. The library system includes 13 facilities; more than 3.5 million volumes; more than 31,000 current periodical titles; more than 400 networked electronic resources; and nearly 45,450 electronic journals accessible on and off campus.
The UK Libraries Annual Dinner is open to the public. For ticket information, contact Esther Edwards by e-mail to eedwards@uky.edu or phone at (859) 257-1742.