'It's Essential We Look Out for Each Other': Seasonal Depression Amid COVID-19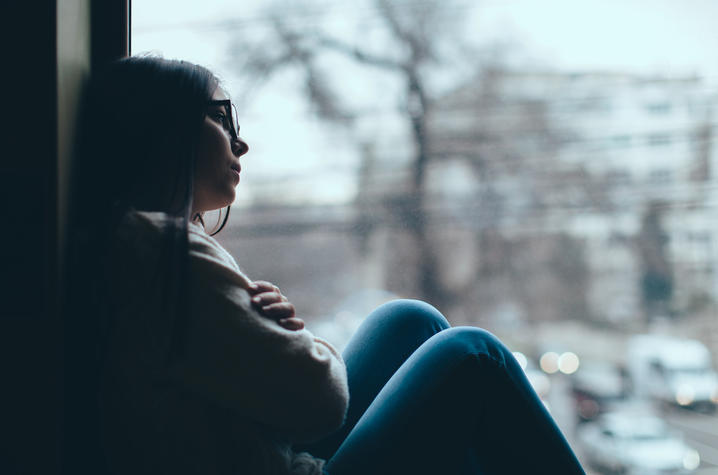 LEXINGTON, Ky. (Dec. 16, 2020) — Tis the season to be merry and bright, but you may be feeling less than joyful during the "most wonderful time of the year."
Do you experience stress, anxiety or even depression during the winter months?
If so, you're not alone.
Each year, about 5% of adults in the United States experience seasonal affective disorder (SAD). But will symptoms worsen due to the combination of the COVID-19 pandemic, flu season and darker, shorter days?
Matt Southward, a postdoctoral scholar in the Department of Psychology in the College of Arts and Sciences at the University of Kentucky, is researching treatment outcomes for those coping with anxiety, depression and personality disorders. He also works in the Treatment Innovation for Psychological Services Lab.
In the Q&A session below, Southward shares some advice for beating the "winter blues."
UKNow: What is seasonal affective disorder (SAD)? And how does SAD differ from clinical depression?
Southward: SAD is a specific type of clinical depression that recurs at least two years in a row. The main symptom of clinical depression is the experience of a major depressive episode — a period of at least two weeks during which someone either feels down most of the time or loses interest in things. Additionally, they might notice changes in appetite, concentration, and sleep, as well as feelings of worthlessness or thoughts of suicide. SAD episodes tend to start at one time of year (usually fall or spring) and resolve at the end of the next season (winter or summer).
UKNow: According to the American Psychiatric Association, about 5% of U.S. adults have SAD, and it typically lasts approximately 40% of the year. Do you expect those numbers will be higher this year? If so, why?
Southward: I would expect these numbers to be at the higher end of normal bounds this year. Data collected by USC shows a big spike in likely depression cases when lockdown measures were first enacted in March, followed by a return to pre-lockdown levels by mid-May — with no substantial change since then. That being said, the isolation and financial difficulties that result from further lockdown measures, coupled with the winter weather, will likely make symptoms worse for anyone predisposed to the disorder.
UKNow: What challenges/concerns does the COVID-19 pandemic present for those who experience seasonal depression?
Southward: COVID-19 is challenging on many levels. First and foremost, there's a lack of social support. This is particularly hard during the holidays when people are used to seeing family or reconnecting with friends. Additionally, financial hardship may play a larger role this year — given the toll the pandemic has taken on the economy and unemployment. Essential workers face a higher risk of exposure to COVID-19, while those who work from home will continue to have less-structured days that could lead to sleep disruptions. Finally, it's likely we won't have the same access to exercise facilities, making it more difficult to get physical activity during the colder months.
UKNow: What are the symptoms people should be on the lookout for? Do you have any advice when it comes to being proactive?
Southward: Depression can be sneaky, so it's easier to reflect on tangible behaviors — if you're eating more carbohydrates than normal, spending more time in bed but not getting quality sleep, feeling like you're really dragging or more consistently disconnected from your family or work. If these symptoms last for a couple weeks and get in the way of your everyday routine, you might be experiencing a depressive episode.
The first step to being proactive is to think through what has led to depressive feelings in the past and then plan how to address it. For example, if you're prone to:
Overeating: Don't buy or make foods that are easy to binge.
Difficulty Sleeping: Set a consistent wake-up time and stick to it.
Less Energy: Make a plan to move regularly throughout the day (even within your home).
Feeling Disconnected: Remind yourself why staying socially connected is important. Set up regular Zoom sessions with family and friends and take on meaningful tasks at work.
Of course, if you're already doing these things, self-compassion is key – always coming back to the reminder that an abnormal (depressive) response to an abnormal (global pandemic) situation may be extremely normal, and you're doing the best you can.
UKNow: What coping strategies do you recommend for those already battling SAD?
Southward: The coping strategies I research cover three domains: how you think, what you do and how/what you focus on. When in a depressive episode, our thoughts can be more negative. It's helpful to take a step back, ask ourselves if our negative thoughts are leaving out important information and write out more realistic interpretations. Depression might also make us stop doing things that are important to us, so another step can be making commitments that matter to us — whether or not we feel like doing them. Finally, when you feel overwhelmed, it can be helpful to pause, breathe and focus on just getting through the current moment without judging it as good or bad.
UKNow: With the need to be physically distant, how important is it that people remain socially connected this winter?
Southward: Social connection is essential — even at a distance. That might look like weekly phone calls or Zooms with family or friend groups, virtual game nights and/or outdoor winter activities. The pandemic has shown we truly are social creatures, so being creative, intentional and committed to cultivating those relationships are key ways to boost positive emotions that help protect against the negative impact of COVID.
UKNow: Do you have any resources you would like to pass along?
Southward: When the spring semester begins, UK's Jesse G. Harris Psychological Services Center is an excellent no-cost resource where advanced clinical psychology graduate students, supervised by UK faculty members, provide state-of-the-art psychotherapy treatments for anxiety, depression and many other concerns.
Treatment workbooks are also great resources. One, "Mind Over Mood" by Dennis Greenberger and Christine Padesky, is specifically designed to help with depression. The other, the "Unified Protocol" 2nd edition workbook, is designed for anxiety and depressive disorders, and was co-authored by UK's very own Professor Shannon Sauer-Zavala.
UKNow: Is there anything else you would like to add?
Southward: Now, more than ever, it's imperative that we look out for each other. That might mean leaning in to provide or receive more social support. That might also mean trying therapy. I recognize, I'm biased, and if someone hasn't tried therapy before but thinks they might benefit, now is the perfect time. Telehealth can allow therapists to literally meet people where they are while still receiving high-quality care. To me, taking time to take care of ourselves and each other is what it means to be part of "Team Kentucky."
As the state's flagship, land-grant institution, the University of Kentucky exists to advance the Commonwealth. We do that by preparing the next generation of leaders — placing students at the heart of everything we do — and transforming the lives of Kentuckians through education, research and creative work, service and health care. We pride ourselves on being a catalyst for breakthroughs and a force for healing, a place where ingenuity unfolds. It's all made possible by our people — visionaries, disruptors and pioneers — who make up 200 academic programs, a $476.5 million research and development enterprise and a world-class medical center, all on one campus.   
In 2022, UK was ranked by Forbes as one of the "Best Employers for New Grads" and named a "Diversity Champion" by INSIGHT into Diversity, a testament to our commitment to advance Kentucky and create a community of belonging for everyone. While our mission looks different in many ways than it did in 1865, the vision of service to our Commonwealth and the world remains the same. We are the University for Kentucky.