Job Hunting? Job Club Teaches the New Skills Needed to Land a Dream Job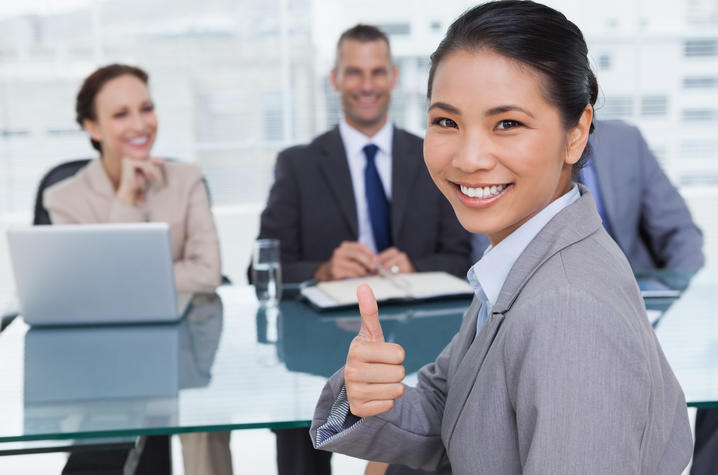 LEXINGTON, Ky. (March 22, 2017) — University of Kentucky 1982 alumnus Dwayne Buckles was "stalled" in his career with a company "that really didn't fit the culture and interest I was looking for," he said.
Buckles credits Job Club with helping him jump to that next stage in his career. Job Club is a collaborative effort between the UK Alumni Association Career Services, UK Human Resources Staff Career Development and UK College of Agriculture, Food and Environment's Fayette County Cooperative Extension, created to help those unemployed and under-employed with their job searches.
"Even though it took about 12 months to land a new job, the information I received from Job Club was invaluable," Buckles said. "The position I was looking for was a higher level business development position and I was also switching industries which added to the length of my search. I believe what I learned about networking and LinkedIn directly contributed to me landing my job."
Buckles is one of many who have been aided through Job Club, which was started to help job hunters get career counseling during the economic downturn in January 2013.
"The purpose of the Job Club is to provide a positive environment for motivated job seekers to meet, connect, share and learn," said Diana Doggett, county extension agent for family and consumer sciences.
Caroline Francis, a career counselor with Alumni Career Services, said Job Club met a need that at the time was not available in Lexington's struggling job market.
"When the economy was so bad and people really needed networking opportunities, there just weren't a lot in Lexington," Francis said. "We knew about job clubs in other parts of the country, and I kept thinking somebody here will start one. And nobody did."
There was no place on campus that could support a club due to limited parking. Francis said Jill Smith, now the associate director for communications and membership at the UK Alumni Association, suggested contacting the Extension office to see if they could help.
"And they jumped on it," Francis said. "It fits their mission, and they could help us with what we needed — the parking, the facility, everything."
Job Club began that January four years ago with its goal of assisting job seekers. However, it was basically a bare-bones operation run by a few dedicated people and relying on word-of-mouth to get publicity.
"We didn't have a mailing list of who to send (information) to at that time. We just tried to get some stuff out, and we had no idea if people would come," Francis said. "People just started coming and coming. We had to add more chairs and open up partitions. It was soon standing room only.
"From that very first session we didn't even start inviting employers, because we didn't know if people would come. But there were employers that came anyway. They shared job leads, and it did initially everything a job club is supposed to do: networking, a positive supportive environment, helping with job search strategies and connecting with employers."
Job Club meets 9-10:15 a.m. the second and fourth Tuesdays of every month at the Fayette County Cooperative Extension office, located at 1140 Harry Sykes Way, off Red Mile Road. The group is open to anyone, not just UK graduates.
"All people have to do is show up," said Diane Kohler, UK Human Resources career development program manager. "We just ask that they show up on time."
Doggett said having Job Club at the Extension offices not only helps out the job seekers, but has proven to be a "prolific partnership" for all involved.
"Fayette County Cooperative Extension Family and Consumer Sciences, UK Alumni Association and Career Center nurture an environment that builds self-esteem and confidence for job seekers recreating themselves in an online society," Doggett said.
Job Club plays host to employers who are looking for good, educated employees. The employers act as guest speakers and as recruiters. Sometimes interviews have been conducted on the spot, which Kohler said shows how strong the employee pool is for Job Club.
"We've had employers come in who have been impressed," she said. "They've said, 'Wow, they've got some good credentials.' And, they notice how discouraged people feel. So we try to give them hope. We try to give them education, sharing best practices. Because resume styles change, interviewing styles change, job searches change. A lot of these people haven't looked for a job in five, ten, even 20 years.
"Some people will see a disconnect, because we'll say the economy's bad, but you see the numbers and they look good. But those jobs, when you start doing the deep dive, are lower wage jobs, unfortunately. And our group tends to be a college-educated group," Kohler said.
Buckles said he went to Job Club about once a month when he began looking for a new job in 2015. 
"I was more likely to go when there was an interesting topic or when I was going nowhere in my job search and needed the extra lift I got from the group," he said. "In my case I found my job on LinkedIn, applied on LinkedIn, communicated with the hiring decision maker on LinkedIn and accepted the offer on LinkedIn. I'm not sure if I would have done this without the knowledge I gained through UK Job Club."
While attendees get the information they need to help land a new or better job, it's the moral support from others in a similar situation that has been a huge part of Job Club.
"It's not unusual for people to form friendships or job search buddies," Francis said. "They'll practice drilling each other with sample interview questions. It makes you feel good about humanity, wanting to help people. It's nice when you see people land on their feet again when their confidence is so down. It impacts whole families when someone is not working that needs to be working."
Kohler said they encourage people to let them know when they have a job, so Job Club attendees can hear success stories to help them keep their hopes up.
Buckles is just one of those success stories. Peg Connery, member liaison at UK's Hilary J. Boone Center, has used Job Club to land a job twice in the last four years.
"It was amazing to me how much the job search process changed in two years, and I am grateful to the Job Club," Connery said. "It was during this time through a Job Club presentation the seed was planted to go through UK STEPS. I found this to be a key to success as it opened doors and opportunities at the university. Through UK STEPS I found a full-time position, unmatched benefits, professional development opportunities and caring colleagues. Again, I have the Job Club to thank for another successful job search."
Since the beginning of Job Club, 888 job seekers and 95 employment recruiters attended meetings. Of those, 86 percent of the survey respondents reported improving their employability skills as a result of Job Club. And, 57 percent of these responders reported securing a job.
Francis says people are changing jobs every 3.5 years now, so the idea of working for a company for many years is not part of the new reality.
"It's a whole different mentality to get used to," she said. "There's nothing wrong with you. You're not damaged goods. That's just the way of the world and you just need to learn to fish. So Job Club is helping people learn to fish."
For more information on Job Club, go to www.ukalumni.net/jobclub.