Kentucky Grain Farmers Adapt to New Climate Normals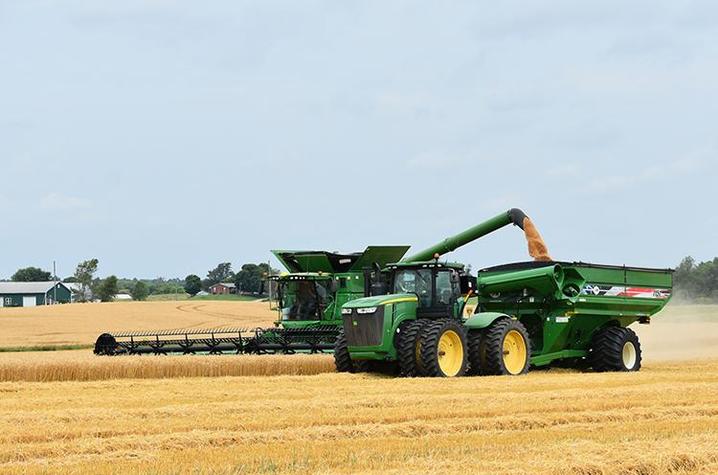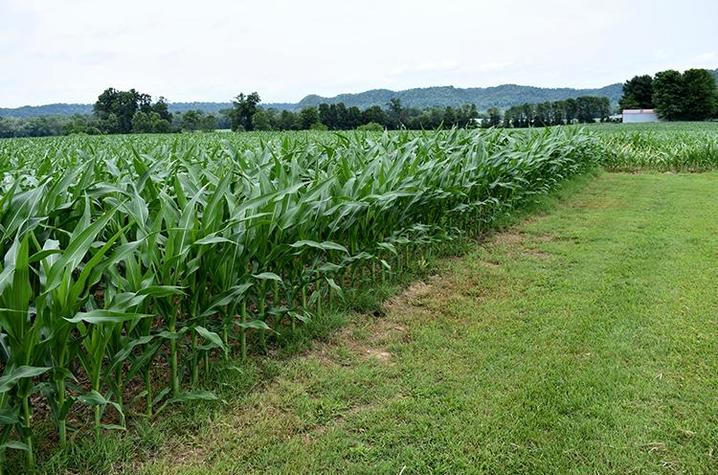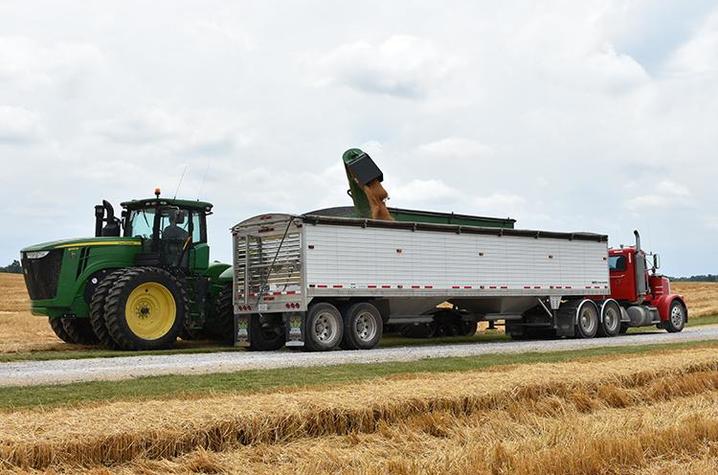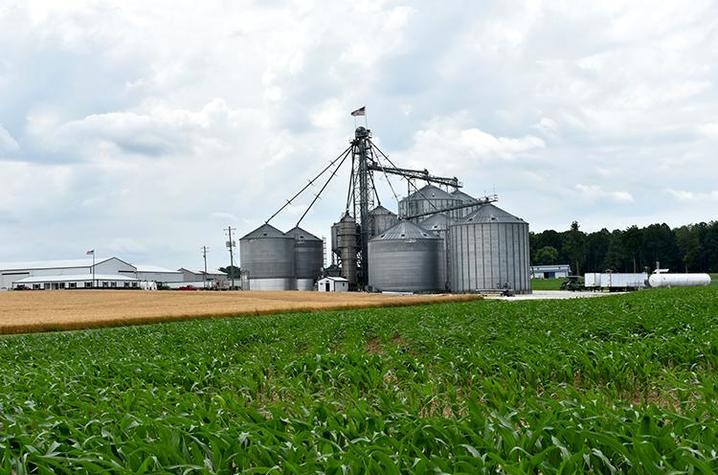 LEXINGTON, Ky. (July 22, 2021) — In the midst of wheat harvest, LaRue County farmer Ryan Bivens watches his combine's yield monitor as he gives directions by cell phone to his teenage son, Cyrus, who is driving a wagon following the combine.
"If you take out the 2012 drought that destroyed our corn crop, we have had outstanding crops yields in the past 10 years," said Bivens, who runs Fresh Start Farms with his wife, Misty, and sons, Cyrus and Avery. "And even in 2012, we had decent wheat and soybean yields because we received rain before and after the summer drought."
Nelson County grain farmer Aaron Reding of Homestead Family Farms agrees.
"We are seeing better yields," said Reding, whose family farms in multiple counties in Central Kentucky. "Some of that is obviously related to the weather, but we also have adopted improved planting practices and technology advancements that have contributed to higher yields."
According to the National Oceanic and Atmospheric Administration's recently released climate normals, Kentucky has trended wetter and warmer over the past decade. These normals are the 30-year average of a particular weather variable and are used for comparison purposes to current weather conditions. When it comes to precipitation, Kentucky has had some of the highest increases in the nation on an annual timescale.
From 2011-2020, Kentucky had five of its top 10 wettest years and four of its top 10 warmest years on record. The wettest years include 2011 (No. 1), 2018 (No. 2), 2019 (No. 5), 2015 (No. 7) and 2020 (No. 8). The warmest years are 2012 (No. 2), 2016 (No. 4), 2017 (No. 5) and 2019 (No. 8). These National Centers for Environmental Information records date back to 1895.
"Climate normals are updated every 10 years, taking off one decade and adding another and ultimately showing how our climate is changing," said Matt Dixon, agricultural meteorologist in the University of Kentucky College of Agriculture, Food and Environment. "We have been trending warmer and wetter with the latest update to the 1991-2020 normals, but this is not to say that we can't have a drier or cooler year here and there."
Weather can cause excitement, happiness and fulfillment for farmers when it cooperates and extreme stress and anxiety when it does not.
"I have been around farming all my life and have always paid attention to the weather because it impacts everything we do," said Reding, a fifth-generation farmer.
The eastern half of the state, where Bivens' and Reding's farms are located, is seeing more dramatic changes when it comes to precipitation than the western half. The weather station at the Lexington-Bluegrass Airport reported an increase of 4.67 inches of rain in its annual averages in the new set of normals. Weather stations in Jackson and Louisville were each up by more than 3 inches of precipitation. While in the western half of the state, annual precipitation averages at Paducah grew by 1.24 inches, and Bowling Green increased by 0.23 inches.
The wet, warm weather is causing producers to adapt and shift some of their management practices. Both Reding and Bivens have noticed a definite shift to wetter weather. It has forced them to exercise more patience when it comes to planting and harvesting and be prepared to head to the field when the weather clears.
"2001 was our first growing season, and we had to quit planting in May. It was so hot and dry that we couldn't get the equipment in the field," said Bivens, a 2001 UK graduate in an individualized agriculture program. "It has absolutely been wetter the past 10 years. We used to be finished planting corn by May, but now we are lucky to get into the field in April. Our rain events today seem more dramatic too. We used to get 0.3 inches per event, and now we will see 3 inches of rain at once."
"I do think we have been wetter, and the window to get field work done has become smaller or more erratic in the past decade," said Reding, a 1996 UK animal sciences graduate. "We try to get as much planted, sprayed and harvested as we can early on."
UK grain crop specialists Chad Lee and Carrie Knott said the wet weather has made planting and harvesting more challenging for growers with some having to replant multiple times and others seeing delayed harvests.
"Of course, we have had some years that the excessive rains have produced flooding and resulted in re-planting, and re-plant and re-plant. Some producers re-plant up to three times," Knott said. "We also have had the increased winter temperatures result in a wheat crop that was 'older' than it should be and subsequently endured a spring freeze in early May that decimated the crop."
The new climate normals show the state's annual average temperature has increased from 55.9 degrees F from 1981-2010 to 56.4 degrees F during 1991-2020. Since Kentucky winters tend to be milder now, Bivens doesn't feel quite as rushed to get wheat planted in the fall like he did in the past.
"It doesn't seem like we have the big snow events like we used to," he said. "Wheat seems to live through the winter anymore, and then it gets growing earlier, which can make it susceptible to damage from a late spring freeze."
The wet weather has also led to more erosion.
"I have seen erosion in no-till fields where I haven't seen it before," Lee said. "Farmers are growing more cover crops during the winter to fight that issue, and I expect we will see the need to use even more cover crops to protect the soils."
Wet, warm weather has introduced new diseases and insect issues and caused the reemergence of others.
"In field crops, there are pathogens that can take advantage of all weather conditions," said Kiersten Wise, UK extension plant pathologist. "For instance, if it is hot and dry, there are certain diseases that can be more prevalent, and if it is cool and wet, we can see other diseases. Warm and wet conditions favor many diseases."
Reding has noticed the traditionally tropical disease southern rust has become more prevalent in corn around his area. It is a disease that thrives in warm and humid conditions. In 2016, it caused significant damage to his corn.
During the past decade, new diseases have entered the state including Curvularia leaf spot and Diplodia leaf streak. Northern corn leaf blight has reemerged. The historically southern soybean disease frogeye leaf spot has been found more often in fields as far north as North Dakota.
"In addition to a changing climate playing a role in these diseases, changing crop production practices and the sometimes laser-focused efforts on breeding for higher yielding varieties also have had a great effect on the emergence/reemergence of some diseases," said Carl Bradley, UK extension plant pathologist.
Even though insect populations tend to be cyclic, warmer winters are leading to more bugs overwintering.
"Milder winters make it more conducive for insects to survive the winter," said Ric Bessin, UK extension entomologist. "This is good for beneficial insects like honey bees but it is problematic when insects like corn earworm successfully overwinter."
"Warmer winters with temperatures greater than 50 degrees F can cause aphids to start feeding on wheat and transmitting viruses to the crop earlier," said Raul Villanueva, UK extension entomologist. "As a result, producers are more frequently making fall pesticide applications to control aphid populations."
Even though more rain and warmer weather is causing producers to make changes to their management practices, it is not necessarily all bad for Kentucky farmers.
"We don't have the deep soils that they have in Iowa or Illinois, so we have to have rain to produce good yields," Bivens said, as he emptied wheat from his combine into Cyrus' wagon. "I had someone tell me once that as long as Kentucky gets timely rain, we can have grain yields that rival those in Central Illinois. I'm starting to believe that."
As the state's flagship, land-grant institution, the University of Kentucky exists to advance the Commonwealth. We do that by preparing the next generation of leaders — placing students at the heart of everything we do — and transforming the lives of Kentuckians through education, research and creative work, service and health care. We pride ourselves on being a catalyst for breakthroughs and a force for healing, a place where ingenuity unfolds. It's all made possible by our people — visionaries, disruptors and pioneers — who make up 200 academic programs, a $501 million research and development enterprise and a world-class medical center, all on one campus.   
In 2022, UK was ranked by Forbes as one of the "Best Employers for New Grads" and named a "Diversity Champion" by INSIGHT into Diversity, a testament to our commitment to advance Kentucky and create a community of belonging for everyone. While our mission looks different in many ways than it did in 1865, the vision of service to our Commonwealth and the world remains the same. We are the University for Kentucky.