Kentucky Ranks First Nationwide in Key Higher-Ed Improvement Metrics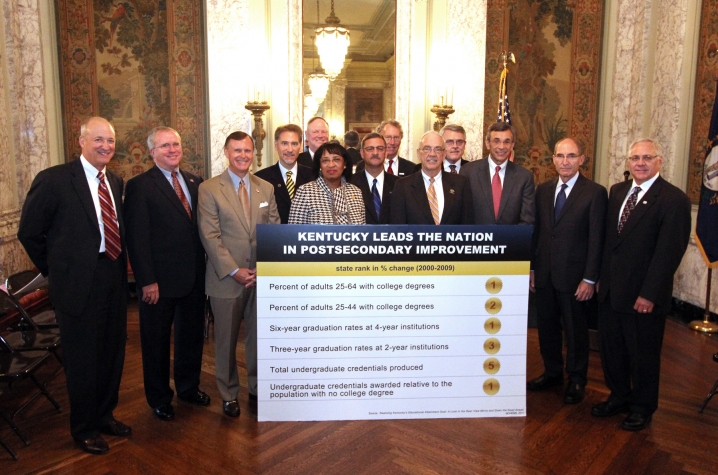 FRANKFORT, Ky. (Sept. 7, 2011) — Over the past decade, Kentucky has improved faster than any state in the nation on key higher education performance measures, according to a report issued by the National Center for Higher Education Management Systems of Boulder, Colo.
"Realizing Kentucky's Educational Attainment Goal: A Look in the Rear View Mirror and Down the Road Ahead" measures Kentucky's rate of improvement on key metrics from 2000 to 2009.
The report found that Kentucky ranked first among all states on three metrics, including the rate of improvement in the percent of working-age adults with college degrees, six-year graduation rates at four-year colleges and universities, and the number of undergraduate credentials awarded relative to the population with no college degree.
Kentucky ranked second in the nation in the rate of improvement in the percentage of adults age 25-44 with college degrees, as well as in the rate of improvement in the three-year graduation rates at two-year institutions. Further, total undergraduate credentials produced in the Commonwealth increased at a rate that surpassed all but four states.
The announcement was made at a news conference attended by Gov. Steve Beshear and other dignitaries instrumental in the passage of the Kentucky Postsecondary Education Improvement Act of 1997 (House Bill 1). The landmark legislation was signed into law by former Gov. Paul E. Patton, who now serves as the chair of the Council on Postsecondary Education.
"We are here today to acknowledge and celebrate the tremendous progress that has been made by Kentucky's postsecondary system on key measures of educational performance," Beshear said.  "This kind of success would not be possible without the dedication of many leaders, educators and volunteers who made higher education improvement a priority. Better education – and better access to education – are keys to sustained economic growth for our state.  Investing in higher education is not only an investment in our students, but also an investment in our economy and future economic competitiveness."
Council President Bob King said, "This progress validates the vision of HB1, which created a new set of expectations for postsecondary education tied to higher levels of degree production, economic growth and greater opportunity for all citizens.
"While we are improving at a faster rate than other states on these measures, Kentucky still faces challenges that we will focus on over the next several years, including college and career readiness, achievement gaps, and better connecting the work of higher education with the state's economic needs." 
The report's key findings are described below.
Since the year 2000, Kentucky's college attainment rate for associate degrees and higher among adults age 25 to 64 has improved by six percentage points – from 24.5 to 30.5 percent. The actual percentage change from 2000 to 2009 was the largest of any state in the nation.
The percentage of college degree-holders among younger adults has improved by more than six percentage points from 27.3 to 33.7 percent. The most notable change is in Kentucky's state ranking from 44th in 2000 to 36th in 2009. Over this time period, Kentucky moved more positions in the positive direction than any state in the U.S.
The six-year graduation rates at four-year institutions, both public and private, improved nearly nine percentage points from 2000 to 2009. This is the largest percentage change of any state in the U.S., and Kentucky moved nine positions among the states – from 44th to 35th.
The three-year graduation rates at two-year institutions increased by roughly the same amount. It was the third highest percentage point change in the nation, and Kentucky moved from 38th among states to 16th.
Kentucky had the fifth highest percentage point change in total undergraduate credential and degree production (one year or more in length) of any state in the country. This is even more impressive considering that the states ahead of Kentucky (Arkansas, Florida, Nevada and Virginia) benefited on this measure largely because of shifting demographics.
The percentage change in the number of undergraduate credentials awarded per 1,000 adults with no college degree is the largest in nation. This is a measure of market penetration and shows how well states are awarding college credentials relative to the population in need. On this metric, Kentucky jumped nine positions from 45th among states in 2000 to 36th in 2009.
The report is available at http://cpe.ky.gov/planning/NCHEMSreport.