King and Queen of 100th UK Homecoming Celebration Named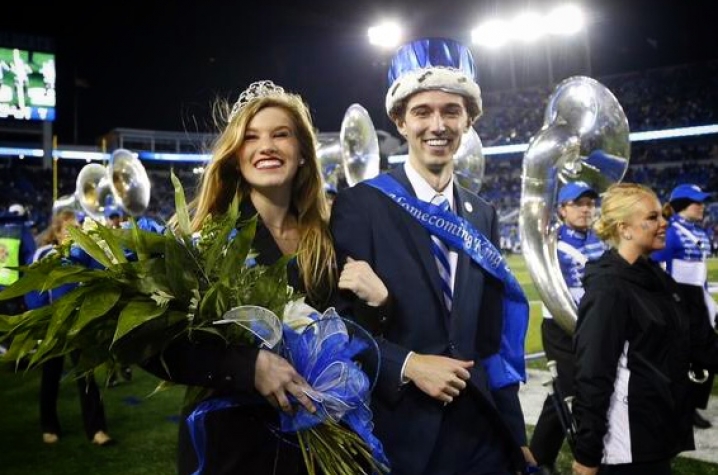 LEXINGTON, Ky. (Oct. 3, 2015) — Lauren Henrickson, daughter of Julie and Jeff Day and the late Donald Henrickson Jr., of Lexington, and Austin Mullen, son of Daryle and Patti Mullen of LaGrange, Kentucky, were crowned the University of Kentucky homecoming queen and king during halftime ceremonies at the UK versus Eastern Kentucky University homecoming football game today.
Henrickson is a senior integrated strategic communications major and pursuing a certificate in innovative and entrepreneurial thinking with a psychology minor and was sponsored in the homecoming royalty candidacy by Alpha Delta Pi. She is a Singletary Scholar, Honors Program student, a member of the UK Dance Team and music chair of Alpha Delta Pi sorority.
Austin Mullen is a senior finance, marketing and business management major and was sponsored by Alpha Delta Pi. Mullen serves the university as Student Body President. He is a member of Sigma Chi Fraternity, served on the leadership of DanceBlue and Wrap Up America.
Other finalists for queen and king were:
·         Chelsea St. Clair, daughter of Suzanne Lubbers, is pursuing a dual degree in psychology and integrated strategic communication along with two minors, from West Des Moines, Iowa. She was sponsored by Phi Mu sorority.
·         Chanel Friday, daughter of Rufus and Melody Friday is a senior integrated strategic communications major with a visual studies minor, from the state of Washington. Friday ws sponsored by STAT/Team Wildcat.
·         Amy Shelton, daughter of Doyle and Kelly Shelton, is a senior integrated strategic communications major with minors in digital media and design and Italian studies, from Hopkinsville, Ky. sponsored by Delta Zeta.
·         Lauren Bosler, daughter of Courtney and Bill Wobbe, is a senior marketing major with a minor in international business, from Louisville. Bosler was sponsored by the Global Scholars Program.
·         Jacob Ewing, son of Debbie Daly and Kevin Ewing, is currently studying integrated strategic communication and gender and women's studies and seeking the certified nonprofit professional credential, from Covington, Ky. Ewing is sponsored by Student Government Association.
·         Ben Conner, son of Kenley and Dawn Conner and Steve and Beth Sterchi, is a pursuing a degree in career and technical education with a minor in animal sciences, from Smiths Grove, Ky. Conner was sponsored by Beta Theta Pi.
·         Arayo Sokan, son of Babatunde and Amanda Sokan, is a senior pre-medicine, pre-law, psychology, and Spanish major with minors in neuroscience and biology, from Lexington. Sokan is sponsored by Chi Omega.
·         Andrew Kirk, son of Michael and Deborah Kirk, is a senior chemical engineering major, from Lexington. Kirk was sponsored by Sigma Chi.