McEllistrem: Accelerating UK's Rise to the Top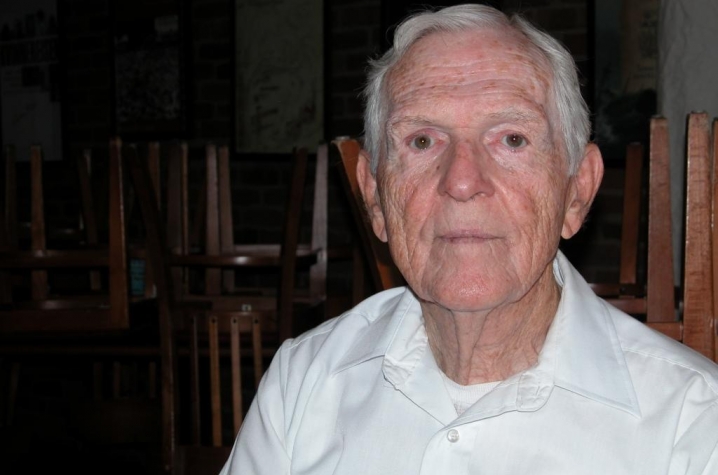 LEXINGTON, Ky. (July 20, 2010)- In the world of science, problems drive research. And where you choose to solve your problems is just as important. If you want to study low-energy fast neutron reactions, the accelerator laboratory at the University of Kentucky is the place to go.
"I am confident in saying that we are the best in the world at what we do," said chemistry and physics professor Steven Yates.
Emeritus physics professor Marcus McEllistrem has played a major role in UK's rise to the top of the field. McEllistrem began working in UK's physics department in 1957 with a homemade 2.5-megavolt accelerator. "I was working on the foundation laid by Thomas Marshall Hahn, the future director of Georgia Pacific, and Bernard Kern," he recalled. "We spent as much time fixing the accelerator as we did doing experiments with it."
But McEllistrem had a vision. Influenced by Henry "Heinz" Barschall at the University of Wisconsin, the young professor was inspired by neutron physics and hoped to start a program at Kentucky.
Ten years later, McEllistrem, with a new, larger accelerator, was invited to the United States Department of Energy's Brookhaven National Laboratory for a summer program. UK's lab stayed in low energy, but the neutron physics program was just beginning its ascension.
"On the advice of Brookhaven scientists, we acquired a brand new detector with a resolving power 40 times larger than we had before," explained McEllistrem. The new lithium-drifted germanium detector and UK's neutron physics program took off in 1969.
By the 1980s McEllistrem and his cohorts at UK were working with the Federal Aviation Administration on the detection of contraband in luggage. "They would send us huge shipments of unclaimed luggage to experiment on," said McEllistrem. "Everyone liked our technology, but we needed to get the cost down for actual use in airport security lines." Neutron detectors remain a competitive and active area of investigation.
After a full and successful career, McEllistrem retired in 1994, but was far from slowing down. "Marcus gave up his faculty position to allow the department to hire someone new," explained Yates. "Marc has been a fantastic role model and mentor to faculty members who are just getting started," added Mike Cavagnero, chair of the Department of Physics and Astronomy.
UK's neutron physics program has thus run a reverse course, in contrast to the unstable and short-lived nuclear levels that the Yates-McEllistrem group, post-docs and students study.
In fact, reviewers examining the Yates-McEllistrem National Science Foundation- funded program saluted the Kentucky nuclear lab as a national treasure, continuing funding for the duo to continue their "Exploring Nuclear Structure with Fast Neutrons" project.
"The continued vitality of our accelerator program illustrates what a modest investment in science can do, especially when directed by scientists of the caliber of Marc McEllistrem and Steve Yates," said Cavagnero. "After five decades, it's fair to say that this was one of the best investments in science that Kentucky has ever made."
McEllistrem has received continuous NSF research funding for more than 50 years.
With one of the longest records of grant funding at UK, you'd think McEllistrem would want to discuss his work. But if you ask, he'll change the subject, humbly talking about friends and colleagues in other places --a professor at Vanderbilt that has been working longer than he has. Or his wife, a real estate agent who he claims is busier than he is.
McEllistrem clearly asserts Yates' contribution to the NSF program and its current reputation. "Steve has brought our program to its present high level of achievement," he said. "The reasons behind our recent success are the result of Steve Yates' imagination and energy."
"That's just how Marcus is," said Yates, who has worked closely with McEllistrem in the lab since 1980. "He's more interested in getting the research done than in who does it. He's the type of scientist and the type of person that we should all strive to be."
In addition to the NSF project and his UK research, McEllistrem is involved in various capacities with the U. S. Naval Research Laboratory, the Department of Energy, as well as other universities attempting to create their own neutron detectors and programs.
"Marcus wears many hats and is comfortable in all of them," said Yates. "He's extremely active, travelling as much as necessary for each project in which he's involved. And now that he's emeritus, he has even more time for students."
McEllistrem works in the lab at least 35 hours a week. "If I wasn't still working with students, I'd be gone," he said. "Age is a gift. Most people don't stop working because they want to."
Even after all these years, for McEllistrem, the science is still the same. "We're still finding problems in the methods of studies to achieve goals," he said. "This will continue to drive us forward."