National Public Health Leader to Receive Kentucky's Medallion for Intellectual Achievement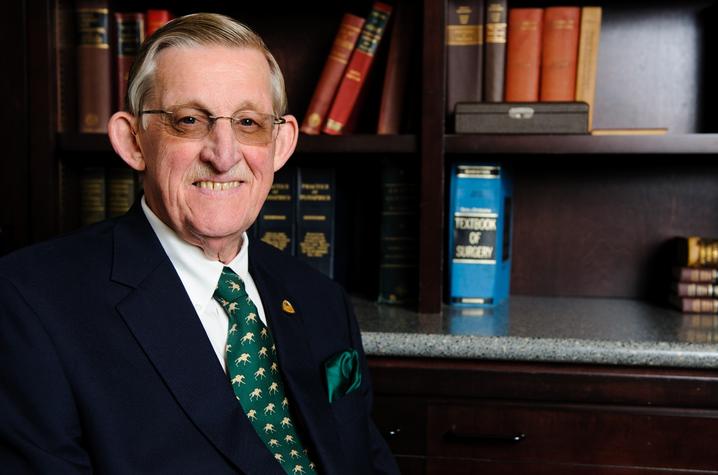 LEXINGTON, Ky. (May 9, 2016) — Tonight University of Kentucky Libraries will recognize the 2017 recipient of the UK Libraries Medallion for Intellectual Achievement, Dr. F. Douglas Scutchfield. The national public health leader will be presented with his medallion at the UK Libraries Spring Gala, at William T. Young Library. 
"Dr. Scutchfield's life story represents all that is good about Kentucky and those who achieve and reach back to help others follow their success," said Dean of UK Libraries Terry Birdwhistell when asked about this year's medallion winner. "As a scholar, teacher, mentor, administrator and public health advocate, he has never forgotten his Floyd County roots even as he became internationally recognized and honored."
The UK Libraries Medallion for Intellectual Achievement is one of UK's most prestigious awards. It was created in 1990 to recognize high intellectual achievement by a Kentuckian who has made a contribution of lasting value to the Commonwealth. The award also promotes education and creative thought. The recipient is determined by the UK Libraries National Advisory Board after receiving nominations from the public. Past recipients of the honor include: John Anthony, Wendell Berry, James Still, Bobbie Ann Mason, Thomas D. Clark, Laman A. Gray Jr., Guy Davenport, George C. Herring, Adalin Wichman, John Egerton, Karl Raitz, George Wright and James C. Klotter.
Scutchfield, who served most recently as the Bosomworth Professor of Health Services Research and Policy in the Department of Health Management and Policy and Department of Preventive Medicine and Environmental Health in the UK College of Public Health and the Department of Family and Community Medicine in the UK College of Medicine, officially retired from UK in January 2017, but remains active in teaching, research and mentorship. He was founding director of both the School of Public Health at UK and the UK Center for Health Services Research and Management. He has also held the administrative positions of chair of the Health Services Department and Preventive Medicine Department, and is a past associate dean of the UK College of Medicine.
Born in Wheelwright, Kentucky, Scutchfield earned his bachelor's degree from Eastern Kentucky University (EKU) and his medical degree from UK. He was named a Distinguished Alumnus of EKU in 1988. He completed internship and residency training at Northwestern University, the Centers for Disease Control and Prevention and UK. Scutchfield was certified by the American Board of Preventive Medicine in 1974 and the American Board of Family Practice from 1971-1985. He was a charter diplomat of the American Board of Family Practice and is a fellow of both organizations. 
Following practice in Morehead, Kentucky, and in conjunction with that work, Scutchfield began his academic career at UK's Department of Community Medicine (now Department of Family and Community Medicine) as an assistant professor, serving as a field professor of community medicine. After serving as an associate professor at UK, he became the first professor and chair of the Department of Family and Community Medicine at the University of Alabama's College of Community Health Sciences. He subsequently was named associate dean for academic affairs at Alabama.
Later Scutchfield became the founding professor and director of the Graduate School of Public Health at San Diego State University. While in California, he also held faculty appointments at the University of California, San Diego, and University of California, Irvine. On sabbatical, he occupied a position as visiting scholar at Kaiser Foundation Health Plan in Oakland, California. 
In 1997, Scutchfield returned to UK as the inaugural Peter P. Bosomworth Professor of Health Services Research and Policy. While on sabbatical in 2003-04, he served as a visiting scientist at the Kettering Foundation and the Dozor Professor at the Ben Gurion University Faculty of Health Sciences in Beer Sheva, Israel.
Scutchfield has been very active in organized medicine. He is a fellow of the American College of Preventive Medicine, and served on its Board of Regents and as president of the college. He has received the College's Distinguished Service Award and its Special Recognition Award. He has served as a member of the board and as president of the Association of Teachers of Preventive Medicine. The association recognized him with its highest recognition, the Duncan Clark Award. Scutchfield served as a secretary/treasurer and member of the executive committee of the Association of Schools of Public Health. He has served as a member of the board of the Public Health Foundation, which presented him with the Theodore R. Ervin Award, and as an inaugural member of the Secretary of Health and Human Services Health Promotion and Disease Prevention Council. He currently is a board member of the Public Health Accreditation Board and serves as chair of its Accreditation Committee.
Scutchfield was a member of the American Medical Association (AMA) House of Delegates and served as chair of the AMA Section Council of Preventive Medicine on several occasions. He was elected to membership in the AMA's Council on Medical Education, and served as its vice chair and member of its executive committee. He represented the AMA as a member of the Accreditation Council on Graduate Medical Education, the Liaison Committee on Specialty Boards, the American Board of Medical Specialties and the Committee on Allied Health Education and Accreditation. He has been active in both the California Medical Association, where he served as the initial chair of the board of the California Medical Association Foundation, and the Kentucky Medical Association. Scutchfield received AMA's Dr. William Beaumont Award as its outstanding young physician in 1985 and its Distinguished Service Award, the highest recognition of a physician, in 2003.
Due to his international reputation, Scutchfield has been asked to serve as a consultant to government and non-governmental organizations in Panama, China, Saudi Arabia, Israel and Germany, as well as the U.S. He has successfully acquired, throughout his career, extramural support for research, educational and service programs. His most recent research focused on community health, public health organization and delivery, quality of care issues and democracy in health care decision making.
A skilled editor, Scutchfield has served as editor of the American Journal of Preventive Medicine and is currently a member of the editorial board of the American Journal of Public Health. He also served as the editor of California Medicine and the San Diego Physician, both of which won awards during his tenure as editor. He served as editor of Appalachia Medicine and a member of the editorial board of the Journal of Community Health. He is the author of numerous textbooks, text chapters and published articles in referred journals. His avocational interest in Thomas Merton resulted in a book he co-authored with Paul Evans Holbrook Jr., "The Letters of Thomas Merton and Victor and Carolyn Hammer: Ad Majorem Dei Gloriam," which was published by the University Press of Kentucky in 2015.
A member of a number of honorary societies, including Phi Kappa Phi, Delta Omega and Phi Beta Delta, Scutchfield has given several named lectures including the Baz-Wegman Lecture of the U.S. Mexico Border Health Association, the Armstrong Lecture of the Aerospace Medical Association, the Waterloo Lecture of the Iowa Medical Society and the Graves Lecture of the University of Louisville School of Medicine. In 2004, he received the Balderson Lifetime Achievement Award of the National Public Health Leadership Network.
In addition to celebrating Scutchfield's life and work, the UK Spring Gala, presented by the UK Libraries National Advisory Board, will also include the recognition of this year's recipient of the 2017 Paul A. Willis Outstanding Faculty Award. The Willis Award will be presented to Antoinette Paris "Toni" Greider, director of International Programs at UK Libraries.
UK is the University for Kentucky. At UK, we are educating more students, treating more patients with complex illnesses and conducting more research and service than at any time in our 150-year history. To read more about the UK story and how you can support continued investment in your university and the Commonwealth, go to: uky.edu/uk4ky. #uk4ky #seeblue