Need a Quick (Bike) Fix? We've Got You Covered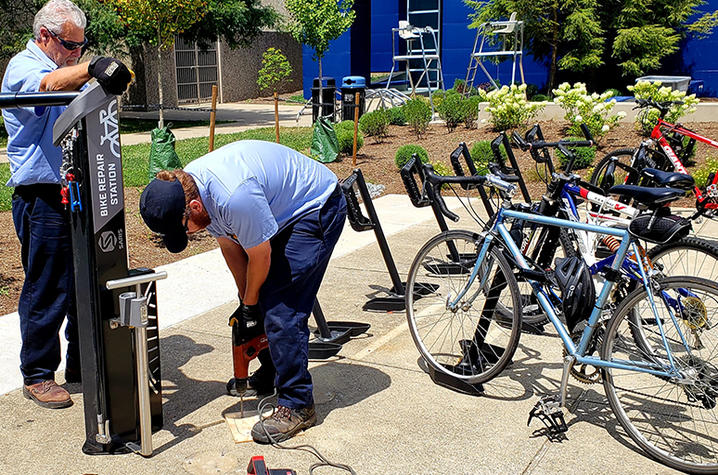 LEXINGTON, Ky. (Aug. 13, 2019) — Cyclists on the University of Kentucky's campus will notice a whole new fleet of Bike Repair Stations this year, replacing the old, worn varieties from previous years. Employees began installing the updated, more durable fix-it stations late last week.
"These new bicycle repair stations are a big step up," said Sandra Broadus, UK Transportation Services' alternative transportation manager. "They're cleaner looking — matching the aesthetic we're going for all over campus with our upgraded bicycle racks. But it's obviously not about the looks, it's about the service they provide. These fix-it stations are of higher quality and heavier duty than the ones we had before, so we're hopeful they'll require less maintenance."
All nine of the university's bike repair stations are in the process of or have already been replaced. The new ones have retractable tools, including two tire levers; a multi-tool; a Philips screwdriver; a flathead screwdriver; four wrenches in varying sizes; an Allen key/hex key; and an air pump.
The fix-it stations are located throughout campus, in the same locations as the old ones: 
Ag North;
Blazer Dining (Wildcat Wheels);
College of Nursing;
Johnson Center;
Healthy Kentucky Research Building;
Oswald Building (BCTC);
Patterson Office Tower;
Rose Street Garage; and
William T. Young Library.
All of the bike repair station locations are also viewable on UK's interactive bicycle map. They're maintained throughout the year by students who work at the Wildcat Wheels Bicycle Library.
These new fix-it stations are part of UK's commitment to maintaining a robust cycling culture on campus, a commitment that helped earn the university the title of "most bicycle friendly campus in America" by Bicycling magazine in 2018, and a Gold Level "Bicycle Friendly University" designation last year by the League of American Bicyclists.
Broadus said she's excited about the new stations, in part because bicycle riders have been clamoring for an update. "I can't wait to see cyclists' reactions to them the next time they swing by for a tune-up," she said.
Of course, cycling infrastructure is just one aspect of creating bike culture. UK Transportation Services also offers a variety of programs designed to encourage and support those who choose bicycles as their primary mode of transportation, such as the Bicycle Voucher Program, Big Blue Cycles and the Commute Club, and organizes a variety of outreach and education activities each semester. 
If you ever notice an issue with one of these new stations or tools, please contact Transportation Services.
For more information about bike resources, programs and opportunities at UK, visit the Transportation Services website, follow them on Twitter @UKParking and like the Wildcat Wheels Facebook page.