October Thursday Night Football Game to Impact Transportation To and From Campus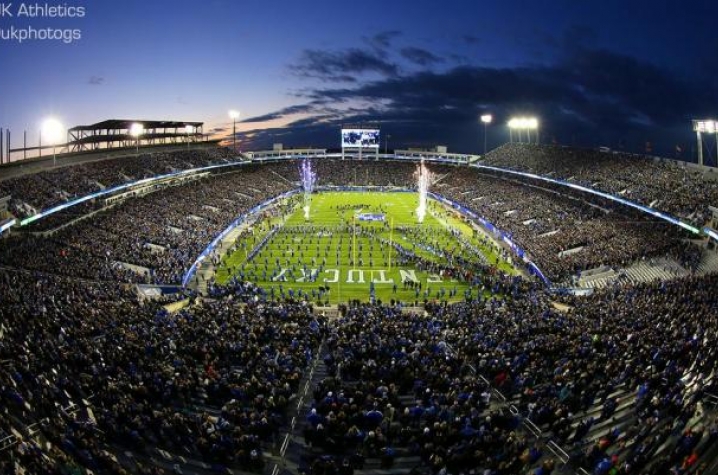 LEXINGTON, Ky. (Sept. 3, 2015) — The University of Kentucky football team will host Auburn University on Oct. 15, at Commonwealth Stadium for a special Thursday night football game. As the ESPN spotlight event, the Thursday night football game provides a special opportunity for UK to showcase the football program and new stadium, as well as the campus and local community, to a national audience.
"Despite the tremendous opportunity for the university and community, this event will also bring significant logistical challenges, even beyond those experienced on a typical Saturday game day," said Eric Monday, UK vice president of finance and administration. "The university is asking everyone on campus — including students, faculty, staff and UK HealthCare employees — to work collaboratively in a spirit of unity as part of taking advantage of this incredible opportunity. We want to provide fans and visitors with an exciting game day experience and positive impression of the university."
In October 2014, UK formed a broad-based working group, including representatives from across the university, to address opportunities and challenges associated with UK's first Thursday night football game. As part of the planning process, UK has partnered with numerous community groups to provide alternative parking accommodations near campus on a day when the Commonwealth Stadium lots — as well as some adjacent lots — will be inaccessible. The university has also engaged the services of Go Ground, a national ground transportation management service company, which will coordinate a comprehensive transportation plan to transport members of the university community to and from remote parking lots.
All parking lots near Commonwealth Stadium and in some adjacent areas will close no later than 7 a.m. Thursday, Oct. 15.
Employees and students who typically park in those lots will have to "park and ride" from an alternate location that day. Shuttles will be provided, dropping off at locations across the health care and main campuses.
To maintain full service at UK hospitals and clinics, the university will prioritize the UK HealthCare patients by reserving the hospital garage for them. An extra security presence will be maintained in patient parking garages to ensure they remain available for the patients.
For UK students, faculty, staff and visitors, campus will operate business-as-usual on game day with the exception of parking. 
Classes will remain on a normal schedule.
Employees will report to work as scheduled for teaching, research, service, health care at UK hospitals and clinics, as well as all the support functions that make the university's operations possible on a daily basis. However, employees should prepare for unusual travel conditions, which might mean parking at a different location for one day and allowing extra time to reach your destination.
More detailed parking and transportation plans, including maps and specific instructions, will be communicated broadly as it gets closer to game day. In the meantime, please mark your calendar for Oct. 15 to allow additional commuting time. Additional information will be available here.
Additional feedback and input can be sent to evpfa@uky.edu.
MEDIA CONTACT: Blair Hoover, (859) 257-6398; blair.hoover@uky.edu