Parking Impact for April 14 Blue-White Football Game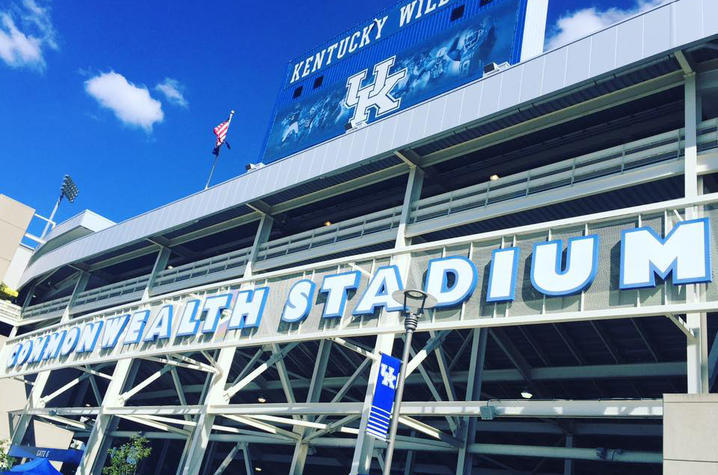 LEXINGTON, Ky. (April 13, 2017) — To accommodate fan parking for the University of Kentucky Spring Football Game on Friday, April 14, the university requires vehicles in the Commonwealth Stadium Blue, Red and Green Lots to relocate as they would for a typical fall football game. However, since the game is on a Friday evening, relocation will occur earlier than it would for a Saturday game. Please note, those parked in the Orange lot will not be required to relocate for the Blue-White Game.
Since this event will occur on the Friday of Easter weekend, the impact to the broader campus community is expected to be minimal.
Students and employees who park at Commonwealth Stadium and in the Sports Center Drive Lots, including the Sports Center Garage, must move their vehicles before 3:30 p.m. on Friday, April 14. R7 permit holders parked on Complex Drive do not need to move their vehicles. Additionally, no parking will be permitted on University Drive between Alumni Drive and Cooper Drive on Friday, April 14.
Failure to move any vehicle from the stadium parking lots, the Sports Center Garage or the Sports Center Lots may result in a citation or impoundment at the owner's expense. This includes most stadium lots — Red, Blue and Green — as well as the Greg Page Overflow Lot and the Soccer/Softball Complex Lots.
Vehicles may be moved any time after 1:30 p.m. on Friday, April 14, and must be moved back by 5 a.m. Monday, April 17. Unlike on a typical Friday afternoon, the football relocation areas will open to any valid UK permit at 1:30 p.m. to accommodate the displaced parkers.
For more on game day policies and a map illustrating where to move your vehicle, visit www.uky.edu/transportation/parking-info_football-game-day-parking.