Pretty in Purple — UK Spreads Awareness for Alzheimer's and Caregivers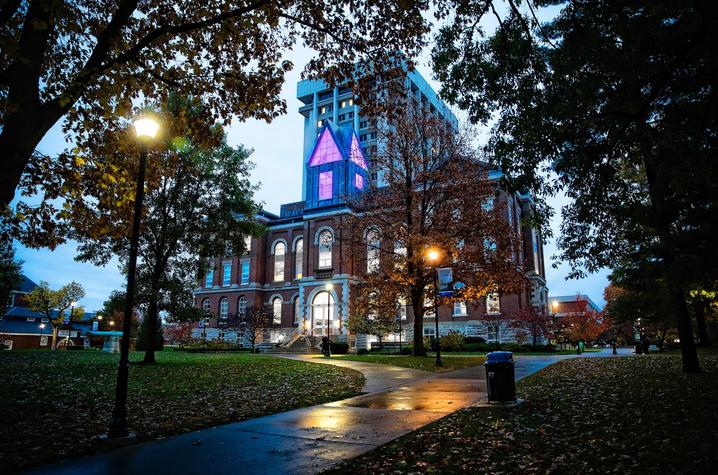 LEXINGTON, Ky. (Nov. 21, 2018) — When you return from break next Monday, you may notice purple lights around campus. In honor of National Alzheimer's Disease Awareness Month and National Family Caregiver's Month, from Monday, Nov. 26, through Friday, Nov. 30,buildings across the University of Kentucky campus will be lit with purple lights to spread awareness and celebrate the lives of UK caregivers and those in the community diagnosed with Alzheimer's disease. 
According to 2018 Alzheimer's Disease Facts and Figures, more than 5.7 million Americans are diagnosed with Alzheimer's disease or another related form of dementia, with families across the state impacted. Noted in that same study, an estimated 16.1 million caregivers provide 18.4 billion hours of unpaid care, valued at more than $232 billion.
UK Work-Life remains committed to casting a spotlight on Alzheimer's disease by going purple for a purpose and through hosting events like their Senior Caregiving Conference. Taking place on Friday, Nov. 30, the conference is made up of two events: A Dementia Care Workshop and Senior Resource Fair. 
Through partnered efforts, UK Work-Life hopes to provide information, resources and support to those impacted by this disease and to reinforce their support to UK and community caregivers.
Below are the UK buildings that will go purple:
Johnson Hall
Donovan Hall
William T. Young Library
Jacobs Science Building
Haggin Hall 
Jewell Hall
The 90
Lewis Hall
Memorial Hall
Woodland Glen IV
Chellgren Hall
Main Building
Holmes Hall
Gatton College of Business and Economics
Blazer Hall
University Flats 
Gatton Student Center