Putting UK Students in the Fast Lane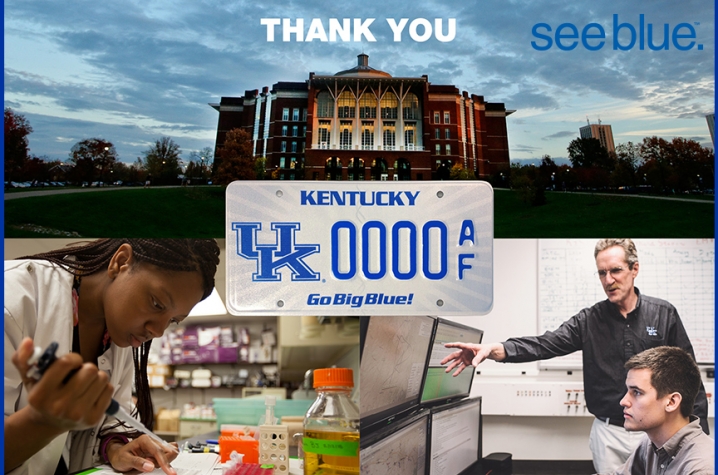 LEXINGTON, Ky. (Nov. 25, 2015) —  Our cars have become more than just a mode of transportation; they are a literal vehicle of self expression, with windows and bumpers full of stickers showing one's favorite band, monogram or what team they cheer for on the weekend. But with the University of Kentucky "Go Big Blue!" car tag, you take that Wildcat pride one step further; the car tag not only displays one's love for the University of Kentucky, it also helps support student scholarships at UK.
Nearly 30,000 Kentuckians have the University of Kentucky car tag. Ten ($10) dollars of the initial and renewal registration fee goes toward providing scholarships to students at the university.
"This scholarship means so much to me," Ryan Stephens, a pre-marketing/management freshman from St. Louis, Missouri, and Collegiate Plate Scholarship recipient, said. "From the day I was born, my mom raised me to love Kentucky since she went here. The scholarship helped me fulfill my dream of coming to UK."
Each December, members of the UK community are encouraged to renew their "Go Big Blue!" car tags. If you do not have the UK car tag, it is easy to opt for when you renew your plates at the local county clerk's office.
1.     When your car tags are up for renewal, simply tell your county clerk that you want the UK car tag.
2.     Pay the plate fee and turn in your regular plate to receive your UK car tag.
3.     Put your new UK car tag on your car and drive with pride!
The purchasing of a UK license plate impacts current and future UK students by providing funds to the general scholarship fund. Nearly $300,000 annually is received from the Collegiate License Plate program.
Each year, student recipients, called Collegiate Plate Scholars, are recognized at the UK Alumni Association's scholarship recognition dinner. The Office of Academic Scholarships uses these awards to fulfill a variety of necessities directly connected with the student's needs. The amounts of scholarships offered vary in size and are sometimes used to complete a scholarship package that a student has already received.
"I was having a hard time trying to figure out how to pay for school," Stephens said. "This award is crucial to me so I can stay here."
Any owner of a noncommercial motor vehicle required to be registered for use on Kentucky highways is eligible to purchase the UK license plate.
The initial cost when a new plate is issued is $56 (the standard plate is $21), but the annual renewal cost each December is $31, only $10 more than the standard plate. The decal expires Dec. 31 of each year rather than in the owner's birth month. Plates can also be personalized for an additional charge.
While the cost associated with the car tag is minimal, the impact it is making on the lives of UK students is huge.
"It means the world to me," Stephens said.
The UK "Go Big Blue!" car tag is the most purchased college plate in Kentucky.
MEDIA CONTACT: Katy Bennett or Rebecca Stratton, katy.bennett@uky.edu or rebecca.stratton@uky.edu, 859-257-1909 or 859-323-2395