Republic Bank Announces Scholarship Winners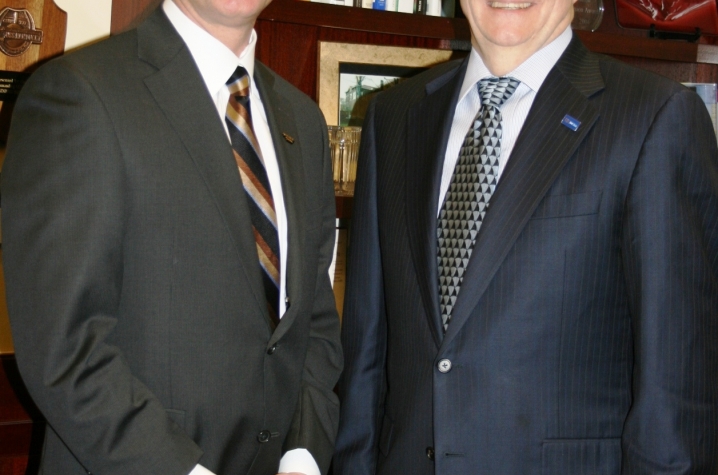 LEXINGTON, Ky. (June 15, 2011) — Twenty Kentucky students will receive some much-needed financial help for college this fall, as Republic Bank named its first group of University of Kentucky scholarship winners from 12 counties in the Commonwealth.
"A college education is a tremendous financial burden for lots of families, especially in these economic times," said Republic Bank CEO Steve Trager, who has a daughter in college himself. "As the largest Kentucky-based financial institution, we have a job to do."
 
Republic has given 20 four-year UK scholarships to students from the 12 Kentucky counties included in the bank's network. Republic's initial commitment is four years, but Trager expects to continue to share the bank's prosperity with UK, also hoping to set an example to other Kentucky businesses.
"I've always said that whatever we make here stays here," Trager said. "Our scholarship program is just one way to make the financial burdens of our communities more bearable, and higher education is important to the future of the Commonwealth."
Each Republic Bank Foundation Commonwealth Scholarship will provide $2,500 per year in a renewable annual scholarship; the total assistance for each student is $10,000 toward the cost of a four-year degree program.
 
"I applaud the leadership and vision Steve Trager and Republic Bank have shown through this scholarship program," said UK President Lee T. Todd Jr. "The university recognizes that scholarships open the door to opportunity to many Kentuckians, and I am glad that Republic Bank has joined us in this important endeavor."
Republic is one of the highest performing banks in the country, despite the economic downturn, earning a #4 ranking in the American Banker Association's Banking Journal in April 2011.

The Republic Bank scholarships have helped lead the charge of UK's President's Scholarship Initiative, unveiled the in February 2010 during ESPN GameDay. With the theme, "See Blue. Make a Difference," the fundraising initiative is designed to ensure a UK education remains accessible to all Kentuckians.
 
"Certainly, we are grateful for this support, which will provide scholarships to deserving Kentucky students," said Mike Richey, UK's vice president for Development and UK's chief development officer. "I commend Steve Trager and Republic Bank for their foresight and philanthropic intent that will have such a positive impact in the communities that we serve."
Participating Kentucky counties include: Warren, Kenton, Hardin, Boone, Franklin, Scott, Oldham, Fayette, Jefferson, Daviess, Shelby and Bullitt.
This year's scholarship winners are as follows: Brent Dickerson and John Magner of Bowling Green, Ky.; Chelsea Lawson and Brandon Morgan of Crestwood, Ky.; Landon Mimms of Florence, Ky.; Victoria Votaw of Georgetown, Ky.; Ryan Collins of Independence, Ky.; Matthew Stewart of LaGrange, Ky.; Robert McCray, Hailey Salyers, Morgan Sizemore, Benjamin Southworth, Emily Stringfellow, David Whitehead and Dylan Woolum of Lexington, Ky.; Natalie Holt, Christopher Lyvers and Alex Shacklette of Louisville, Ky.; Davis Barrios of Prospect, Ky.; and Levi LaCoursiere of Shepherdsville, Ky.
Trager also plans to support scholarship recipients as a cohort in ways beyond financial through mentoring luncheons and other group events.
"To the folks who say we can't afford to help, I'd say we can't afford not to," said Trager. "We want to keep the best and brightest in our state."
 
For more information on UK Commonwealth Scholarships and the application process, please contact the Office of Academic Scholarships at (859) 257-4198 or email academicscholar@lsv.uky.edu.