Seeing Blue in the Rear-view: UK's Top Stories of 2012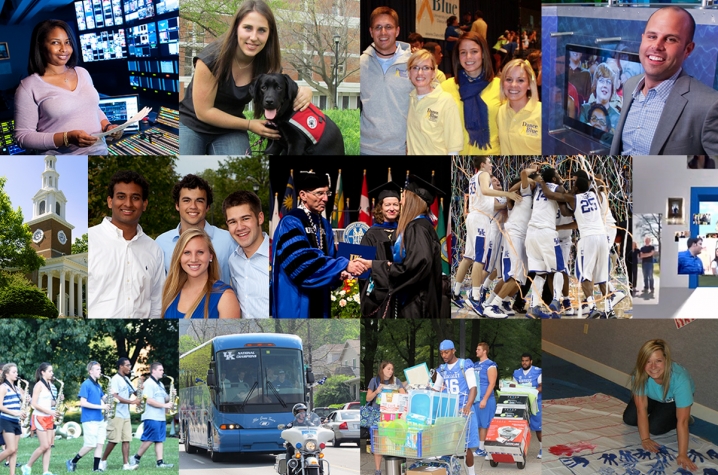 LEXINGTON, Ky. (Jan. 7, 2013) — The year 2012 was a busy one for the University of Kentucky.
More than 3,500 stories appeared on UKNow, the university's official news website, many receiving thousands or tens of thousands of page views. Reading through some of those headlines gives a good overview of the breadth of activities that took place on campus throughout the year.
From the Morgan County Extension office's heroic efforts to stay open following a tornado that ravaged the area in March, to the UK Libraries digitization of rare accounts of the legendary feud between the Hatfields and McCoys, stories about the university touched every county in the state and received national and international attention.
Whether the stories were about research and scholarship, leadership and service, or community and involvement, the lead players in these stories, invariably, have been the truly exceptional individuals — UK's students, faculty, staff, and alumni — who embody the Kentucky Promise, and who are making great things happen here every day.
And, of course, there were the Cats. (Just in case there's anyone who has yet to hear the news: The Kentucky men's basketball team brought home their eighth national title, back in March.)
Buzz about UK percolated on social media websites such as Facebook, where the number of "Likes" climbed past 340,000 during the past year. And videos produced by UK Public Relations and Marketing caught tens of thousands of viewers on YouTube.
Below are listed the University of Kentucky's Top 10 stories from 2012, ranked by number of views, from UKNow, Facebook and YouTube.
UKNow
1.    Hatfield and McCoy Events Chronicled in Digitized Newspapers (May 24)
2.    "see ambition." - Producing the News for a National Audience (Jan. 5)
3.    "see service." UK Graduate Makes Impact on Campus & Community (May 7)
4.    "see inspiration.": Designer's UK Experience Leaves Lasting Impression (Feb. 29)
5.    Recital and Concert Series Remembers Gail Robinson (Nov. 2)
6.    "see opportunity." UK Experience Helps Alum Explore the World (July 5)
7.    "see promise." UK Awards Record Number of Singletary Scholarships (June 8)
8.    We Are the Champions! Cats Top Kansas 67-59, Win Eighth National Title (April 3)
9.    Traveling the Country, UK Alum Is Ambassador for UK, the SEC (March 15)
10. Morgan County Extension Continues to Serve Despite Loss of Building (March 8)
Facebook
1.    Congratulations to Team USA and Anthony Davis! (July 29)
2.    Big Blue Nation Banner No. 8, Now in its Rightful Place (April 9)
3.    Wildcat and Kentucky Race Car Driver Michael Waltrip Poses with Two Army Servicemen (July 4)
4.    Michael Waltrip Racing Marks Wildcats' Tournament Victory (June 30)
5.    Marching Band Practice Signals Approach of Fall Semester (Aug. 15)
6.    Triumphant Wildcats Return Home, Banner on Board (April 4)
7.    UK Releases 2013 Non-Conference Basketball Schedule (July 10)
8.    K Week 2012: Student Center Spectacular (Aug. 22)
9.    A Shoutout to the UK Police K-9 Unit (July 23)
10. Football Team Helps Welcome New Students to Campus on Move-In Day (Aug. 18)
YouTube
1.    A Cake Fit for Champions (April 30)
2.    Final Four Safety Message from UK President Eli Capilouto (March 29)
3.    University of Kentucky Leaves Lexington for Final Four (March 29)
4.    Open Up a World of Promise. Watch This Video and "see blue." With Us (Aug. 1)
5.    Jin Shin Jyutsu at the UK Markey Cancer Center (Nov. 27)
6.    Happy Holidays from the University of Kentucky! (Dec. 11)
7.    New University of Kentucky Tradition on Avenue of Champions (April 3)
8.    UK, iPad Help 5-Year-Old Find His Voice (June 7)
9.    UK Senior's Service Dog Project Impacts Campus and Community (April 30)
10. HBEER: a University of Kentucky & State Project for Energy Efficient Housing (Jan. 26)