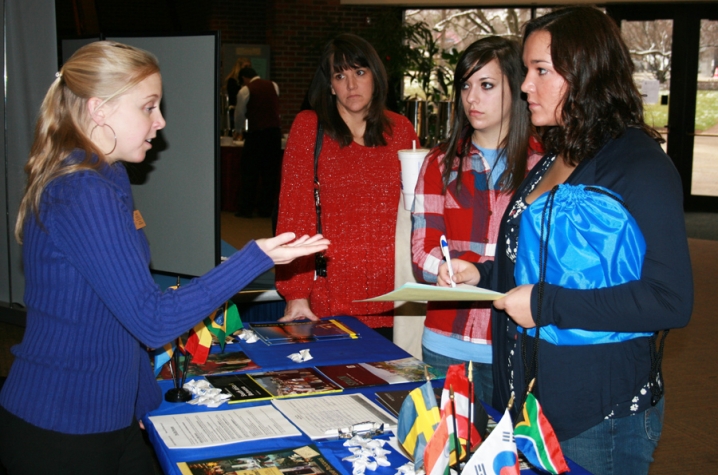 LEXINGTON, Ky. (Dec. 21, 2010) — Hundreds of Kentucky high school students and their families are spending the Tuesday before Christmas traveling over the river and through woods, not for a holiday celebration, but to attend a special preview of UK.
The state's best and brightest high school seniors and their families are gathering in Lexington Tuesday, Dec. 21, for the Governor's Scholars Program (GSP) or Governor's School for the Arts (GSA) Day. 
 

For these high school students who spent the past summer at GSP or GSA, the event serves as a reunion and another opportunity to learn how UK can help them achieve their dreams at the next level.

"The Governor's Scholars Program was established in 1983 to support the academic and personal growth initiatives of Kentucky students," said Don Witt, assistant provost for enrollment management.  "The mission and goals of this program support the goals the University of Kentucky has to matriculate the best and brightest students from across the Commonwealth, because students from GSA and GSP represent the most talented and creative young minds of today."
This year, officials are expecting close to 1,000 guests to attend the event, including 500 prospective students.
"Year in and year out, GSP/GSA Day is one of our most popular on-campus events," said Brian Troyer, director of undergraduate recruitment.  "As many application deadlines are getting closer, students want to be sure to get the most up-to-date and accurate information about the enrollment process at the University of Kentucky."
Students will receive admissions and financial aid information along with news that their completion of the GSP/GSA programs automatically means they can receive the GSP/GSA Provost Scholarship, contingent upon admission to UK.  This scholarship provides a $1,500 award, and is renewable for four years.
GSP/GSA students who are admitted to UK and earn a minimum 1250 SAT (M+CR) or 28 ACT and a 3.30 unweighted high school grade point average will receive a Presidential Scholarship, which provides in-state tuition and mandatory registration fees for up to four years of undergraduate study.  
In addition, staff will tell them about competitive scholarships to apply for by the Jan. 15 deadline. 
Students and their families will also attend an academic fair to gain a greater understanding of academic, research, and various extracurricular opportunities available to them at UK.
"The university thrives on an intellectual environment infused with students who embrace all forms of learning - no matter the discipline," said Witt.  "GSP and GSA students embody this spirit to the fullest. Our goal at UK is to continue to promote a learning environment that extends and enhances the experiences each student has had on their respective campuses during their summer programs."
Another reason why students like taking a day from their holiday breaks to focus on the future is to reunite with those they met last summer.
"They really seem to enjoy taking the opportunity to reconnect with their friends from GSP and GSA," said Troyer.  "Many have not seen their close friends since July, so it's always wonderful to see their faces light up when they reunite on UK's campus for this event."
Students will hear from current Wildcats who attended GSP or GSA during a special student panel before enjoying a lunch and optional campus tours.
For those attending, here is some important information to keep in mind on Tuesday:
-Registration will begin at 9 a.m. Eastern Standard Time.
-Parking is free, and will be available in Parking Structure #5, located at: 409 South Limestone, Lexington, KY 40506
-For directions to the parking garage, visit http://www.uky.edu/VisitorCenter/direction.htm and be sure to follow instructions for "Directions and Parking (Monday-Friday)."
-After parking your vehicle, take the pedestrian bridge located on level three, Stair A of the parking garage across to campus (DO NOT take the pedestrian bridge to the Peterson Building). At the end of the bridge, you will begin seeing signs pointing you in the direction of the GSP/GSA Day. There will also be staff on hand to escort you to the registration, which will take place at the Singletary Center for the Arts.
For more information on this event, e-mail jsblaz2@email.uky.edu or call (859) 257-5091.
For more information on undergraduate admissions at UK, visit: www.applyuk.com.