Take Steps to Prevent Flu and Spread of Illnesses on Campus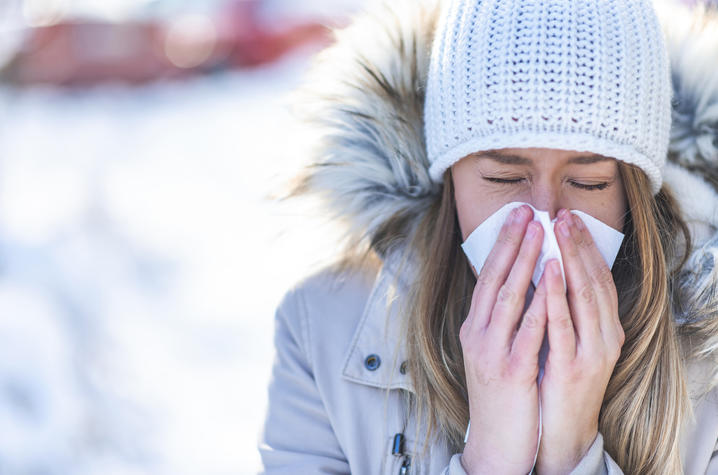 LEXINGTON, Ky. (Feb. 7, 2020) — College campuses bring people together, whether individuals are in a classroom, studying in the library, attending a sporting event, or hanging out with roommates in a residence hall. But, during flu season, this togetherness creates opportunities for respiratory illnesses such as the flu to easily spread.
The Centers for Disease Control and Prevention (CDC) recommends getting the flu vaccine every year to prevent getting sick and spreading the flu.
If you haven't already received your flu vaccine, it isn't too late.  Students can make an appointment at University Health Service (UHS) with a nurse to get their vaccine, and UK HealthCare employees can walk-in to Employee Health to receive theirs.
UHS is holding a free flu shot clinic for students only from noon to 2 p.m. Thursday, Feb. 13, on the first floor of the UHS building.
UK retail pharmacies also have flu shots available as well as most local retail pharmacies.
Besides getting the flu vaccination, other important steps for protecting yourself and others from getting and spreading the flu, both on and off-campus include:
Stay away from other people when you are sick.
Stay out of class and away from others as much as possible until your fever is gone for 24 hours without the use of fever-reducing medicine.
Get plenty of rest.
Drink clear fluids, such as water, sports drinks or electrolyte beverages.
Take acetaminophen or ibuprofen to help reduce fever, headache and body aches.
If you have a medical condition or are at high risk for flu complications, be sure to talk to your health care provider.
Keeping your distance from others who are sick.
Avoid close contact with others who display symptoms; people with the flu can spread it to others at least three feet away.
Avoid sharing eating utensils and dishes with people who are sick.​
Cover your coughs and sneezes.
Cover your nose and mouth with a tissue when you cough or sneeze.
Throw away the used tissue, and then wash your hands.
Wash your hands with soap and warm water.
Wash your hands thoroughly and often, with soap and warm water.
If soap and warm water are not available, use an alcohol-based hand sanitizer with at least 60% alcohol.
Avoid touching your eyes, nose or mouth.
Clean frequently touched objects and surfaces.
Clean keyboards, TV remotes, phones, desks, and doorknobs often and thoroughly, as studies have shown that the flu virus can survive on surfaces up to 48 hours
Soap and water are all you need to remove the flu virus. However, you can also use a bleach-and-water solution or disinfectant with a label that says "EPA approved" for killing viruses and bacteria. Always follow directions on product labels.
Be prepared and informed.
Be aware of flu outbreaks and their severity in your community and on campus.
Pay attention to instructions from your University, your student health center, and your local public health department.
Be aware of your risk for other viruses, including the Novel Coronavirus
If you have a recent history of travel to Wuhan City, China and symptoms of lower respiratory illness — which include cough, shortness of breath, and fever — call University Health Service at 859-323-5823 (APPT), Monday through Friday, 8 a.m.-5 p.m. or go to your local Emergency Department. It is important that you inform your medical provider immediately that you were in Wuhan and describe your symptoms.
For more information about this novel coronavirus, go to: