Technology Week Highlights Information Access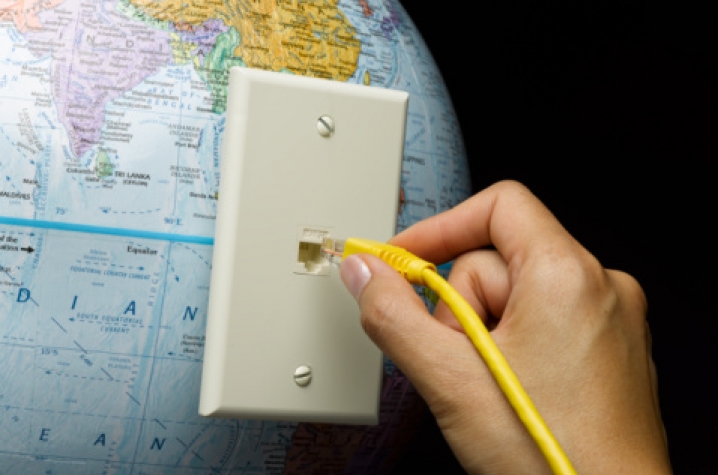 LEXINGTON, Ky. (Oct. 18, 2010) − The University of Kentucky College of Communications and Information Studies is partnering with its new Information Communication Technology Collaborative (ICT Co-Lab) to host Technology Week, a week-long series of talks by local and national experts in technology and open access to information. The event takes place Monday-Friday, Oct. 18-22 and is free and open to the public.

"We're putting this week together to introduce the ICT Co-Lab to people interested in technology on a lot of different levels," said Kakie Urch, ICT Co-Lab coordinator and asst. professor of multimedia in the UK School of Journalism and Telecommunications, who is coordinating the week's events with the College of Communications and Information Studies IT Coordinator Konstantin Tovstiadi.

The first Technology Week talk begins at 7 p.m. Monday, Oct. 18 in the UK Student Center Small Ballroom. Fark.com founder and CEO Drew Curtis will share the story of his Versailles-based business that is one of the world's most successful news aggregation sites. Fark.com is a community website that highlights off-beat news and allows commenting by site users. UK Information Technology CIO Vince Kellen will provide opening remarks.

"Undergraduates who are first learning about startups or Web aggregation can learn from Drew Curtis and learn who we are," said Urch. "Undergraduates, graduate students, professors and community members can enjoy Drew's talk and also come to the free Open 2.0 talks, which touch on everything from Google maps to local government to venture capital."

Tuesday and Wednesday, Oct. 19-20, will feature talks by experts on open-access information. Open 2.0: Transparency and Open Access to Information will take place in the Niles Gallery/Lucille Caudill Little Fine Arts Library from 9 a.m. to noon each day.

This two-day event is sponsored by the Center for Computational Sciences and the Collaboratory for Research in Computing for Humanities. 

Tuesday's speakers will include Matthew Zook from the UK Department of Geography, who will present "Open Geographies: Google Maps and GIS Research;" Urch, who will speak on "Living in Public: Transparency, Social Media and the MSM;" Asst. Dean of UK Libraries Mary Molinaro, who will present "Open Libraries: Institutional Repositories;" and Chad Southard of openlexington.org, who will speak on "Open Government: Open Local Government."

Wednesday's talks will begin with keynote speaker Sean P. Gorman, the Washington, D.C.-based president and founder of web-based location analysis software company FortiusOne, who will present a talk entitled "What the Human Sensor Net Can Tell Us About Markets, Society and Disaster." Next, Bambi Francisco, the Silicon Valley-based CEO of vator.tv, will give a talk on "Open Entrepreneurship." Ezra Roizen of Ackrell Capital in Silicon Valley will present a talk on Open Financing entitled "The $3m Startup: The optimal model for new media innovation in the first few years, of the second decade, of the twenty-first century." Finally, Todd Willey of rubidine.com will present a talk on Open Source about how his group pioneers open source technology in collaboration with NASA.

"Whether people are interested in the Human Sensor Net theory or just like Fark.com hilarity, our goal is to highlight the brilliance and talent here in Lexington and bring in folks from other parts of the country as well," Urch said. "Our College of Communications and Information Studies has just approved a new five-year strategic plan that puts technology as a way to work with and help people as goal number one. So, it's all part of that as well."

Thursday and Friday will feature a course on mobile application development for the iPhone and iPad, which will take place in the Grehan Building 047 Lab. Awesome Inc. and Apax Software will lead the reserved two-day course for UK students, faculty and staff who have some programming experience. The course is a prelude to two new offerings within the Telecommunications Program. Once course, Content Management Systems (CMS), will be taught by Konstantin Tovstiadi in Spring 2010, and a course in Mobile App Development will be offered by John Clark in Fall 2011.

For more information on Technology Week 2010, contact Konstantin Tovstiadi at (859) 519-8988 or Tovstiadi@uky.edu, or Kakie Urch at kakieurch@gmail.com.

The ICT Co-Lab is a new dynamic cross-disciplinary endeavor designed to develop partnerships with industry, commercial, non-profit and governmental organizations to advance ICT excellence and innovation in the Bluegrass State. It engages researchers, professors, professionals and publics working together to strengthen the innovation infrastructure for the good of the Commonwealth. Areas of emphasis include: Broadband Access, Telecommunications, Globalization, Mobile & GIS, Market and Policy Analysis, Product Testing & Measurement and Multimedia Production. It seeks to align the significant energy and talent in the Bluegrass and at UK with the College of Communication and Information Studies' overarching goal in its new Strategic Plan: Technology.