Their Countries on Their Chests and Kentucky in Their Hearts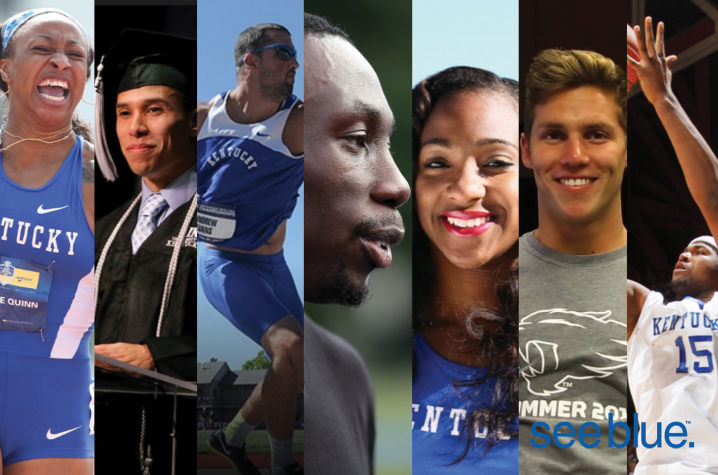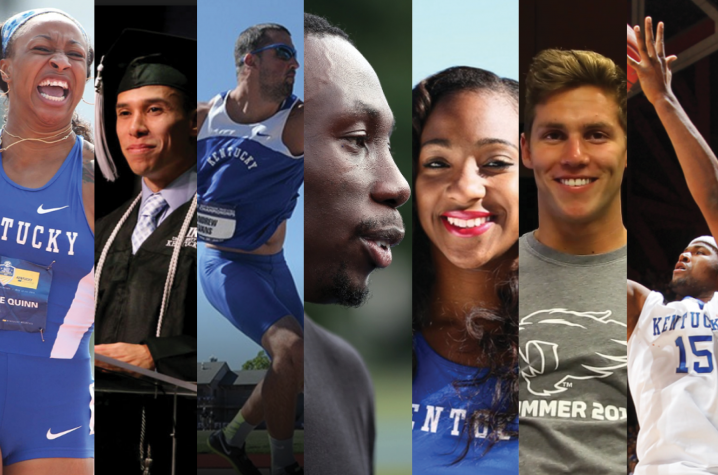 Video by UK Public Relations and Marketing. To view captions for this video, push play and click on the CC icon in the bottom right hand corner of the screen. If using a mobile device, click on the "thought bubble" in the same area.
LEXINGTON, Ky. (Aug. 2, 2016) — The entire world is gearing up for the 2016 Summer Olympic Games in Rio de Janeiro, Brazil, that begin this Friday, Aug. 5. The excitement is palpable as athletes from 206 countries and two independent teams head to Rio for the Opening Ceremonies and 19 days of competition (soccer/football will begin group play on Wednesday, Aug. 3).
While fans rally around their countries and pride is abundant, it is no surprise that Big Blue Nation can be found everywhere! University of Kentucky connections can be found on numerous teams participating in the games and as part of the telecast.
For the 14th season, NBC Sports/NBCUniversal will televise the games, and a very familiar voice will be heard calling the play-by-play for track and field. UK alumnus Tom Hammond, a graduate of College of Agriculture, Food and Environment in 1966, will serve as part of the broadcast team for his 12th games. Over the years, he's also covered men's and women's basketball (Seoul 1988), diving (Barcelona 1992), gymnastics (Sydney 2000) and figure skating (Winter Games: Salt Lake City 2002, Torino 2006 and Vancouver 2010).
He's not the only Kentucky connection at this year's games. Nine current or former students/student-athletes are in Rio representing their home countries.
Greg Rummel
Sophomore, pre-biosystems engineering, Columbus, Ohio
As karate makes it's case to become a part of the 2020 Olympic Games in Tokyo, Rummel, a resident advisor in the Woodland Glen community, will be displaying his talent for USA Karate. Rummel was a member of the 2014 USA Karate Junior National Team. The International Olympic Committee will make their final decision on inclusion of karate in the 2020 Games on Wednesday.
Andrew Evans
UK 2014 graduate, Portage, Michigan
Best Discus Throw: 66.37 meters
Evans is a decorated athlete; he is a two-time All-SEC and All-American selection and was the 2013 NCAA bronze medalist in discus. He qualified for Team USA at the U.S. Olympic Team Trials, placing third in discus. Discus qualifying round begins at 8:30 a.m. ET Friday, Aug. 12.
Leah Nugent
UK 2015 graduate, volunteer assistant coach, Abington, Pennsylvania
Team Jamaica - 400-meter hurdles
Best time: 55.44 seconds
Nugent is a multiple-times All-American and the 2015 NCAA bronze medalist in the 400 hurdles. She qualified for the Jamaican team by finishing second in the finals with a personal-best time of 55.44 seconds. Women's 400-meter hurdles round one begins at 7 p.m. ET Monday, Aug. 15.
Rondel Sorrillo
UK 2010 graduate, volunteer assistant coach, Vessigny, Trinidad and Tobago
Team Trinidad and Tobago - men's 4x100 meter relay, men's 200-meter and men's 100-meter
Best Time: 9.99 seconds (men's 100-meter)
Sorrillo is the first UK men's track athlete to win the NCAA Championship in the 200 meters (2010). The three-time Olympian, he is also the 2012 SEC Champion in the 200 meters, the bronze medalist in the 100 meters and the NCAA runner-up in the 100 meters in 2010. He's competed in three IAAF World Championships. At the Trinidad and Tobago Championships, he ran a personal best (9.99 seconds) to finish second in the 100-meter finals and won his fifth national title in the 200-meter. Men's 100-meter preliminary round begins at 8 a.m. ET Saturday, Aug. 13.
Mikel Thomas
UK 2009 graduate, Brooklyn, New York
Team Trinidad and Tobago - 110-meter hurdles
Best Time: 13.57 seconds
Born in Maloney, Trinidad and Tobago, Thomas is competing in his third Olympic games. He won the national title in the 110-meter hurdles to qualify him for the Olympics. Men's 110-meter hurdles round one begins at 7 p.m. ET Monday, Aug. 15.
Jasmine Camacho-Quinn
Freshman, North Charleston, South Carolina
Team Puerto Rico - 100-meter hurdles
Best Time: 12.78 seconds
The 2016 NCAA 100-meter hurdles champion is the first freshman to win the title. In just her first year competing for UK, she is already a three-time First Team All-American, SEC Freshman of the Year, SEC 100-meter Hurdles Champion, SEC All-Freshman Team selection and holds the UK freshman record for the 100-meter hurdles. Women's 100-meter hurdles round one begins at 8 a.m. ET Tuesday, Aug. 16.
Many of our track and field athletes train together in Lexington; click here for a photo shoot of a recent workout including several of our Olympic athletes and Kendra Harrison, the world-record holder in the women's 100-meter.
Luis Orta
UK 2013 graduate, Caracas, Venezuela
Best Time: 2:18:53
At UK, Orta could go the distance. He holds the UK record for the 3,000-meter steeplechase, is a four-time All-SEC selection and was named the 2012 SEC Indoor Runner of the Year. He also delivered the 2012 December Commencement address. Originally a walk on, he qualified for the Olympics by reaching the required mark at the Marathon Rotterdam in the Netherlands. The men's marathon final begins at 8 a.m. ET Sunday, Aug. 21.
Sean Gunn
Senior, Harare, Zimbabwe
Team Zimbabwe - 100-meter freestyle swim
Best Time: 50.91 seconds
Gunn is a rising senior at UK and Zimbabwe's national record holder in many swimming strokes. He qualified for Zimbabwe's Olympic team based on International Swimming Federation FINA points — a process that is different from the United States' Olympic Trials. Gunn is the reigning national champion in all of his events. The men's 100-meter freestyle heats begin at noon ET Tuesday, Aug. 9.
Demarcus Cousins
UK alumnus 2010, Mobile, Alabama
College Statistics: 15.1 points per game, 9.8 rebounds per game
Cousins was part of the beloved 2009-10 UK men's basketball team, Coach John Calipari's first at UK. The All-American left UK after one year for the NBA Draft, where he was the fifth overall pick selected by the Sacramento Kings. He was named to the NBA All-Rookie First Team in 2011, was a member of the 2014 FIBA Basketball World Cup gold medal-winning US National Team and is a two-time NBA All-Star. Men's Olympic basketball group phase, first game: USA vs. China, begins at 6 p.m. ET Saturday, Aug. 6.
UK is the University for Kentucky. At UK, we are educating more students, treating more patients with complex illnesses and conducting more research and service than at any time in our 150-year history. To read more about the UK story and how you can support continued investment in your university and the Commonwealth, go to: uky.edu/uk4ky. #uk4ky #seeblue
Media Contact: Katy Bennett or Amy Jones-Timoney, katy.bennett@uky.edu, amy.jones2@uky.edu, 859-257-1909