Transportation Services Announces Wider Variety of Permit Options for 2017-2018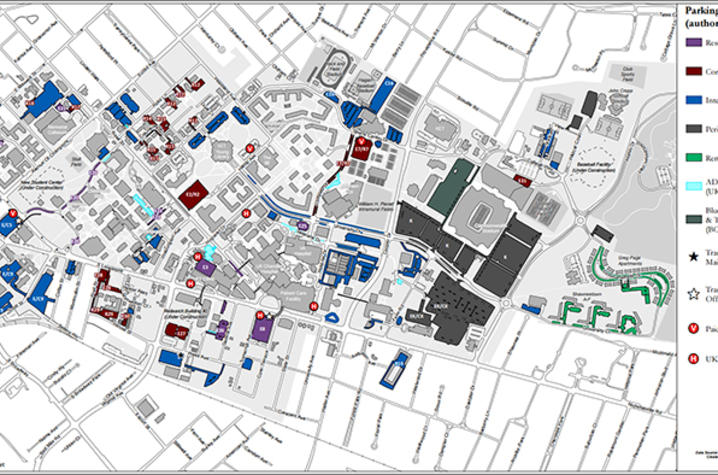 LEXINGTON, Ky. (April 6, 2017) — For the 2017-2018 academic year, University of Kentucky Transportation Services is further implementing tiered parking, which allows for a range of parking choices at various prices that reflect the relative desirability, location, and predictability of the parking. This strategy is in line with the 2015 Transportation Master Plan, and expands upon the tiered parking model introduced for 2016-2017 that included a discounted parking rate for students and employees who chose periphery parking in the Commonwealth Stadium Lots.
For the 2017-2018 academic year, student and employee parking permit rates will largely remain unchanged. Parking rates will only increase if an individual chooses to purchase a permit within a higher tier. The changes for 2017-2018 include a wider range of permit options and prices.
Most student residential parking areas will shift into the core parking tier, which better reflects the reserved and proximate nature of these spaces. However, on-campus student residents will now have an option to choose a discounted remote parking option. This new remote parking option will take advantage of underutilized parking in the south campus Greg Page and Shawneetown Apartment areas. This option will be available at an even steeper discount than a periphery parking permit, and will be served by existing campus transit. Detailed 2017-2018 student transportation options may be found at www.uky.edu/pts/2018_student.
New for the 2017-2018 academic year, a select number of employee parking areas will change to core tier parking. These areas will have a higher permit cost, but will provide greater predictability through permit restrictions. The areas include the Rose Street Garage (PS #2), the Sports Center Garage (PS #7) and the Prall Street Lot. The Sports Center Garage will consist of largely student residential core parking with a limited number of employee core permits, while the Rose Street Garage will consist of largely employee core parking with a limited number of residential core permits.
Introducing a mix of user groups with varying commute patterns into the Rose Street and Sports Center Garages will help distribute the traffic demand on Hilltop Avenue and Sports Center Drive more evenly throughout the day, reduce pedestrian-vehicle conflicts, and improve the campus transit circulation.
The large majority of traditional employee and student commuter parking areas will stay in the intermediate tier and function as they currently do. However, the Woodland Avenue Lot, currently designated as on-campus residential parking (R10), will shift to an intermediate employee lot. Detailed 2017-2018 employee transportation options may be found at www.uky.edu/pts/2018_employee.
Employee core parking permits will be initially issued through an open lottery. Interested applicants may apply April 17 through May 1, with the lottery conducted in early May. Traditional intermediate employee permit sales will follow in mid-May, with student permits to follow shortly thereafter. More information regarding the permit calendar will be communicated as sales dates approach.
The 2017-2018 expanded tiered parking approach will undergo continual evaluation, with the outcomes informing decisions about options going forward. By introducing this approach on a small scale, university officials will be able to closely monitor the efficacy of the program and to evolve the system to best meet the needs of campus.
Transportation Services is committed to ensuring that the transition into more tiered parking goes as smoothly as possibly, while recognizing that this is a complex and nuanced issue. Detailed information regarding these changes can be found on the Transportation Services website at www.uky.edu/transportation, including answers to some frequently asked questions. Individual questions not addressed in this information may be directed to Transportation Services. If you would like for a Transportation Services official to present to your college or department, email UKTransportation@lsv.uky.edu.