UK Alum Wants to Heal and Help Others as a Physician Assistant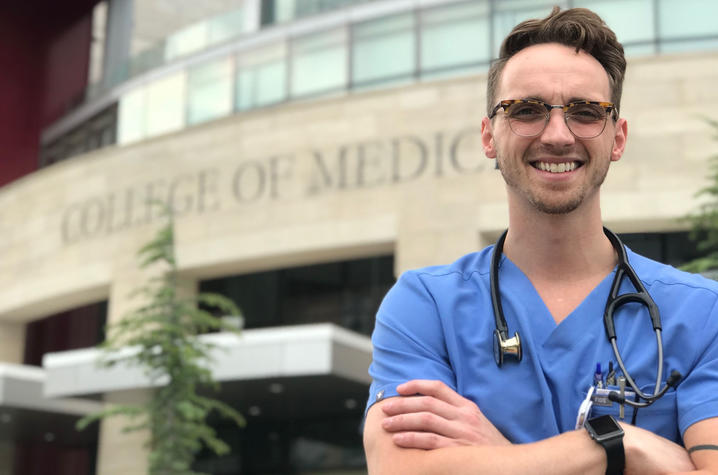 LEXINGTON, Ky. (June 19, 2019) — As a future physician assistant (PA), University of Kentucky alumnus Aaron Gillette will have the opportunity to do what motivated him to get into the health care field in the first place — help people.
"I'm in medicine because I love people, and I always wanted the chance to aid in an individual's journey to improve their health holistically," he said.
A graduate of the UK College of Education, Gillette is currently enrolled in the PA program at the University of Oklahoma Health Sciences Center. In 2011, Gillette and his twin brother Justin came to UK after a lot of moving around as kids and found a place to call home.
In 2015, Gillette completed his degree in kinesiology and continued his education at UK by earning his masters in exercise physiology. During his time as a graduate student, Gillette was awarded a teaching assistantship. He says the challenge of an advanced academic program and having additional responsibilities also helped him develop more as a student and as an individual.
While at UK, Gillette stayed active. He played club basketball, was a member of the Kinesiology and Health Promotion Club, volunteered with Special Olympics of Kentucky and Fusion and was a member of Beta Theta Pi. It was in Beta Theta Pi, Gillette developed a friendship and brotherhood with Jonathan Krueger.
While walking home from a night out, Gillette and Krueger were confronted by three men. Gillette was able to escape the encounter, but Krueger lost his life. On April 17, 2015, Krueger was shot and killed near campus in what police describe as an attempted robbery. The UK community lost a talented photographer and student and Gillette lost a friend and brother to gun violence.
That loss didn't stop Gillette. Instead, he says it motivated him further to help others. But, without support and understanding it may not have been possible. Mike Kennedy, a part-time instructor in the Department of Kinesiology and head instructor of the CPR/First-Aid certification course offered Gillette the support and encouragement he needed during his first year of grad school.
"(Kennedy's) patience and perseverance really helped me stay on track," Gillette said. Kennedy showed Gillette how to be a mentor and leader and someday Gillette hopes to repay that support to students. "I get excited for when it will be my turn to have the same opportunity to make an impact on a lost, malleable 20-something."
Gillette is applying all that he learned at UK while completing clinical rotations. Being a successful PA includes treating injury and illness as well as managing emotions. Gillette feels he learned to do both in school.
 "My exposure to challenging academics and a diverse student body really prepared me for a career that is focused on patient's individuality," he said.
Next, Gillette will complete his program, take boards and start working as a PA. He wants to couple his interests in working with athletes and surgery into one, so he plans to specialize in orthopedics and sports medicine.  He'll begin his career in Oklahoma but plans to return to his old Kentucky home.